ZIMBABWE, 16 October 2017 – KwaZulu-Natal trio Malcolm Mitchell, Clayton Mansfield and Matt Saulez and Garrick Higgo from Boland successfully defended South Africa's title in the All Africa Golf Team Championship last Friday, but the quartet left in Zimbabwe with much more than a trophy.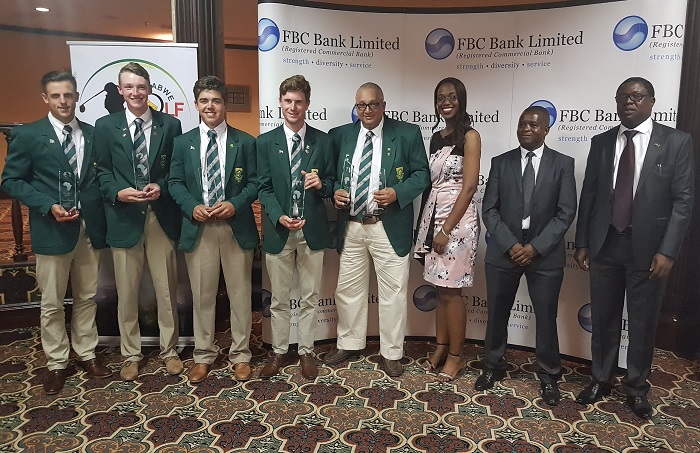 The victorious South African team during the eighth All Africa Golf Teams Championship prize giving at Elephant Hills Resort in Zimbabwe; credit GolfRSA.
FLTR: Clayton Mansfield, Matt Saulez, Garrick Higgo, Malcolm Mitchell, team manager Naadir Agherdien (South African Golf Association Vice-President), Nancy Sakala (Customer Relationship Manager: FBC Bank), Clement Mukwasi (Commissioner: Zimbabwe Sports Ministry) and Ambassabor Joe Malanji (Africa Golf Confederation President).
The team headed into the final round at Elephant Hills Golf Club with a 22 shot lead and posted a team total of 209 to win the title for an eighth successive time by 30 strokes on 845.
Mitchell also won the Individual Competition on 12-under-par 276 with rounds of 67, 68, 73 and 68, while Higgo, Mansfield and Saulez finished fourth, fifth and eighth respectively.
Mitchell described the event a real eye-opener.
"It was the first time Matt and I wore the green and gold outside South Africa's borders and the first time Garrick and Clayton played for South Africa as seniors," Mitchell said. "We were obviously keen to continue South Africa's proud record and we were elated with the result, but on the trip home this past weekend we reflected on just how privileged we are as South Africans.
"We are incredibly well looked after by the South African Golf Association and GolfRSA - from our kit to our travel arrangements to our events back home. We have some of the best golf courses in the world, we get incredible opportunities to advance and we have a strong national amateur circuit.
"We met players that don't have access to any of those things. Some countries only have one or two championship courses; other countries have to raise sponsorship for kit and funds to travel to compete in events. Yet, all the teams had the same fire in their belly, so proud to represent their countries, despite the shortcomings, and that was humbling for us.
"We want to congratulate all the teams who competed. In our eyes, you are all winners. Well done to the Zimbabwe Golf Association for putting on a fantastic event. It was a great tournament and an absolute treat to stay at the first class accommodation at Elephant Hills Resort.
"A special word of thanks to the green staff at Elephant Hills. Despite dealing with warthogs that constantly dig up the greens and fairways and waterbuck that roam the course, they did an amazing job to prepare the course for the championship.
"The team would also like to thank our manager Naadir Agherdien and his wife Yumna, who looked after all our needs and gave us unbelievable support throughout."
Saulez, who will be travelling with Mitchell to Argentina in November to represent South Africa in the Juan Carlos Tailhade Cup and the Argentine Amateur Open, added that the competing against the other African nations put things into a different perspective for the team.
"Like Malcolm said, I don't think any of us realised just how privileged we are until it stared us right in the face," he said. "I think that is why we all enjoyed hosting a golf development clinic for little juniors from a nearby school. It was an hour out of our lives, and a small thing really when you think about it, but to see the excitement on their faces was humbling. It was incredibly gratifying to teach them and to give back, even just a little, to the game that gives us so much."
Teams Leaderboard – Final
845 South Africa 211 209 216 209
875 Zimbabwe 225 215 218 217
890 Reunion 222 221 221 226
895 Egypt 219 220 227 229
902 Zambia 226 229 221 226
904 Swaziland 226 220 225 229
913 Mauritius 230 233 235 225
914 Kenya 224 232 228 230
915 Uganda 236 225 231 223
919 Tunisia 229 225 228 237
936 Namibia 239 230 234 233
937 Ghana 228 240 230 239
940 Botswana 234 244 219 243
945 Tanzania 240 234 238 233
1014 Angola 254 260 255 245
Individual Leaderboard – Final
276 Malcolm Mitchell RSA 67 68 73 71
285 David Amm ZIM 76 67 70 72
286 Issa Abu Al Ela EGY 71 72 70 73
287 Garrick Higgo RSA 68 77 72 40
290 Clayton Mansfield RSA 78 70 71 71; Tonderayi Masunga ZIM 73 74 72 71
293 Alexandre Lasalarie REU 69 71 79 74
294 Matt Saulez RSA 76 71 76 71
295 Alfred Nandwa KEN 71 73 77 74
296 Ronald Otile UGA 78 73 73 72
Written and released by Lali Stander on behalf of GolfRSA, a SAGA and WGSA Not-For-Profit company.
GEORGE, 13 October 2017 – Three times they were denied, but Southern Cape is the bridesmaid no more. The Garden Route side routed Free State 8 – 4 in Friday's final round in the South African Mid-Amateur Inter-Provincial to punctuate a historic promotion with an unrivalled performance at Oubaai Golf Resort and Spa.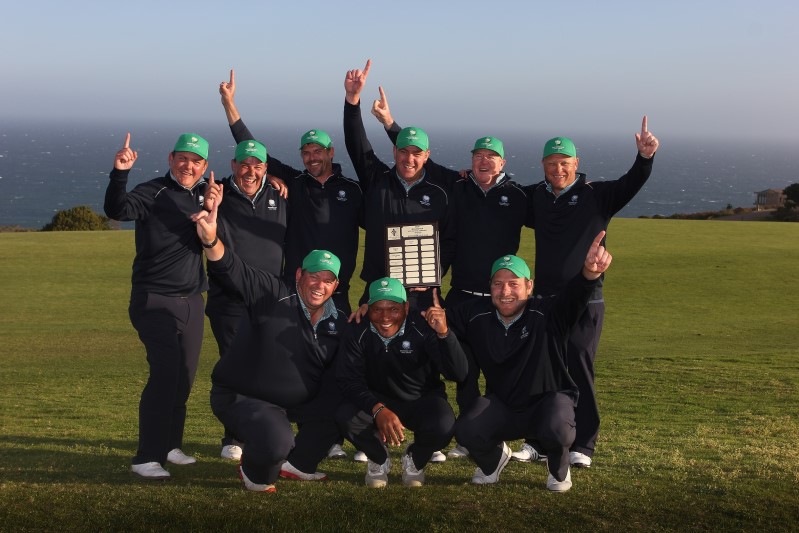 Victorious Southern Cape clinched the B-Section title in the 2017 SA Mid-Amateur Inter-Provincial at Oubaai Golf Resort and Spa; credit Pieter Els.
Back (left to right): Nicholas Mitchell, Marlo Pienaar, Meyer Potgieter, Billy Valentyn (manager), Henk Geldenhuys (captain) and Ian Norgarb.
Front (left to right): Anton Prinsloo, Ivan Williams and Heinrich Frylinck.
"We were determined to make it to the finish line this year, but with the level of competition in the B-Section, that meant going unbeaten for the week," said manager Billy Valentyn
"Historically, our downfall has been a poor start, so the first two matches were crucial. I asked the guys to bring everything they had and they did. From there they just kept pushing."
Determined to make the most of their home course advantage to gain a spot in the top tier, Southern Cape laid down an early marker with convincing victories in their double bill against Limpopo and Mpumalanga on day one.
The Garden Route side mowed down Eastern Province 10.5 – 1.5 on day two and went on a tear in their final round-robin match on day four, routing Northern Cape 9.5 – 2.5 and crushing Border 11 – 1.
With the B-Section title in the bag, one would have expected the home side to dial it back on the last day, but Southern Cape pushed the gas pedal to the floor to end their week-long campaign in terrific style.
Southern Cape and Free State squared the foursomes, but reigning SA Mid-Amateur champion Almero Theron knocked out number one Nicholas Mitchell 8 & 7 to strike the first blow for Free State in the singles.
IPT stalwart Ivan Williams downed Lourens Erasmus 6 & 5 to level the score and Heinrich Frylinck, Henk Geldenhuys and Ian Norgarb reeled in three more points before Pieter Swartz downed Meyer Potgieter 4 & 2 to gain another point for Free State.
Marlo Pienaar defeated Jacques Schutte 2 & 1 to take Southern Cape to seven points.
"Anton Prinsloo was 1-up playing 18 against Roedu du Plessis in the last game out and we wanted that final point," said Valentyn. "Puggy played the hole perfectly. He hit a solid drive down the middle, a three-wood from 248 meters to the front edge and because he couldn't go for the tucked pin, he hit a conservative chip to eight feet. When Roedu missed the birdie, Puggy got us that last point."
Valentyn said the victory was down to a dedicated effort from every player over a six month stretch.
"Our preparation started March," said Valentyn. "The guys competed in all the events here at Oubaai and they a played a lot of individual rounds to come to grips with this course under all conditions.
"When the other teams were badly affected by the wind and rain this week, our guys took on the course and that sealed the promotion for us. I am incredibly proud of the effort from every member of this team. They saw it through from start to finish.
"No team can succeed without support and we had plenty. A big thank you to Rob Thole from Oubaai, for letting us on the course to prepare and for his positive support ahead of, and during the event. Our captain Henk, who did an exceptional job, leading by example, keeping the spirits up and the players motivated. We would like to thank Juan Nel and Hans-Jurie Human, who looked after the logistics and did duty as starters and marshals and Johan Erasmus, who managed our caddies brilliantly.
"On behalf of all the players, I would like to thank the wives and girlfriends who gave the guys as much time as they needed to prepare for this year's battle. And finally, to my wife and our assistant manager Erica, who looked after all our needs and catered to everyone's whims; you are a star.
"Mission accomplished and now we get to celebrate this good and proper. We looked forward to finally rubbing shoulders with the top guns in the A-Division next year."
In the other two final round matches, Eastern Province defeated Mpumalanga 9.5 – 2.5 and Northern Cape beat 6.5 – 5.5.
B-SECTION RESULTS FINAL ROUND
Southern Cape 8 - Free State 4
Northern Cape 6.5 - Limpopo 5.5
Eastern Province 9.5 - Mpumalanga 2.5
(Pos-Union-Played-Won-Drawn-Lost-Points-Matches won)
1 Southern Cape (6, 6, 0, 0, 12, 54.5)
2 Eastern Province (6, 5, 0, 1, 10, 44)
3 Free State (6, 3, 1, 2, 7, 39.5)
4 Mpumalanga (6, 3, 0, 3, 6, 33.5)
5 Border (6, 1, 1, 4, 3, 24)
6 Limpopo (6, 0, 2, 4, 2, 31)
7 Northern Cape (6, 1, 0, 5, 2, 25.5)
Written and released by Lali Stander on behalf of GolfRSA, a SAGA and WGSA Not-For-Profit company.