JOHANNESBURG, 9 December 2018 – Reigning Amateur champion Jovan Rebula joined an extraordinary league of gentlemen when he claimed the coveted Freddie Tait Cup in the 2019 South African Open Championship.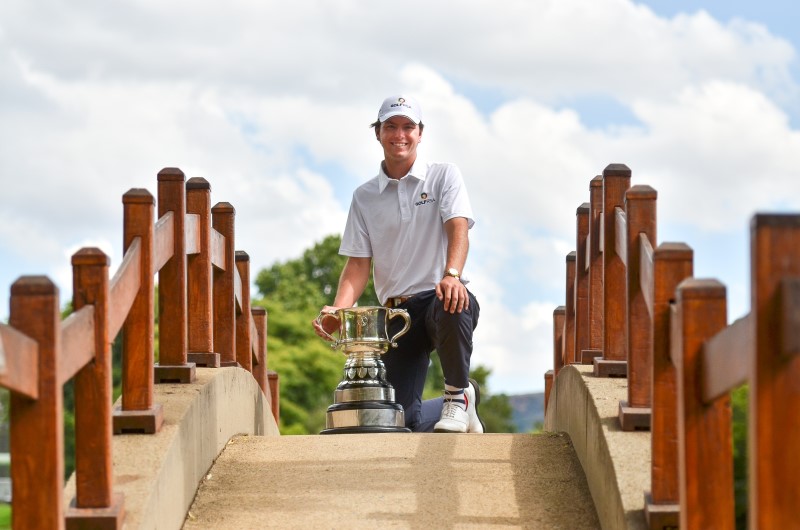 Reigning Amateur champion Jovan Rebula lifted the Freddie Tait Cup as the leading amateur in the 2019 SA Open, hosted by the City of Joburg, at Randpark Golf Club.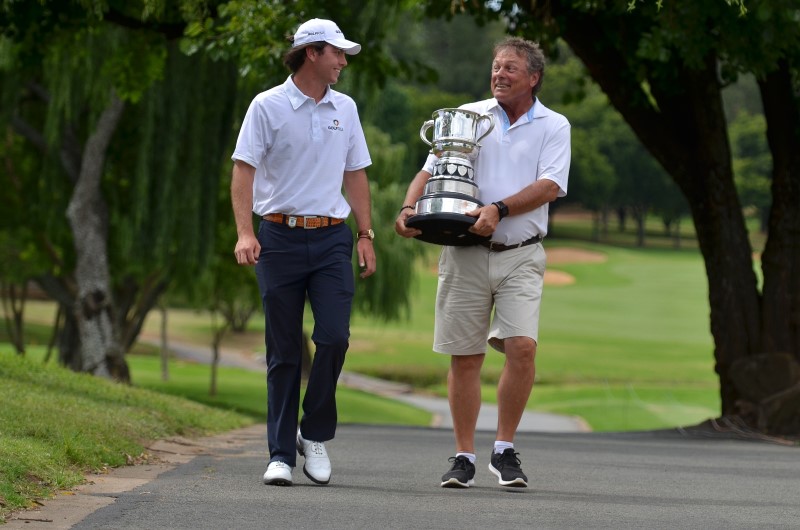 Jovan Rebula celebrates his Freddie Tait Cup victory in the 2019 SA Open with his father and caddie Dragan Rebula at Randpark Golf Club.
The 21-year-old George golfer carried a two-shot overnight lead into the final round and sealed the low amateur honour by four shots on six-under-par 278 at Randpark Golf Club on Sunday.
"I dreamt about winning the Freddie Tait Cup since I won my first junior tournament. It has taken me three tries to do it, and I really had to grind it out today, but this rates right up there with winning the Amateur Championship. It's incredibly satisfying to tick another huge box on my bucket list," a smiling Rebula said.
"Almost every Major champion and top South African golfers have won the Freddie Tait Cup. Bobby Locke, Trevor Immelman, Charl Schwartzel, Hennie Otto, Branden Grace, Brandon Stone. If winning the SA Open is the ultimate prize for our South African pros, the Freddie Tait is the rite of passage for every South African amateurs.
"My uncle (Ernie Els) won it in 1989 and I am so incredibly proud that I've kept the family tradition going and added my name to the past winner's list."
Rebula made his intentions clear when he laid down an early marker with an opening round of four-under 67 at Randpark Golf Club's Bushwillow Course and confirmed his intent with a second round one-under 70 on Firethorn.
He started a memorable third round alongside Els in the front, after three fellow GolfRSA National Squad members also made the cut to 65 and ties, set at two-under.
Rebula was one shot clear of South Africa's top ranked Wilco Nienaber and three strokes ahead of 2018 Sanlam SA Amateur champion Deon Germishuys and 15-year-old Yurav Premlall, the youngest amateur in the history of the SA Open to qualify and make the weekend.
Spurred on by four-time Major winner Els, Rebula produced a second successive round of 70 on Firethorn to tighten his grip on the Freddie Tait Cup.
"It was undoubtedly one of the most amazing experiences of my career to play with my uncle," said the Auburn University student. "It was incredibly special, but it went by so quickly. I could have stayed out there for another 18 holes.
"He has been a huge role model for me, even more off the course than on, and to tee it up with him in the SA Open for the first time, is a memory I will cherish for ever. The conditions were tough, especially through the stretch between 11 and 14, but he kept me positive."
Rebula started the final round on six-under, three clear of Erne Els and Fancourt Foundation stable-mate Germishuys and five shots ahead of Premlall and Nienaber.
He underlined his growing reputation as a future world-beater when he rallied with birdies at four and nine to wipe out a bogey-bogey start and turn level par.
"It definitely wasn't my best ball striking week, but I putted really well all week and I made a lot of clutch putts to keep the round going today," said Rebula, who cancelled a bogey at 13 with a birdie at the next hole and made an incredible up-and-down from the bunker at 18 for a final round 71.
"I didn't have a clue what the other guys were doing through the round, but when I got to 18, I saw the leaderboard and I saw that Yurav was four-under with three to play. That bunker shot and putt at 18 suddenly became a lot more important.
"Thanks to GolfRSA, I gained a lot of experience in big events abroad with the National Squad and that came into play this week. The night before the final round of The Amateur I barely slept, but I was a lot calmer going into the final round here at Randpark.
"I'm really proud of the guys who teed it up and Deon, Wilco and Yurav, who made the cut. It's great for amateur golf to see four amateurs on the weekend, and I hope we inspired the next generation."
Rebula tied for 24th alongside last year's champion Chris Paisley, among others.
Premlall and Germishuys grabbed a share of 43rd on two-under with Austin Connelly from Canada, Frenchman Gregory Bourdy and Henric Sturehed from Sweden. The Edengled junior carded rounds of 73, 67, 72 and 70, while Strand golfer Germishuys followed three successive rounds of 70 with a final round 72.
Nienaber from Bloemfontein tied for 54th on one-over after posting rounds of 69, 69, 74 and 72.
Written and released by Lali Stander on behalf of GolfRSA.
PILAR, Argentina (5 November 2018) – GolfRSA National Squad pair Luca Filippi and Therion Nel want to up the ante in this week's 59th Argentine Amateur Championship after placing fifth in the International Team Competition in the 47th Juan Carlos Tailhade Cup on Sunday.
Mateo Fernandez de Oliveira and Martin Contini sealed Argentina's third victory in the 21st edition of the Team Competition on even-par 560, while Filippi and Nel posted rounds of 150, 139, 145 and 145 to tie Brazil for fifth on 19-over 579.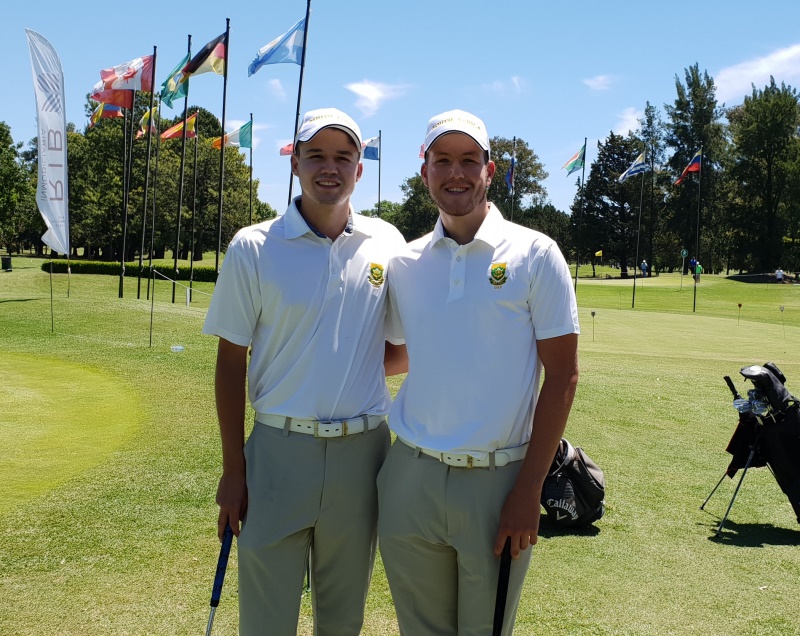 PHOTO – GolfRSA National Squad players Luca Filippi from Milnerton and Therion Nel from Bloemfontein at the 47th Juan Carlos Tailhade Cup at Los Lagartos Country Club in Argentina; credit GolfRSA.
Meanwhile local teenager Guillermo Estivill gave the home crowds plenty to cheer about when he claimed the Individual title on three-under-par 277, winning by three shots from a four-way tie for second at Los Lagartos Country Club.
Filippi from Milnerton was well placed after rounds of 75 and 65, but slipped to joint 13th on six over 286 with a third round 74 and final round 72. Nel from Bloemfontein returned rounds of 75, 74, 71 and 73 to tie for 37th on 13-over 293.
Both Ernie Els and Fancourt Foundation players admitted to battling in the hot and windy conditions on the final day, but were upbeat about the opportunity competing in Argentina presents.
"I played the front nine in two under, but I was four over on the back nine in the final round and to be honest, my short game and putting was messy," said Filippi.
"I've been hitting the ball nicely tee to green all week, but I averaged about 34 putts per round. That's just not good enough. I've had a great time in Argentina with Therion, though. It was disappointing to slip from a tie for fifth to outside the top 10, but it's been an incredible experience for both of us. Lots of lessons learned this week and hopefully we both do better in the Argentine Amateur Championship next week."
Nel said both players felt they let themselves down with silly mistakes and will need to keep the bogeys to a minimum to do well in their next start.
"It could have been better for both of us, but we both let ourselves down with silly mistakes," he said.
"I made a poor start in the final round and I was three-over after five. I brought it back with birdies at seven and eight to turn one-over and kept it going nicely, but then had a soft drop at 15. And I couldn't up-and-down from a bad lie in the bunker at 18.
"When we arrived, we felt well out of our comfort zone, but we are adjusting to the weather and the heat. The host families have been amazing and we are very grateful to have this experience. If we can tighten up, I believe we could have a really good week at Highlands Country Club."
The 59th Argentine Amateur Championship tees off from 7 – 10 November.
Written and released by Lali Stander on behalf of GolfRSA.