TRINITY, Texas, United States (10 November 2019) – The GolfRSA Proteas continued South Africa's success story on the international golfing stage with a superb performance in the highly-rated Spirit International Amateur Golf Championship in Texas.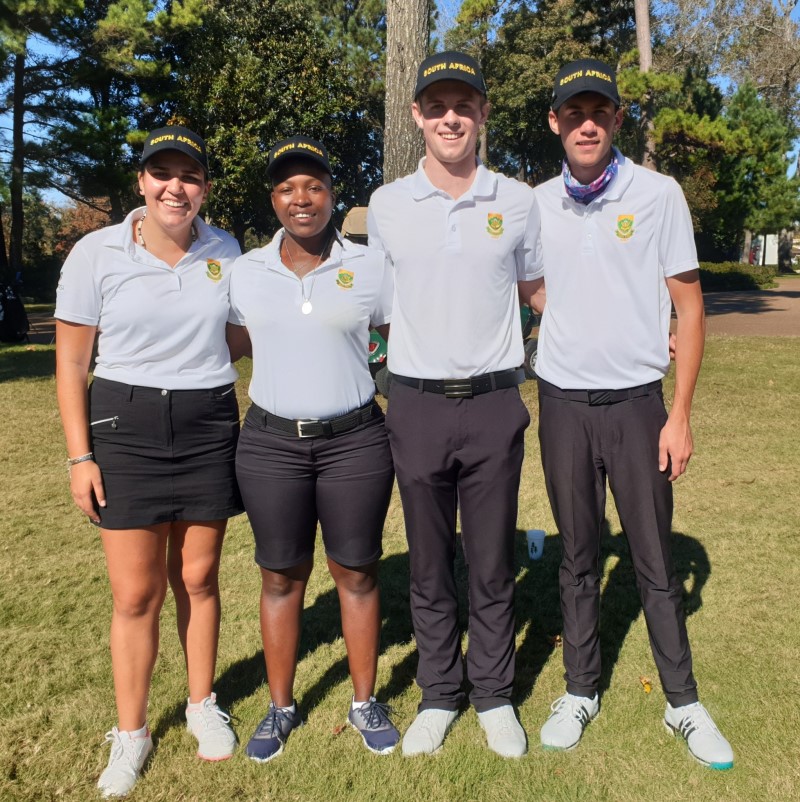 PHOTO – The GolfRSA Protea team did South Africa proud with a successful haul of accolades at The Spirit International Amateur Golf Championship in Texas; credit GolfRSA.
From left to right: Symone Henriques (Glenvista Country Club), Zethu Myeki (Randpark Golf Club), Martin Vorster (Pinnacle Point Estate) and Sam Simpson (Bellville Golf Club).
Martin Vorster from Southern Cape, Western Province's Sam Simpson and Gauteng pair Zethu Myeki and Symone Henriques combined for an impressive ninth place finish in the Team Competition with a sublime final round effort at Whispering Pines Golf Club on Saturday.
"Our GolfRSA Proteas are returning home with a successful haul of accolades," said proud South African Golf Association President Naadir Agherdien.
"Martin and Sam won silver on 20-under in the Men's Team Championship and Martin was the bronze medallist with 15 par-breakers in the Men's Individual Championship. Sam was just an impressive, finishing ninth with 13 par-breakers."
Myeki and Henriques languished at the bottom of the log in the Women's Team Competition after a dismal start, but the GolfRSA Elite Squad duo finished with a spirited fightback.
"Zethu fired six birdies in the final round to tie for 11th in the 36-player field of the Women's Individual Championship. Symone made all the critical par-saves for the team, including the final hole which they bogeyed in the first two rounds, and this lifted them to 16th overall," Agherdien said.
"It was a titanic comeback for the girls and the boys were leading the field for most of the round until Sweden matched them late in the day, and the United States overhauled them with two late birdies to win on 22-under."
The collective achievement of the GolfRSA Proteas in Texas extends the purple patch for South African amateur golf, which gained momentum with Jovan Rebula's triumph in the 2018 Amateur Championship.
Vorster, who won the Junior Open and Reply Italian International Under-16 Championship last year, followed fellow Southern Cape golfer Christo Lamprecht into the winner's circle at the 2019 East of Ireland Amateur Open, while 14-year- old Amilkar Bhana emulated Vorster's success in Italy.
The country's number one ranked Jayden Schaper became the first South African to lift the Junior Players Championship trophy and Bridge Fund Managers Junior Series finalist Tyran Snyders the first South African to win the Junior North and South Championship.
Another Bridge Fund Managers Junior Series finalist, Ryan van Velzen, captured the Triad Junior Amateur title on the Tarheel Tour.
The South Africa's men and women junior teams continued their dominance in the All-Africa Junior Golf Challenge, with the individual honours going the way of Simpson and number one ranked Caitlyn Macnab.
The South Africa women's team won the Regional All-Africa Challenge Trophy in Swaziland for a 13th consecutive time, with Myeki heading up the individual standings.
Rebula captured the individual titles in the Southeastern Conference and the Kiawah Classic on the US collegiate circuit and Daytona State College freshman Henriques bagged her first win in her third start for the Lady Falcons in the Stetson Hatter Fall Classic.
"The crowning glory in 2019 was our juniors winning the Toyota Junior Golf World Cup in Japan, where Martin and Sam partnered Christo and Casey (Jarvis) to a tournament record-setting 41-under-par total. Sam once again won the individual title.
"And we are very proud of Jayden, Martin, Christo, Sam and Jordan Duminy who will be flying the flag for South Africa as members of the International Team in the second Junior Presidents Cup at Royal Melbourne Golf Club in Australia this December," Agherdien said.
"Our sport is in a good space with talent abound and we are extremely proud of their achievement in a world-class international field. We will continue to give the players the international exposure to build their character and prepare them for their future careers, whatever it may be."
SCORING LINK: https://www.golfgenius.com/pages/2286624
Written and released by Lali Stander on behalf of GolfRSA.
PORTRUSH, Northern Ireland (13 September 2019) – GolfRSA Junior Proteas Sam Simpson and Caitlyn Macnab felt both tapped out and buoyed after the Duke of York Young Champions Trophy wrapped up in Northern Ireland on Thursday.
For a third successive day, the field battled gale force wind and howling rain brought on by the marriage of Hurricane Dorian and Tropical Storm Gabrielle at Royal Portrush.
Junior Presidents Cup-bound Simpson tied for 11th with rounds of 75, 84 and 74 and top ranked Macnab signed off with a joint 50th place finish after posting rounds of 84, 88 and 82.
"Sam and Caitlyn both felt that they survived a baptism of fire and I was heartened to hear them say that despite all the trials and tribulations, they learned some very valuable lessons here this week which will serve them well in the future," said Womens Golf South Africa President Sally Greasley.
"Sam was struggling with his swing and Caitlyn battled an ice-cold putter, which are not ideal when you are facing an extremely tight course with very firm greens and Open Championship pin positions. Throw in the howling wind and sweeping rain over the three days of the competition and you have to be impressed with their fighting spirits and their determination to forge ahead despite the setbacks.
"Caitlyn's putter once again refused to warm up in the final round, and the 4-club wind caught hold of a number of her tee shots and swept them into the thick, wet rough. She has certainly learned that she needs to work on is hitting lower shots to stay out of trouble in high winds.
"Sam was feeling particularly bleak after slipping from the top four to 17th with the 84 in the second round and he was really pleased his final round performance. Although he was still struggling with his swing, he controlled the ball much better and it showed in his score."
Simpson turned two-over after bogeys at the second and fourth holes and gave away further shots with successive bogeys on 12 and 13, but the Bellville golfer rallied with back-to-back birdies on 15 and 16 and parred his way home.
"You definitely gain new respect for the professionals when you've played a course like Royal Portrush," said Simpson. "We played a number of courses during the GolfRSA National Squad Tour this year and the Old Course and Eden Course at St Andrews, but nothing prepared me for this challenging layout. It is so tight and it demands absolute perfection.
"I take a lot of confidence from the fact that I wasn't on my A-game, but I still grinded out a top 20 finish. It was a really tough week, mentally and physically, but an incredible experience nonetheless and one I will reflect on again and again."
Macnab, who lives on Serengeti Estate and often plays Ebotse links where her coach Grant Veenstra is based, wholeheartedly agreed.
"There isn't a single links course at home that compares to Royal Portrush and I am really grateful that I got to experience this course," said the reigning Nomads SA Girls champion. "The extreme weather conditions kind of spoiled it, because we didn't really have time to enjoy the course and to appreciate the incredible design.
"I had some great holes and some disastrous ones, but I am really glad I had this experience. Sam and I met some amazing golfers from all over the world and made many new friends and the organisation of the event was world class. Lots of lessons learned and things to go work on when we get home."
Greasley believes that the juniors will benefit in the long run from the experience.
"Our players really found the week really tough. They get very few opportunities to compete on true links courses and certainly not in these extreme weather conditions and it was a really steep learning curve for both of them. They both came away from this experience with a much better understanding of what it takes to compete at courses such as Royal Portrush and this type of weather.
"It has been a joy for me to chaperone Sam and Caitlyn, who despite their obvious disappointment, always smiled and remained upbeat. Once again, we were complimented on our players' behaviour, both on and off the course, by coaches, volunteers, club members and supporters. They kept the South African flag flying high, albeit a bit tattered after the beating it took in the wind this week."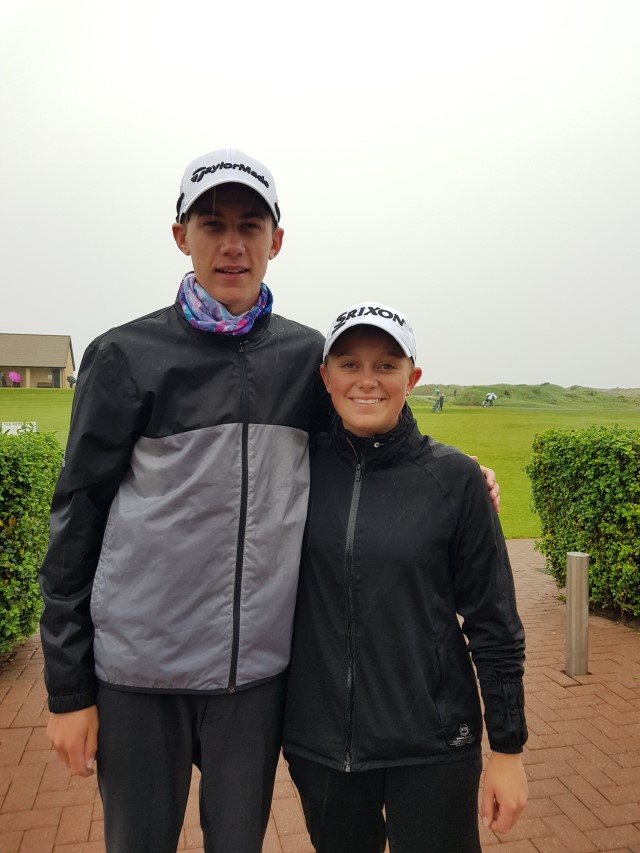 PHOTO - Caitlyn Macnab and Sam Simpson are flying the flag for South Africa at the prestigious Duke of York Young Champions at Royal Portrush in Northern Ireland; credit GolfRSA
For more information, please contact:
Sally Greasley (President, WGSA): This email address is being protected from spambots. You need JavaScript enabled to view it.
Grant Hepburn (GolfRSA CEO) – This email address is being protected from spambots. You need JavaScript enabled to view it.
Written and released by Lali Stander on behalf of GolfRSA.
Lali Stander
Media Liaison – GolfRSA
TEL: +27 82 990 7150 / EMAIL: This email address is being protected from spambots. You need JavaScript enabled to view it.