MAGALIESPARK, 16 May 2018 – Former British soldier Mike Browne showed the nerves and composure of a true champion when he claimed a breakthrough victory in wire-to-wire style at the Canon South African Disabled Golf Open on Wednesday.
PHOTOS – English leg-amputee Mike Browne lifted the 20th Canon South African Disabled Golf Open title in wire-to-wire style with rounds of 78, 78 and 76 at Magalies Park Golf Club; credit Abri Kriegler.
Competing in first disabled championship, the 38-year-old leg-amputee from England carded successive rounds of 78 to head into the final round at the Magalies Park Golf Club with a 10 shot lead over former two-time champion Iglin Grobberlaar.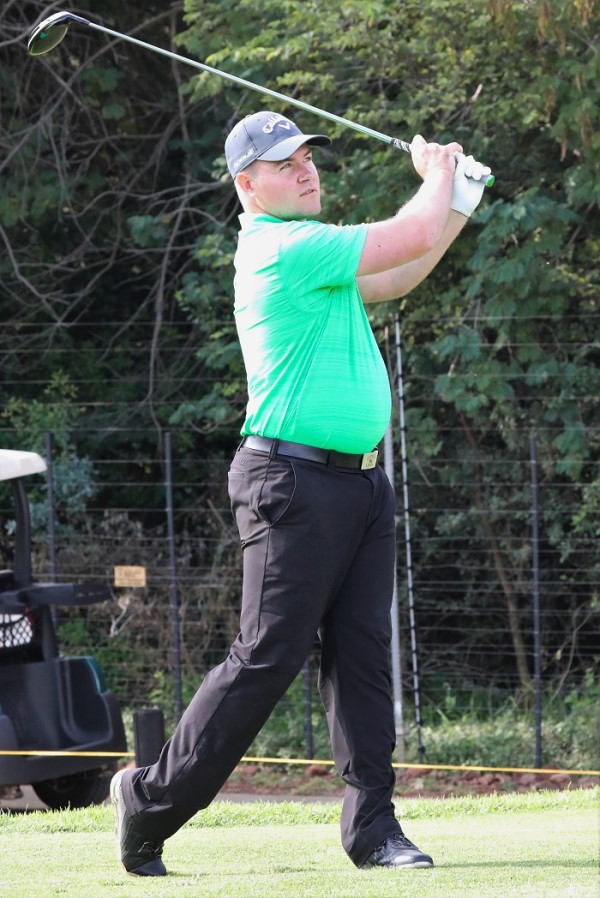 Iglin Grobberlaar
Browne let a few shots slip during the round, but his magic touch around the greens netted him a birdie at 17 and he parred the final hole for a four-over-par 76 to close out a 12 shot victory on 232.
"This is fantastic," said the elated winner. "It's pretty cool to be one-for-one in victories. I was apprehensive when I came out to South Africa, because I've never played in a disabled tournament before but I had an absolutely amazing time.
"I gained so much more from this experience than just the trophy. I've played against other amputees before, but here I met people with disabilities I've never seen before. They competed just as hard as I did and it was heart-warming to see their enthusiasm and spirit.
"I was especially impressed with the kids I met from the First Swing Programme. To hear their stories and to watch see them compete was a very humbling experience. I feel incredibly honoured to be the champion of this tournament. I've said it before this week; any disabled person who loves golf should try to play in this championship."
Browne didn't have the greatest starts, but playing the pro circuit for the last 18 months has taught the scratch golfer to never give up.
"I hit a 4-iron off the tee and 8-iron in, but it flew the green and hit the road at the back," said Browne. "I got the two shots back with birdies at three and five. Then I made another double when I put it in the bunker at six. My trap shot hit a tree, I finished dead behind another tree and had to chip out. I turned two over, and had bogeys at 12 15 and 16, but I nearly eagled 17. I hit 5-wood and the ball pitched on the green and rolled off the back. I had about 35 foot to the pin and nearly holed it."
Browne hit it close again on 18, but the birdie putt shaved the hole, leaving him a tap pin for par and victory.
Grobberlaar and Daniel Slabbert both posted final rounds of 78, but the Clovelly golfer edged out four-time champion Slabbert by one stroke for second on 244. Grobberlaar also won the Les Autrés Medal Competition, edging out 19-year-old Iglin Douries for the victory.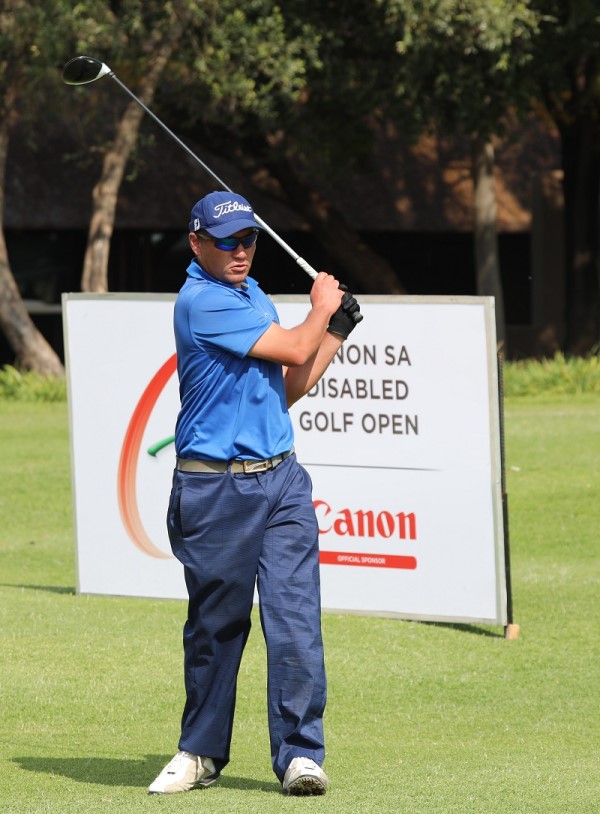 Daniel Slabbert
Hernan Garcia from Chile finished fourth overall on 248 and lifted the Arm-Amputee Medal title with rounds of 89, 82 and 77.
Double leg-amputee James Hourigan from Ireland closed with a 79 to round out the top five on 251.
First Swing Programme coaches, Daren Hanekom and Charles Williams had to put their friendship on ice as they challenged for the Deaf Medal Competition title. Williams won the race with a final round 87 to triumph on 258.
Garreth Slattery successfully defended his title in the Visually Impaired Medal Competition on 285 and arm-amputee Chris Wood from Namibia won the Senior Medal Competition on 254.
The various Stableford winners included Albano dos Santos (Deaf), Manel Usher (Rookies Deaf Nine-Holes), Charlene Pienaar (Ladies), Raylen de Wee (Physically Disabled U-23), Kwazi Mahlangu (Deaf U-23), Simu Mdudu (Leg-Amputee) and former Sunshine Tour professional Brandon Shaw, who won the Physically Disabled Overall Competition and the Les Autrés Division.
CAPE TOWN, 19 May 2017 – American Chad Pfeifer will have to buy an extra suitcase to take his trophy haul home to Boise, Idaho after he and partner Kenny Bontz marched to a colossal 42 stroke victory in the World Cup of Disabled Golf at King David Mowbray Golf Club on Friday.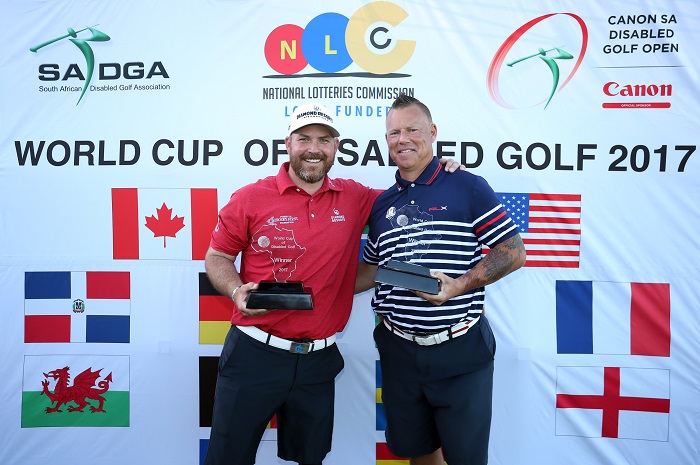 2017 Canon SA Disabled Golf Open champion Chad Pfeifer from the United States and partner Kenny Bontz celebrate a 42-stroke victory in the 2017 World Cup of Disabled Golf at King David Mowbray Golf Club; credit Dana Eitzen Canon South Africa.
The US pair opened up a yawning gap on Bob MacDermott and former SA Disabled Golf Open champion Josh Williams from Canada with rounds of 144, 145 and 149 during the three stroke play rounds of the Canon SA Disabled Golf Open.
In the final round, Pfeifer and Bontz fired a three-under-par 69 in the Fourballs and posted 74 in the Foursomes to triumph on a winning total of 581.
Bontz – who lost his left leg to cancer above the knee –plays off scratch like Pfeifer and regularly competes in state opens back home for able-bodied golfers.
"I love it," he chuckles. "There are always a few guys who look at me in my golf cart with my prosthetic leg and roll their eyes. You know they're thinking 'what is this guy doing here?' and I'm like, what do want to play for dude? Because I'm going to kick your butt. And I always take their cash."
Bontz cuts a flamboyant figure with his signature Mohawk and flowery tattoos, but at 47, the man is a fighter second-to none and a genuinely talented golfer. So is Pfeifer, who lost his left leg on military service in Iraq when the vehicle he was driving set off a land mine.
They're tougher now that they've seen adversity and overcome it, and boy, can they turn it on.
Pfeifer won the SA Open with a fabulous 54-hole return of four-under-par return of 212 at a course where many a normal pro has battled to break par.
His accuracy of the tee, the pin-point approaches and a magnificent putting stroke handed the team a huge advantage and the combination of Pfeifer and Bontz, who finished third in the SA Open, proved too lethal to match in the final round.
"We both hit good tee-balls to set up the birdie chances," said Bontz. "Chad and I have played a lot of golf together and against each other, so we know each other's games well. We feed off each other and Chad's putting been phenomenal all week.
"He only took up golf six years ago after his accident and he's got so good so quickly. He is a two-time Canon SA Disabled Golf Open winner, a three-time US National Amputee champion and the reigning World Disabled Golf champion, but his greatest worth is that he is an inspiration to so many people and he has touched the lives of a ton of people as he's played around the world."
Pfeifer responded: "Kenny talks a lot; I mean a lot. What he's not telling you is that his shoulders got very sore carrying me in the Fourballs and Foursomes. He is a great partner to have any day because he never stops fighting and he won't let you give up, either.
"For all the tattoos and big talk, he is a guy you always want on your team. The Canon SA Disabled Golf Open is the best organised and run national championship in the world and the World Cup of Golf was absolutely fantastic. If we are privileged enough to be invited back next year, we will be back in South Africa with bells on."
Williams and MacDermott combined for 149 in the final round to finish in second on 623, while the International Team of Juan Postigo from Spain and Welshman Martin Williams finished in third on 639.
Irish double leg amputee James Hourigan and his partner Cian Arthurs shot 68 in the Foursomes and 78 in the Fourballs to take fourth on 641 ahead of South African pair Herman van Wyk and Rupert Fortmann, who combined for 647.
South Africa's second team – Byron Calvert and seven-time SA Open champion Ben van Zyl – finished ninth overall on 667.
World Cup of Disabled Golf Result
581 UNITED STATES
Chad Pfeifer / Kenny Bontz 144 145 149 143
623 CANADA 1
Josh Williams / Bob MacDermott 154 161 160 149
639 INTERNATIONAL 1
Juan Postigo ESP / Martin Williams WAL 158 162 165 154
641 IRELAND
James Hourigan / Cian Arthurs 164 167 164 146
647 SOUTH AFRICA 1
Rupert Fortmann / Herman van Wyk 168 159 168 152
652 CANADA 2
Johannes Grames / Matt Hallat 169 196 159 155
655 ENGLAND
Mick Horsley / Shaun Bakker 160 170 167 158
664 INTERNATIONAL 2
Reinard Friske GER / Chris Wood RSA 164 164 171 165
667 SOUTH AFRICA 2
Ben van Zyl / Byron Calvert 172 165 172 158
675 SWEDEN
David Schutsander / Lars Lindenberg 178 162 170 165
704 DENMARK
Keld Schmager / Flemming Rasmussen 184 186 169 165
Written and released by Lali Stander and Grant Winter on behalf of the South African Disabled Golf Association.
CAPE TOWN, 17 May 2017 - American Chad Pfeifer called on his magical short-stick one last time and sunk a 20-footer for birdie from just off the 18th green at King David Mowbray Golf Club to win the Canon SA Disabled Golf Open for the second year running.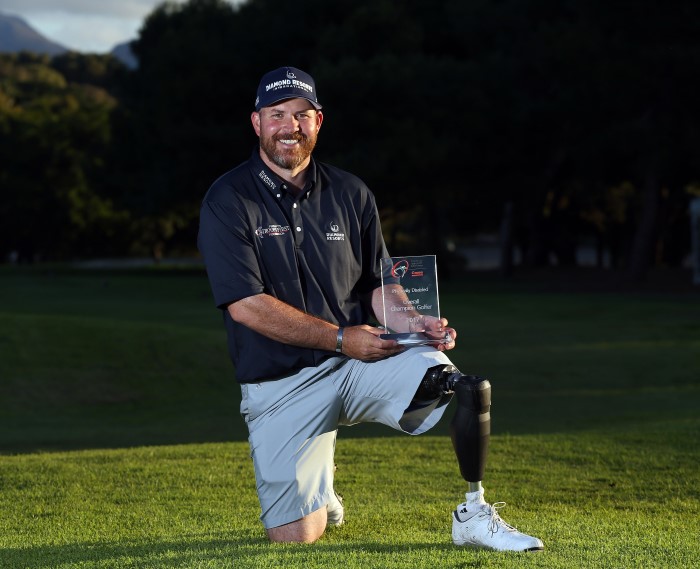 2017 Canon SA Disabled Golf Open champion Chad Pfeifer from the United States; credit Carl Fourie / SADGA.
After a 90 minute fog-delay to the start of the final round on Wednesday, the South-Easter also showed up to make conditions around the immaculately kept layout much tougher in the final round, but when it comes to holing nervy four and five-footers, no-one did it better this week than Pfeifer.
The leg amputee – whose left leg was blown off in a landmine explosion while he served the US Army in war-torn Iraq in 2007 – might have battled with the big gun off the tees, but Pfeifer waved the putter brilliantly to post successive rounds of 70 for a three-shot lead over Spanish sensation Juan Postigo heading into the final round.
The former corporal marched around the championship layout in 72 strokes and pencilled in 12 pars and three birdies and bogeys apiece to celebrate a six shot victory on four-under-par 212.
"The first nine was fine, but to be honest, my driver was a bit off coming home," said the 34-year-old reigning World Disabled Golf champion.
"I dropped shots at 13 and 15 and I had to make a couple of really good par saves from the trees at 12 and 14 to hold the round together, so it felt really special to win it with a birdie. I battled to keep the driver in play over all three rounds and I left a few out there. I had to do a lot of scrambling, but I kept it going and it feels great to finish with a four under par.
"Anytime you get a W, it's a great feeling and I am absolutely stoked to get this second one. It looks like coming out to South Africa is becoming a great habit. I've still a way to go to catch Ben (van Zyl) with his seven SA Open titles, but I'm incredibly proud of this achievement.
"We had a world class field out here and the Canon SA Disabled Golf Open is one of the best run championships in the world, so it's a real honour to be its champion again."
Meanwhile Postigo – the man who led the first round with a superb 69 and was left chasing after a second round 74 – had to settle for second after closing with a 75.
The 21-year-old Spaniard certainly left an impression on the 2017 champion.
"Juan's amazing," said Pfeifer. "He was born with only the right leg and he doesn't wear a prosthesis, yet he hits the ball longer and straighter than anyone else in the field. I really don't know whether I could play as well as that without a prosthetic. When you add his touch around the greens, he really is just the most amazing talent."
Pfeifer's compatriot, Kenny The Mowhawk" Bontz also birdied the final hole for a 77 to take third on 10-over 226.
Belgium's Adem Wahbi, a diplegia sufferer, carded rounds of 83, 72 and 76 to finish in fourth on 231, while Christo de Jager led the South African challenge. The nine-handicap Les Autres golfer from Uitenhage Golf Club rounded out the top five at 232 following a 78.
It was also a very successful tournament for some of the South African Disabled Golf Association's First Swing Programme players.
Citrusdal's Ignation Douries won the 10-18 Physically Disabled Overall Medal at his home course, while Enrique van Wyk from Tempe Golf Club claimed victory in the Les Austres Stableford 19-36 Handicap Division.
Rayleen de Wee (20) from Carnavon won the Arm-Amputee Stableford 19-36 Handicap and 23-year-old Charles Williams took second SA Deaf Championship. But perhaps the most impressive performance next to Pfeifer's was young Kwazi Mahlangu from Boksburg.
The 12-year-old only joined the First Swing Programme through the St Vincent School for the Deaf a mere three months ago and had only played in six competitions before he qualified for this year's Canon SA Disabled Golf Open. Playing only nine holes per day, Mahlangu racked up 20, 15 and 16 points off his 36 handicap to lift the Deaf Under-15 Stableford title in the 19-36 Handicap division.
Thursday the field will entertain the South African Disabled Golf Association sponsors in a golf day, while Friday sees the completion of the World Cup of Disabled Golf, which has been running concurrently with the Canon SA Open. The US Team of Pfeifer and Bontz are very much in command, leading by 37 shots from former Canon SA Disabled Golf Open champion Josh Cunliffe and Bob MacDermott from Canada.
RESULT (TOP 20)
212 Chad Pfeifer USA 70 70 72
218 Juan Postigo ESP 69 74 75
226 Kenny Bontz USA 74 75 77
231 Adem Wahbi BEL 83 72 76
232 Christo de Jager RSA 77 77 78
236 Josh Williams CAN 75 80 81; Herman van Wyk RSA 83 78 75
238 Reinard Friske GER 80 79 79; Iglin Grobbelaar RSA 83 79 76
239 Bob MacDermott CAN 79 81 79
240 Mick Horsley ENG 78 83 79
242 Matt Hallat CAN 82 82 78
244 Byron Calvert RSA 83 78 83; Vince Biser USA 81 78 85; James Hourigan IRE 85 78 81
245 Robin Singh RSA 83 83 79; Morne Cronje RSA 86 80 79
249 Reinardt Schuhknecht RSA 85 84 80
251 Cian Arthurs IRE 79 89 83
252 Conrad Stoltz RSA 85 83 84
Written and released by Lali Stander and Grant Winter on behalf of the South African Disabled Golf Association.
CAPE TOWN, 11 May 2017 – Reigning World Disabled Golf champion Bob MacDermott flew into the City of Cape Town ahead of a whole slew of global winners arriving this weekend to do battle in the Canon SA Disabled Golf Open from 15-17 May.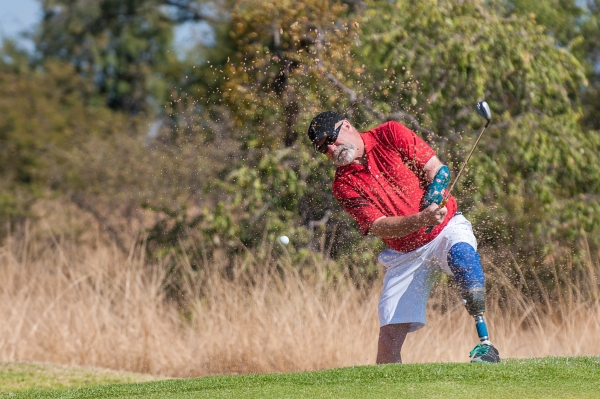 Reigning World Disabled Golf champion Bob MacDermott from Canada; credit Tyrone Winfield / SADGA.
A total of 22 international competitors from 12 countries – who share a remarkable haul of more than 30 international titles – are primed to light up King David Mowbray alongside South Africa's legends of the game with one goal only: to win one of the most coveted titles in disabled golf.
And the Canadian is the pick of the bunch.
Touted as the world's most amazing golfer, MacDermott's list of accolades could rival that of a PGA pro. The Saskatchewan native took up golf at the age of 30, but after surviving a brutal farming accident that cost him his left leg, left arm and right thumb, he has racked up more provincial, national and international victories than you could shake a stick at.
Among his many highlights, the former British Amputee Championship winner has won the annual Alberta National Pro-Am more than 10 times and the Belvedere Country Club Championship consecutively in 2003, 2004 and 2005.
Incidentally, the all-time course record 65 he set in 2003 still stands.
What should be worrying the rest of the contenders in this year's Canon SA Disabled Golf Open is the double-amputee's form. MacDermott has arrived on the back of yet another profitable season and he is undeniably one of the prime contenders in South African disabled golf's flagship event.
In addition to winning the World Disabled Golf Championship, he landed the silverware at the US National Multiple Amputee Championship and took the Senior and Multiple Amputee honours at the Canadian National Amputee Senior Championship.
He won both the Edmonton Golf Association's Senior Championship and Belvedere Country Club Senior Championship titles, competing against able-bodied players, not to mention finishing 45th in 113-strong able-bodied field at the Canadian Club Champions Championship.
The Alberta Sports Hall of Famer liked what he saw when he cruised the course at King David Mowbray Golf Club shortly after his arrival on Wednesday.
"When we played the SA Open and World Cup at Zebula in 2014, the course really favoured the long hitters and at high altitude, they could really let rip," said MacDermott.
"King David Mowbray is horse of another colour. It's not too long, it's got a lot of dog-legs and it's heavily tree-lined. A great leveller. It will reward the player who keeps it in the fairway and that gives me a chance. At 61, I can't carry that little white ball so far anymore but I can still hit it straight and I'm good around the greens.
"It reminds me of my home course, Belvedere, and besides, I am partial to Parkland courses. Canada is still six feet under the snow, so I went down to Phoenix and played some Parkland courses to get match ready. I still have a great desire to win and I'm definitely liking what I see."
MacDermott will be partnering with former SA Disabled Open champion Josh Williams in the second World Cup of Disabled Golf and he fancies their chances.
"I definitely back myself and Josh, especially at this course. We are both highly competitive and the better the competition, the deeper we dig," said MacDermott. "Australia and South Africa beat us to the punch in the first World Cup at Zebula, so we have a score to settle.
"It's great to be back in South Africa and have the chance to take in some of the famous sights like Table Mountain and to re-connect with old friends and make some new ones. Moreover, I look forward to see some of the young talent from the South African Disabled Golf Association First Swing Programme. Nothing is more rewarding than inspiring the next generation."