August has been a busy month and we were able to do the full amount of sessions with the Kids From Carpe Diem.
Carlo did a total of 4 sessions at the school with both A and B group students. And two on course sessions at Kingswood. Time was spent on the Short game and the other we played on course. Thank you to Kingswood staff and especially Cliffie Howes for allowing us on the course on the Friday.
We focused on Pitching at the school sessions and playing over imaginary water Hazards or Bunkers .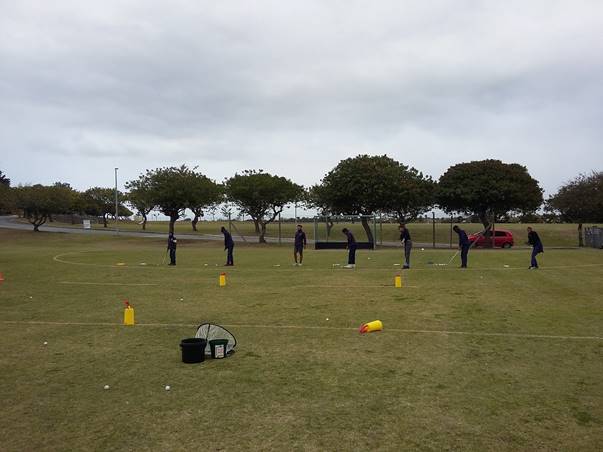 Above the kids simulating hitting over Water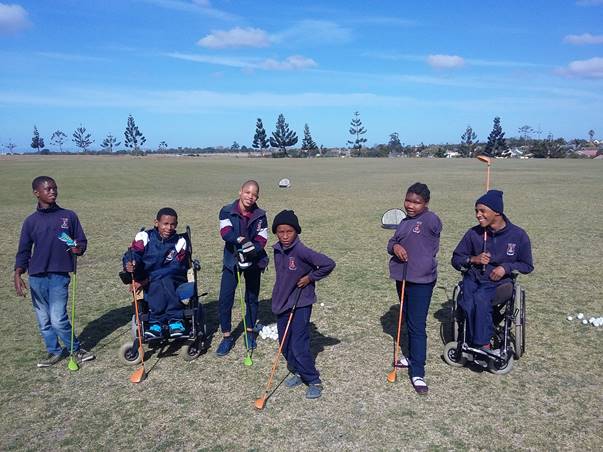 B Group working on their pitching shots : From left Simphiwe Solani,Elzane Gertson,Luchan Baron,Dante October,Sue Ellen Solomons ,Sipho Songqnegqe.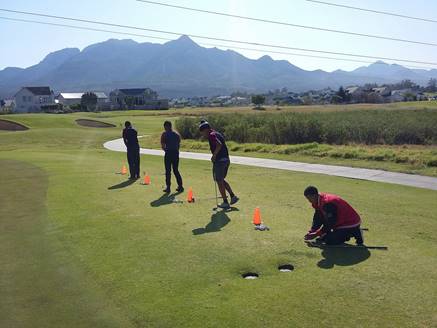 Golfers Practising their chipping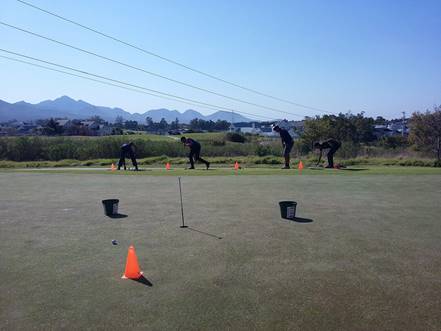 On the Chipping Green at Kingswood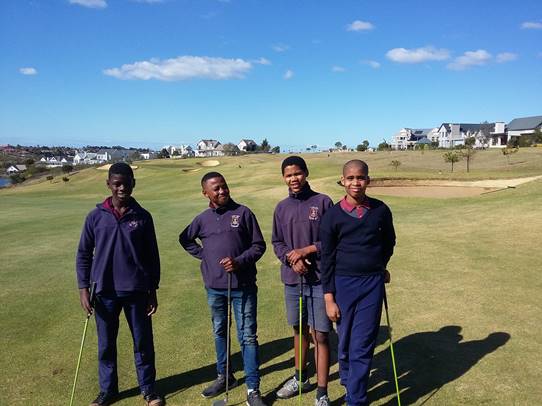 Playing at Kingswood From left ; Ntando Mrawuli,Mcneil Benson,Reanu Lammers , Alex Africa
I also had a Swing lesson with Morne Els.We focused on improving his movement through the ball not using the right shoulder  to much and hitting steep on the ball . This also encouraged a over the top move.
Thank you to the Golf Union for the continued support to this worthy cause.
Carlo Kok
With the Carpe Diem kids we did a few sessions at the school as well as 1 session at Kingswood and then also a Holiday program where I took them to the mashie course at Glenwood short course.
At the Carpe Diem School we had a very competitive few sessions as I did a putting tournament at the School Putt putt Course with both groups .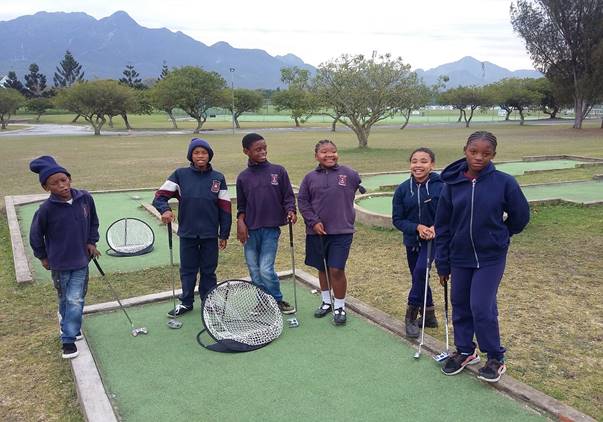 In the picture above the following kids had an competitive Putting compititon : from left : Dante October ,Keanu Harmse , Simpiwe Solani ,Sue Ellen Salomons , Lucreatia and Aubrey .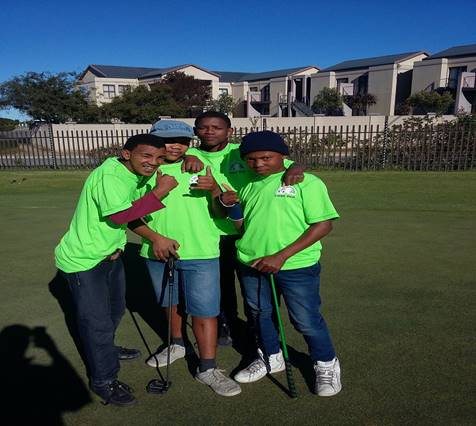 At Kingswood Golf Estate ; Ricardu De Wet , Reano Lamners,Cleo Mentoor, Mcneil Benson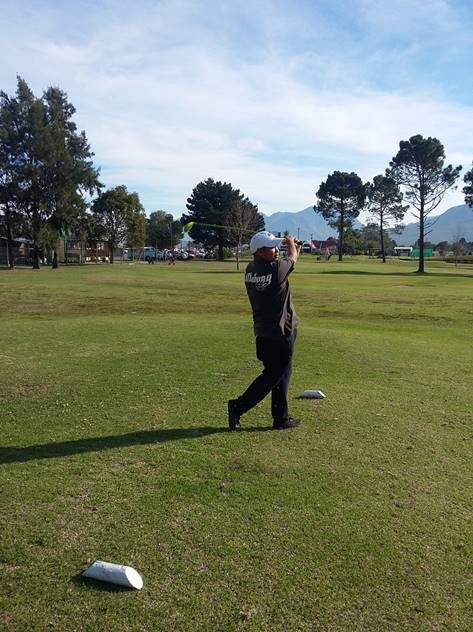 Dillian Van Hansen at Glenwood Mashie Course
With Morne Els I had a swing session on the driving range and we had a very good lesson. He was overswinging a bit (right hand holding holding club and not letting go ) and also struggling to turn into a good position on the backswing. This was causing him to fade the ball and be very steep coming down into the impact area. We made a few changes and did a drill or two with him and the ball flight improved towards the end of our lesson.
May is the month the SA Disabled Open took place at Magalies Park. I did two sessions with Morne Els in preparation for this Tournament. One range session and another on course.
Morne has been making steady progress and with this comes more pressure to improve on his scores. So had to give him a prep talk and to encourage him to play golf to enjoy it and not to be too hard on himself.
I glad to report back that Morne finished 6th overall in the country for his division. Thank you to the Southern Cape for all their Support and contributions towards Morne's Golf. He will be going to England in July for the British Blind Open. I would like to continue doing work with him to prepare him for this tournament.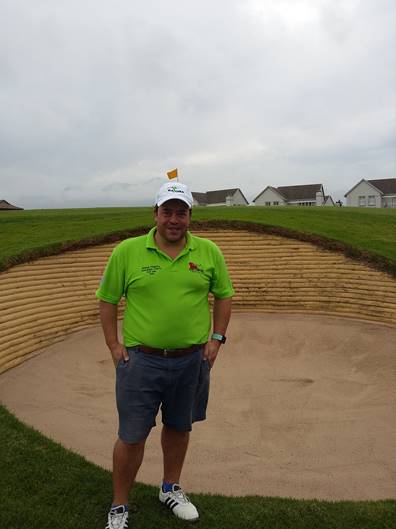 Morne Els at Kingswood just before he left for SA Disabled Open
At Carpe Diem this month I did a total of 4 Sessions at the school and one on course session at Kingswood .
I focused mainly on Pitching as well as full swing sessions.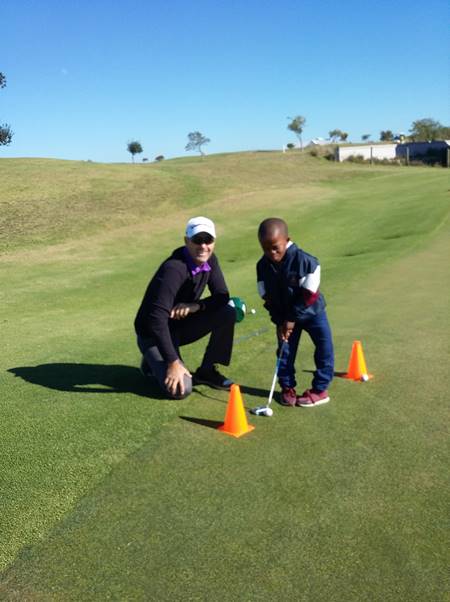 Julian Janzen Doing Putting at Kingswood
Thank you to the Union for continued support .
Kind Regards
Carlo Kok
HARTEBEESPOORT, 15 May 2019 – Mike Browne slept on the lead for two nights and on Wednesday, the Englishman finished the job – winning the 21st Canon SA Disabled Golf Open in wire-to-wire style for a second successive year at Magalies Park.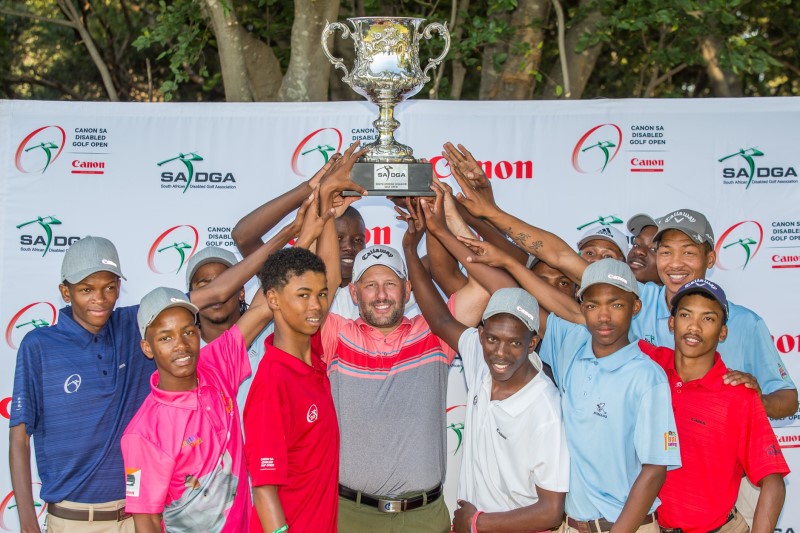 Inspiring the next generation…. Leg-amputee Mike Browne from England hopes to inspire these members and young coaches of the South African Disabled Golf Association's First Swing Program to chase their dreams with his double success in the Double Canon SA Disabled Golf Open; credit Tyrone Winfield.
Browne opened the tournament with a two-under-par 70 to share the first round lead with fellow leg-amputee Geoff Nicholas, but Browne left the Australian world-beater behind on day two.
A second round 76 moved the defending champion to two-over-par 146 and he started the final round two shots clear of Nicholas and 10 ahead of South African Les Autres pair Charl Theron and two-time former champion Iglin Grobbelaar.
Browne and Nicholas were evenly matched over the first nine holes, but the 41-year-old former Royal Artillery gunner shifted into high gear on the homeward loop.
He racked up three gains and drained a final birdie putt at the closing hole for a 74 and an 11 shot victory on four-over-par 220.
"I am happy, really happy with the way I bounced back after a truly awful start," said Browne.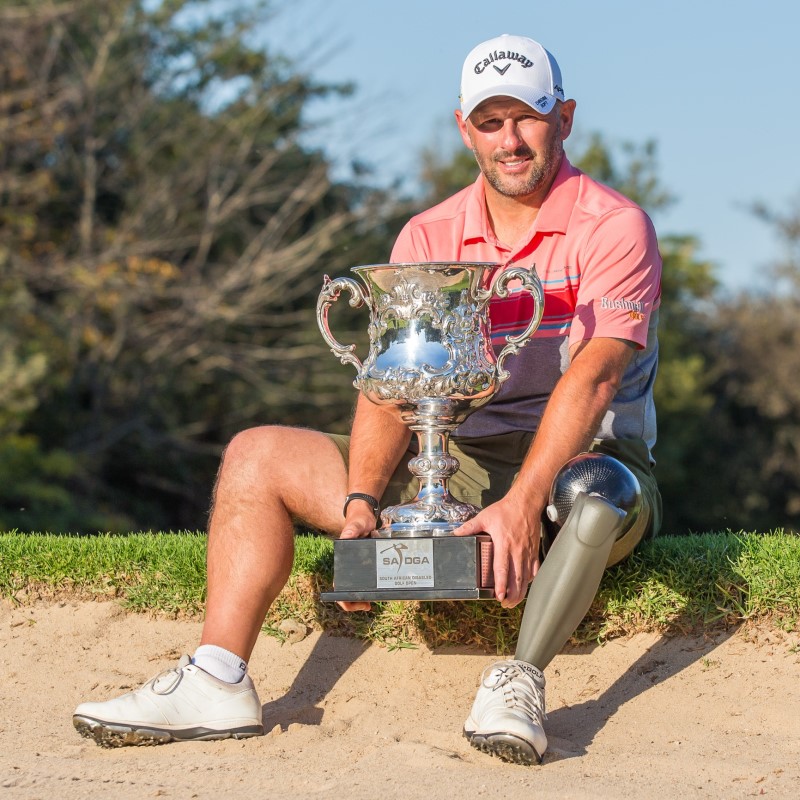 Englishman Mike Browne went wire-to-wire at Magalies Park Resort for a second year running to claim successive Canon SA Disabled Golf Open titles; credit Tyrone Winfield.
"It all went according to plan in the first round, but the second round was really tough with tucked pins and slippery greens. Then it went sideways this morning. I dropped at five and six and tripled seven and I could just see it all going the wrong way for me.
"You just have to dig in. I started with two straight pars and then I sunk a nice putt for birdie at 12 and I felt that the tide might turn. I hit two great shots into the par five (13) and made the birdie putt and got another one in the hole at 15, but gave it straight back at 16."
Browne's birdie putt at 17 pulled up just short, but he hit a good drive down 18 and pitched his approach 20 foot pin high left of the back flag.
"I had a similar length putt last year and it went the distance and lipped out. I'd been leaving putts short all day, so this time I gave it some good pace and it was the best feeling when the birdie putt dropped.
"Sometimes I forget that it's only been about five years since I started playing golf. Coming back here this year reminded me how much I've matured as a golfer in the last year. I'm really proud to be a double winner and to claim some important world ranking points.
"I definitely hope I can come back next year to hunt for a hat-trick of titles. I just love it here. With all the different disability divisions competing in this event, Magalies Park is such a perfect venue and the hospitality is out of this world.
"The course is perfect for this championship; not too long, but a real test. It doesn't benefit the long drivers, because the greens and the hazards is its defence, so it comes down to skill, short game and course management."
Nicholas turned five-over and dropped another four shots in the first five holes on the back nine, but he rammed home a brilliant birdie at 17. Unfortunately he ended up in the trees with his approach into the final hole.
Showing off the skills that netted him 13 British and United States Amputee Opens, the 57-year-old got on the dance floor, lagged a 60-footer to give and tapped in to seal second with a final round 83.
Four-time World One-Arm champion Reinard Schuhknecht led the local challenge. The 28-year-old Heron Banks golfer carded rounds of 80 and 77 and closing 77 lifted him to third on 234.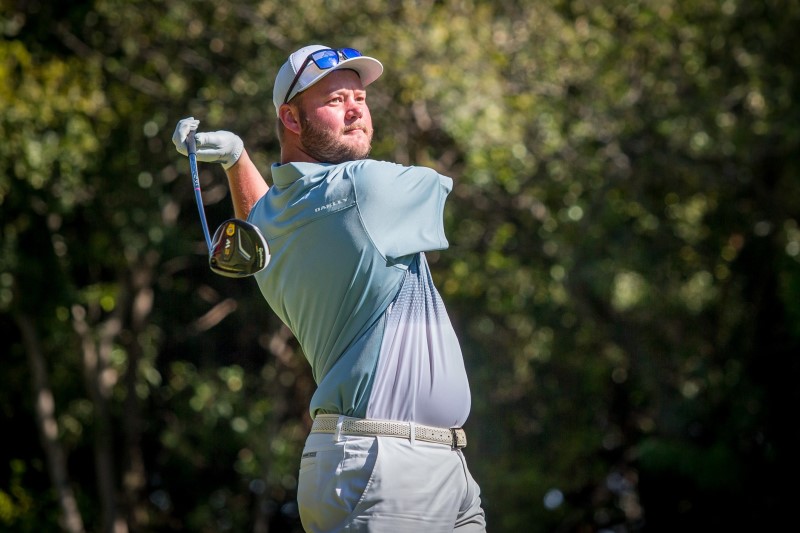 Reinard Schuhknecht led the South African challenge with a third place finish in the 21st Canon SA Disabled Golf Open at Magalies Park Resort; credit Tyrone Winfield.
Theron finished three strokes back in fourth and Grobbelaar rounded out the top five on 243.
Graeme Mazur and Ian Mortimer Jones added to the English celebrations with a one and three finish in the Overall Stableford Division.
Mazur carded rounds of 31, 34 and 28 to win on 93 points, edging out fellow Les Autres golfer Shelvin Kraemer from South African by two points. Jones took third on 89 points, while South African Visually Impaired duo Leon Strydom and Johan Kotze shared fourth 76 points.
Charles Williams made a welcome return to the winner's circle in the Deaf Championship.
The 2017 champion triumphed on 251 with rounds of 86, 82 and 83, denying fellow First Swing Program coach Daren Hanekom back-to-back wins.
And KwaZulu-Natal junior Sandile Shange – making his second appearance in flagship event – led from start to finish in the Deaf Overall Stableford Division. Shange won by six on 88 points with rounds of 31, 32 and 25.
Written and released by Lali Stander on behalf of the South African Disabled Golf Association.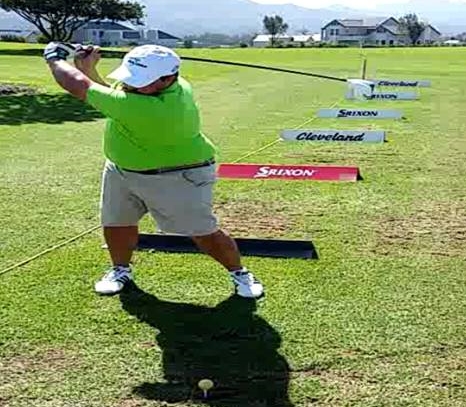 I played with Morne Els in the Simola Pro Am and was really happy with the way his golf is coming along. He made a lot of points and we won the team competition. He did battle a bit with the sloppy lies and our lesson at Kingswood covered just that. So I helped him with his setup and aiming on the different lies. Ball above feet and ball below feet. He is looking forward to his SA Disabled Open this month at Magalies Park close to the hartebeespoort dam.
I will see him for a range session and do a last on course 9 holes with him next week to prepare him for his big tournament.
With Carpe Diem I did two on course sessions. One at Kingswood working on putting as well as chipping. And we played at Glenwood mashie course. I want to report that there has been some improvement in the kid's short game and they can see if they focus a bit more when doing the short shots.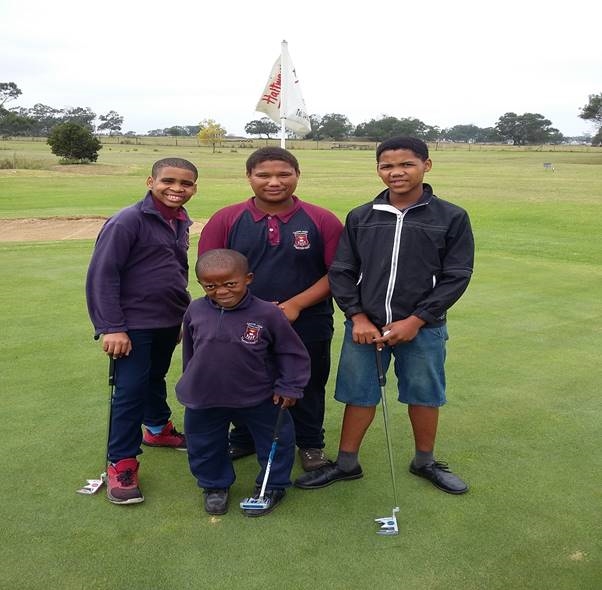 From Left : Alexander Afrika ; Julian Janzen ; Dillion Van Hansen ; Reeano Lammerts
At the school we did long game and I had a theme this month where we not trying to overpower the ball but to rather make better contact.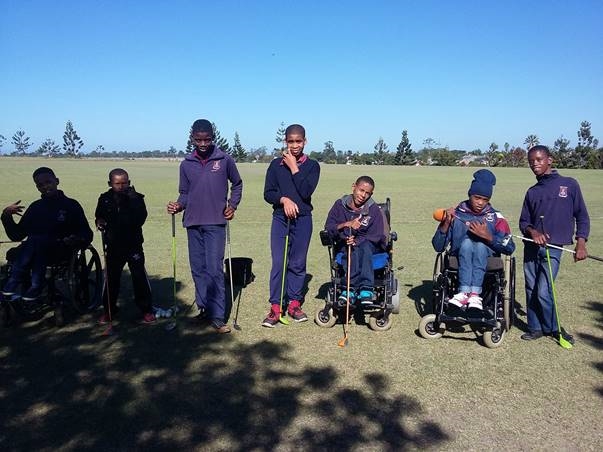 Thank you for the continued support from the union. And keep an eye out for Morne in the upcoming SA Open.
Kind Regards
Carlo Kok