Pezula Open

SC Par 3 Champs

Pinnacle Point Open

Eden District Open

Stilbaai Open

Heidelberg Open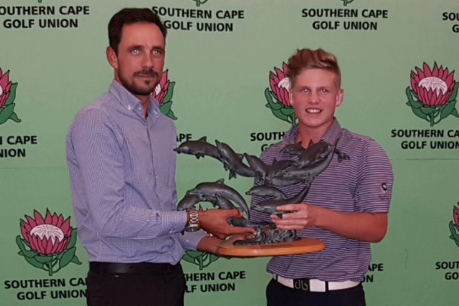 Ben van Wyk claimed yet another Open Title, when he won the 2018 Pezula Open by 5 shots. Pezula proofed to be a stern test for our best golfers, with only Ben (-4) under par for the Tournament.
Photo: Francois de Lange (GM – Pezula) with the 2018 Champion, Ben van Wyk.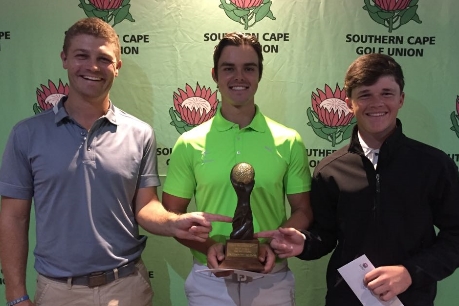 (Photo from left): Samual Vermaak, Aidan Boon & NJ Botha won the inaugural Southern Cape Par 3 Championship on a good score of 1 under par. Daylight stopped the three man playoff, and it meant that all three players had to share the title. The day also delivered three "Hole In Ones": Caylum Boon & Jordan Duminy (Hole 9), and Brian Jacobs (Hole 12).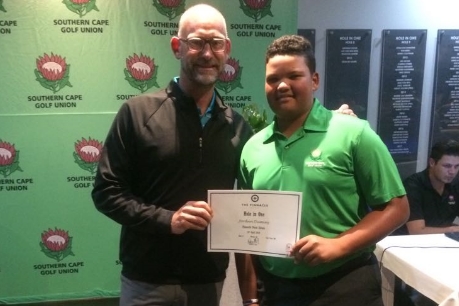 Jordan Duminy won the 2018 Pinnacle Point Open with two excellent rounds of 68 + 70 (-6). In second place was Martin Vorster & Ben van Wyk, both on 3 under par.
(Photo: Nic Grundtvig from Pinnacle Point, and the 2018 Champion, Jordan Duminy)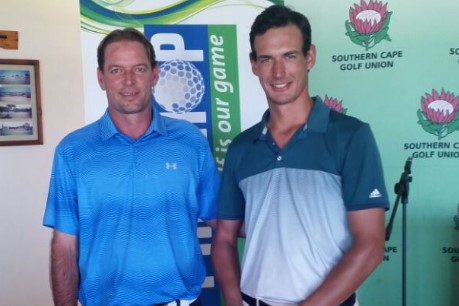 Oubaai Golf Club member, Hans-Jurie Human played superb golf to claim the 2018 Eden District Open title in Stilbaai. Hans-Jurie (-8) took full advantage of the sunny playing conditions and finished strong to beat Ian Norgarb by one shot. Photo from left: Marius de Lange (The Pro Shop George) with Hans-Jurie Human (2018 Champion).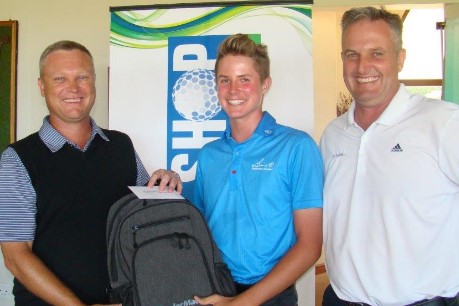 Many congratulations must go to 16 year-old George Golf Club member, James Murray, who claimed his maiden "Mens Open" victory at the 2018 Stilbaai Open. Windy conditions made the course extremely challenging, and James (-3) was the only player to finish under par. Photo from left: Ian Norgarb (Owner - The Pro Shop George), James Murray (2018 Champion) and his proud father, Stephen Murray (SCGU Vice-President).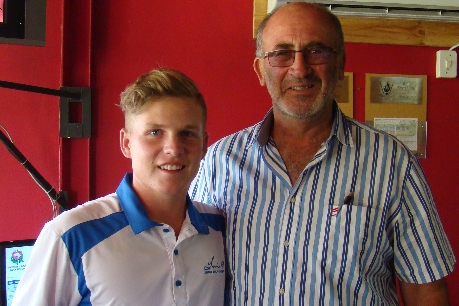 Ben van Wyk (-6) displayed superb putting skills on his way to claiming his second Open title on Saturday 10th February 2018. In second place was Ivan Williams & Franklin Manchest (-5).
(photo from left: 2018 Champion with Heidelberg GC Captain, Kobus Uys)
ASSOCIATED UNION PARTNER offering GOLF TOURS / ACCOMMODATION / TEAM CAMPS

Golf In Heaven will be offering golf tours and accommodation packages through their associated union partner, Southern Cape Golf Union. They will act as a service provider to all our affiliated clubs in the Southern Cape. Golf In Heaven is well equipped to handle all the daily accommodation and golf tour requests. They also specialize in team camps, and will have accommodation packages for the numerous tournaments we annually host in the Garden Route. For more information please visit www.golfinheaven.co.za

The Southern Cape Golf Union represents 26 affiliated clubs and approximately 7200 registered male and female golfers. The clubs are situated in the picturesque Garden Route and southern parts of the Karoo.
We pride ourselves in producing players of integrity and quality who uphold the good name of Southern Cape golf both on and off the course. The office of SCGU is situated in the grounds of the magnificent George Golf Club, Langenhoven Road, George.