Premier IPT

SC Match Play

Caddie League

SC Pairs

Super League (A-Division)

Super League (B-Division)

Mossel Bay Open

Goose Valley Open
Southern Cape claimed a historic first victory in the 56th South African Inter-Provincial Championship.


From left in photo: Hans-Jurie Human, Andre Nel, Brandon Cloete, Caylum Boon, Billy Valentyn (Manager), Henk Geldenhuys, Nicholas Mitchell (Captain), Iavn Williams (Vice-Captain), Jade Buitendag & Erica Valentyn (Assistant Manager).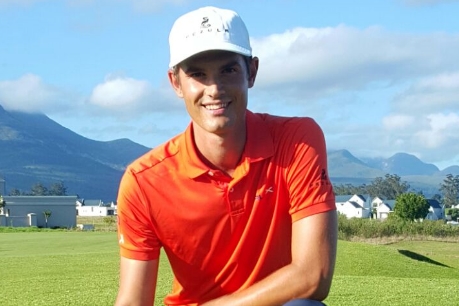 Brandon Cloete is the 2016 Southern Cape Match Play Champion after beating Caylum Boon 1 up in the Final. Hans-Jurie Human beat Barend Botha on the 19th to finish 3rd. Well done guys!
The inaugural Tannah Harris Challenge Cup was won by the Southern Cape Caddie League Team. They beat the Southern Cape Development Team, and the Southern Cape Police Team.
Nicholas Mitchell & Andre Nel is the 2016 Southern Cape Pairs Champions. In the AM Better Ball they scored 66, and in the PM Foursomes they shot 69, for a Tournament total of 9 under par. Well done guys!!
Fancourt is the 2016 Super League Champions, after beating Kingswood, Oubaai, Southern Cape Invitaional, Pinnacle Point & Simola in the highly contested A-Division. They only lost one match to George 1. Well done guys!!

Photo from left: Stanley de Beer, Constantyn van Wyk, Alex van Wyk, Henk Geldenhuys (Kaptein), Bradley de Beer & Arno van Heerden.
The B-Division on the 2016 Super League was won by the Southern Cape Junior Invitational Team.
Photo from left : Barend Botha, Pieter Zietsman, NJ Botha, Grant Chapman, JP van der Watt (Captain) & James Murray.

Many congratulations must go to Henk Geldenhuys who claimed the 2016 Mossel Bay Open. Henk had rounds of 75 & 69. Well done Henk!
Andre Nel is the 2016 Goose Valley Open Champion with rounds of 73 + 70 = 143 in testing conditions.

The Southern Cape Golf Union represents 26 affiliated clubs and approximately 5800 registered golfers. The clubs are situated in the picturesque Garden Route and southern parts of the Karoo.
We pride ourselves in producing players of integrity and quality who uphold the good name of Southern Cape golf both on and off the course. The office of SCGU is situated in the grounds of the magnificent George Golf Club, Langenhoven Road, George.