ST AUGUSTINE, Florida (14 January 2019) – South Africa's Caitlyn Macnab departs for the United States on Tuesday to join fellow GolfRSA Elite Squad member Kaiyuree Moodley for the 11th Annika Invitational USA, presented by Rolex, in Florida.
The tournament is named for Hall of Fame member Annika Sorenstam, whose foundation conducts six junior golf tournaments in the USA, China, Europe, Sweden, Latin America and Australia/Asia.
Since the first event in 2009, 45 players have gone on to earn LPGA cards and more than 600 are playing college golf.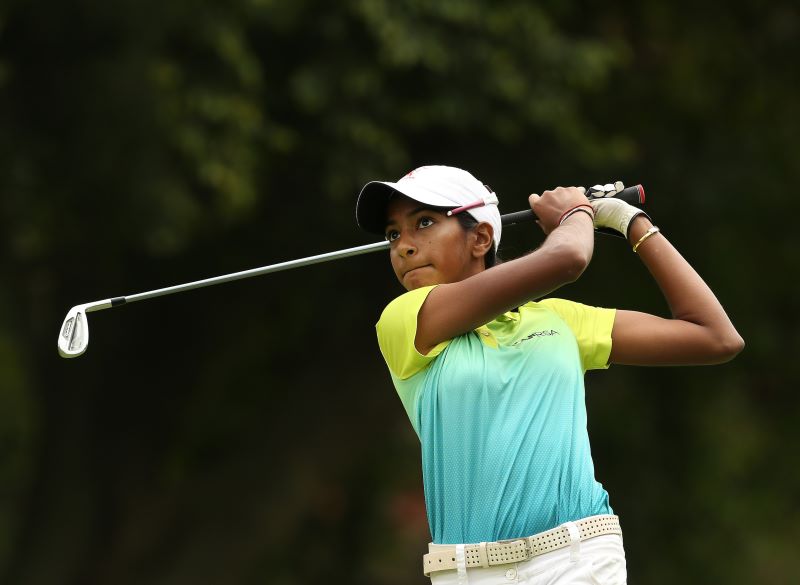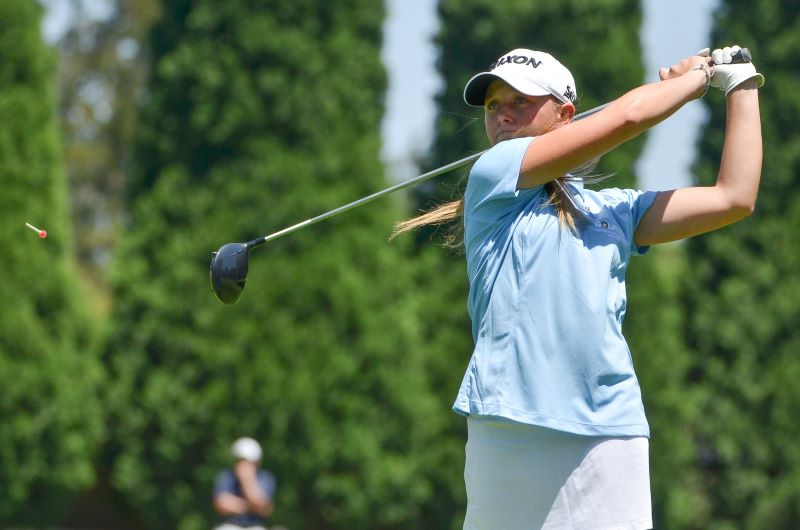 PHOTOS – GolfRSA Elite Squad members Kaiyuree Moodley from Bryanston and Serengeti's Caitlyn Macnab; credit GolfRSA.
The prestigious tournament returns to the Slammer & Squire course at the infamous World Golf Village in St Augustine for the second year in a row, where 72 of the world's top girls, aged 12 to 19, will do battle in the 54-hole stroke play event from 19-21 January.
The field is dominated by top ranked American Juniors, who will line up against competitors from 15 other countries.
The international field consists of 6 Chinese, five Canadians, a trio of Argentineans, a pair each from Italy, South Africa, South Korea, Colombia and Mexico and single entries from England, Finland, Japan, Sweden, France, Norway and the Philippines.
Among the top players in this year's line-up is defending champion Angelina Ye, a senior at the IMG Academy in Bradenton, Florida, world number 13 Alessia Nobilio from Italy, the runner-up in the Youth Olympics and World Junior Girls Championship.
Moodley went up against some of the top ranked juniors in the Girls Competition at the 2018 Youth Olympics in Argentina, while Macnab will also have encountered some of this year's campaigners during the Espirito Santo Trophy at the World Amateur Team Championship in Ireland last year.
Moodley – second in the Womens Golf South Africa Junior Rankings – has been in the United States since last week visiting colleges and arrived at the World Golf Village on Sunday.
"I have had a nice vacation with my family and it has helped, coming from a hot South African summer, to adjust to the winter weather," said the 17-year-old Bryanston golfer.
"Our official practice round and the Junior-Am Fundraising Tournament is only on Friday, so I hope to get out on the course earlier to have a good look at the layout. Kajal Mistry and Woo-Ju Son, who represented South Africa last year, told us the ball doesn't travel as far here as it does back home, so I would like to test distances before we start the tournament."
Third-ranked Macnab is looking forward to her return to the United States.
"As youngsters, Kai and I competed in several US Kids Championships and it was a fantastic learning curve," said the 17-year-old Serengeti golfer. "We are over the moon to have the chance to compete against some of the best juniors in the world; it's going to be an incredible week."
Womens Golf South Africa president Sally Greasley said the tournament is a wonderful opportunity for the South African pair to gain valuable international experience.
"It's wonderful to see Cat and Kai star in such a stellar line-up," Greasley said. "This event is one of the premier tournaments on the American Junior Golf Association schedule and we are extremely grateful to the Annika Sorenstam Foundation and the AJGA for affording the WGSA an opportunity for a second year running to give two of our top juniors this opportunity.
"We embrace every invitation for our juniors to compete abroad, because you cannot put a price on the experience they gain from testing themselves against their peers abroad. They will meet and learn from Annika Sorenstam, who is arguably the most successful female golfer of all time and is very involved in the event.
"Annika personally meets all the players at the welcome dinner and interacts with them throughout the tournament. She hosts a clinic after their official practice round and this year will address the rules changes with the field. On Sunday, she will present some of the segments of the "More Than Golf" seminar, which covers nutrition, fitness, media relations, course management, as well as the college admission process. And she is always at the 18th green at the end of play.
"I believe her personal touch goes a long way in instructing the juniors on etiquette, how to interact with sponsors, the importance of giving back to golf and setting an example for the young girls just starting in the game."
The field will also attend the Callaway Golf Junior Amateur Awards reception and dinner, hosted by the World Golf Hall of Fame.
Written and released by Lali Stander on behalf of GolfRSA.
KRUGERSDORP, 4 November 2018 – Twelve months ago Southern Cape's Sandra Winter sparkled brighter than Kimberley's famous Star of South Africa when she won the SA Women's Mid-Amateur Championship title for a record fourth time.
Having played the course blind after a nine hour car-trip from George, the Southern Cape golfer took command from the word go and staved off former champion Vanessa Smith from Western Province, Adele Beytell and Karin Watts from Gauteng North and Desiree Earle from Limpopo to go wire-to-wire at Kimberley Golf Club.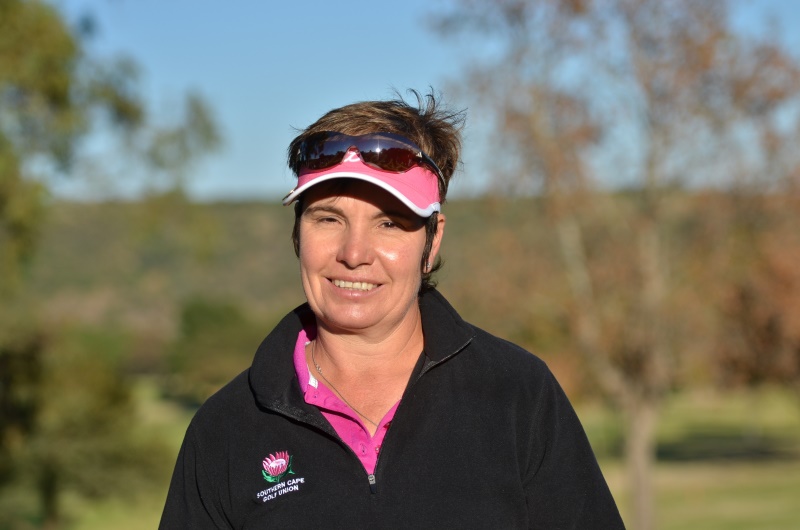 PHOTO – Sandra Winter from Southern Cape will be challenging for a record fifth SA Women's Mid-Amateur Championship title at Krugersdorp Golf Club from 5-7 November 2018; credit Ernest Blignault.
Winter, who won her first two titles back-to-back at Kingswood in 2011 and 2012, arrived for the 2018 edition at Krugersdorp Golf Club from 5 – 7 November having won the Southern Cape Mid-Amateur at Goose Valley, but she is taking nothing for granted.
"It's a relatively small field, but there are many experienced players, so I will have my job cut out to win it a fifth time," said the Kingswood golfer.
"Vanessa has won it twice before and has had many wins in her career, including the recent Western Province Women's Mid-Amateur in July and the Boland Mid-Amateur in August. Sonja (Bland) is another definite contender and a former champion, who has played many competitive rounds abroad in the last few years.
"Liezel Smit is another a solid player. She recently returned to competitive golf with her daughters that are also playing competitively now and she is known to score consistently. Karin and Adele can never be discounted, either."
Beytell won the Gauteng North Women's Mid-Amateur at Centurion in February after a runner-up finish in the Gauteng Mid-Amateur, while Watts was victorious in the Limpopo Mid-Amateur at Koro Creek Golf and Wildlife Estate in June.
Last year's runner-up Earle, who won the Gauteng Mid-Amateur at Ruimsig, is the only winner this season not teeing it up at Krugersdorp Golf Club this week.
"It should be a tight competition this year," Winter said. "I'm happy that I managed to get here early enough for a practice round. I have never played Krugersdorp before. It's a very interesting layout with many doglegs. Driver is often not the club to play off the tee, so course management and accuracy will play a big role. It is however a score-able course, if you manage your game well.
"The course is in very good condition, lush and well-manicured. We are very grateful to the lady members, who were very helpful and accommodating, allowing us to play in their ladies competition on Saturday to see the course and sharing their local knowledge with us.
"I am looking forward to the tournament and competing again. I've always loved this event and the opportunity to compete with golfing friends that I've met over many years."
Smith went wire-to-wire in the 2013 edition at Irene Country Club and defended her title the following year at St Francis Links, although the event had to be reduced to 36 holes due to unplayable weather conditions.
Other players to watch this week are Lynne Behagg from Boland and Gauteng's Valda Ford.
Behagg from Hermanus tied for third in the Goose Valley event and had a top 10 finish in the Western Province Women's Mid-Amateur. Randpark's Ford had top four finishes in the Gauteng, Gauteng North and Limpopo events, tied for 14th in the Southern Cape tournament and finished 11 in the Boland event at Stellenbosch Golf Club.
The Senior Championship will be played concurrently with the mid-amateur competition.
Written and released by Lali Stander on behalf of GolfRSA
BALITO, 11 July 2018 – Western Province junior Jordan Rothman confirmed her status as one of South Africa's future golfing stars when she knocked out two of the country's top amateurs for the Sanlam South African Amateur Championship title at Umhlali Country Club.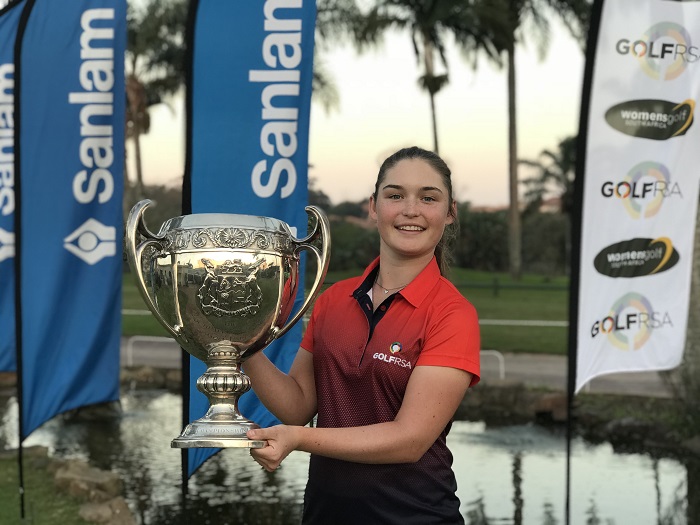 Fifteen-year-old Jordan Rothman from Western Province beat Kaleigh Telfer 2-up to win the 2018 Sanlam South African Women's Amateur Championship at Umhlali Country Club; credit GolfRSA.
The 15-year-old Durbanville golfer made it to the final on Wednesday afternoon with a 2 & 1 victory over Michaela Fletcher in the semi-finals and faced former number one Kaleigh Telfer, who edged out reigning Sanlam SA Women's Stroke Play champion Casandra Hall.
Rothman sealed victory with a birdie putt at 18 to beat Telfer 2-up.
"I'm over the moon. It hasn't sunk in yet," said Rothman, the youngest winner of women's amateur golf's flagship event since Ashleigh Simon, who was two months shy of 15 when she won her first title at Strand Golf Club in 2004.
"Kaleigh and Michaela were definitely the favourites, and I was quite happy to come into the last day as the underdog. It took all the pressure off me. Even my dad told me after the quarter-finals to just go out there and enjoy myself. My dad said I'd already done enough to make him burst with pride and that helped, plus I had the best caddie in world to keep my head in the game."
Rothman had Talent Development Squad player Kim Turgutt from Randpark on the bag for the two biggest matches of her short career.
"I only had enough money to pay for a caddie for the qualifying round," she explained. "When Kim got knocked out by Michaela in the second round, she volunteered to take my bag because she had to stay for the duration of the championship. She really helped me to stay focussed and it's was great to share this experience with her."
Rothman started strong against Fletcher and was 3-up after four holes.
Fletcher started to find her stroke on the greens. The Maritzburg golfer won the next two holes to close the gap to 1-down and squared the match with a birdie at 10.
"I really had to work hard to win," said Rothman, who edged ahead with a birdie at 12 and closed out the victory with another gain at the par five 17th.
"My heart was all over the place on the back nine, but she stayed very calm and she didn't show any emotion. That was definitely the toughest match of my life, but it prepared me well mentally to face Kaleigh in the final."
Telfer drew first blood with a birdie at the first, but Rothman square with a birdie at the third hole.
"I bogeyed six and seven, but I won the ninth with a par to level the match again," said Rothman. "I have to applaud Kaleigh for her sportsmanship at the 13th hole.
"Her ball moved when she tried to remove a twig and she came up to me on the green and told me about the penalty. She could have waited until after I had putted, but I think it says a lot about her character that she told me straight away. That left me with two putts for par to win the hole.
"Kaleigh won the next hole, but I went 1-up again at 15. Kaleigh had hit her drive behind this silly tree and all she could do was punch out. I knew I could win the hole with par, so I lagged my first putt close and tapped in for the win."
The pair halved 16 in pars and 17 in bogeys, but the closing hole belonged to Rothman.
"I wasn't thinking too much about leading because I just wanted to keep playing my own game, but when I stood with the 6-iron in my hand on the 18th tee, my heart was hammering in my chest," she said. "I could feel myself trembling and I told myself to just get it on the green."
Rothman's tee shot pitched a foot from the pin, leaving her an easy birdie putt for the win.
"I can't describe what this means," said Rothman, a member of the GolfRSA B Squad and the Womens Golf Western Province High Performance Squad.
"I'm incredibly grateful to GolfRSA and Womens Golf South Africa and to Womens Golf Western Province for the all opportunities they have given me. Playing for Western Province in the IPT and 72-Hole Teams Championship and competing in the Himbara World Junior Golf Championships in Indonesia last month definitely built my experience and my self-assurance.
"That's what gave me the confidence to face two really tough opponents and wear them down. I still can't believe that I've done it; this is a dream come true."
In an all KwaZulu-Natal Plate Final, seasoned campaigner Lizzie Currie took on 15-year-old Senayah Moodliar from Umhlali.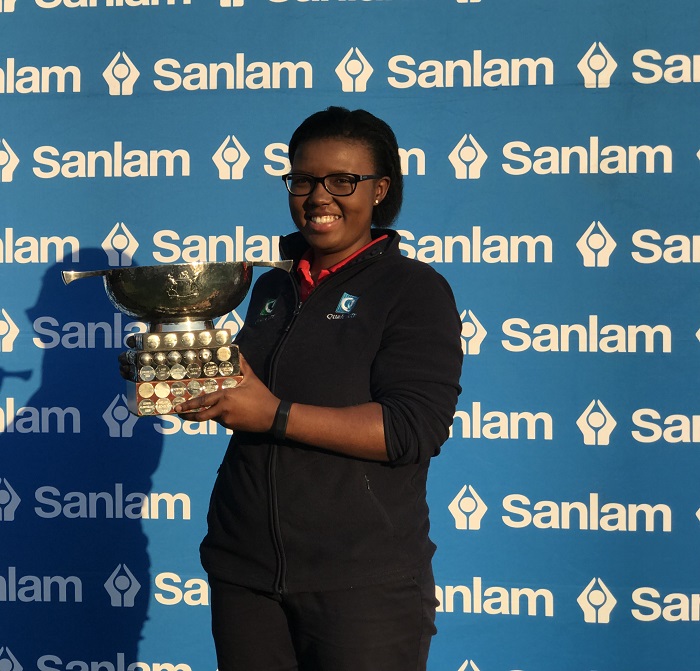 Lizzie Currie from Port Shepstone beat Senayah Moodliar 1-up to seal victory in the Plate Division at the 2018 Sanlam South African Women's Amateur Championship at Umhlali Country Club; credit GolfRSA.
Currie from Port Shepstone beat Elsune Roode 4 & 3 to reach the final two, while Moodliar gave the home crowd plenty to cheer about when she beat Kim Strauss 1-up in her semi-final. Over 17 holes, both players won five holes, but Currie broke the stalemate when she defeated the local favourite 1-up at the final hole.
Written and released by Lali Stander on behalf of GolfRSA.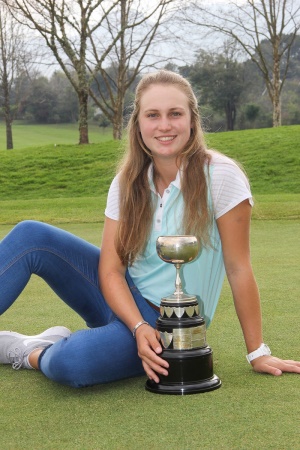 GEORGE, 24 August 2015 – Fresh from competing in back-to-back international championships in Sweden and Scotland, Kaleigh Telfer was untouchable as she carved out a 10 stroke victory in the Southern Cape Championship at George Golf Club on Sunday.
The 17-year-old Bryanston golfer opened with a six under 66 to pull two strokes clear of top ranked Ivanna Samu and fellow Ernie Els and Fancourt Foundation member Zethu Myeki.
She stretched her lead to seven strokes with a second round 67, which included a career-first albatross at the par-five second, and closed with a 70 to seal her second provincial triumph this season on a winning total of 13-under-par 203.
Telfer's victory vaulted her to second in the Womens Golf South Africa Senior Rankings and she credited the recent international trip for her success.
"It is going to sound really weird when I say this, but my mind-set was still in Europe," Telfer said.
"The standard of the players who competed in the Annika Invitation Europe and the Girl's British Open Amateur Championship was incredible high. You really had to step up your game to have any chance and I was still competing against them in my head when I teed off in George."
Telfer finished joint 37th in Sweden and tied for fourth in the 36-Hole Stroke Play Qualifier to reach the Match Play stage of Girl's British Open Amateur Championship in Scotland. She was eliminated in the second round, while Samu reached the semi-final at West Kilbride Golf Club.
"Ivanna and I gained an incredible amount of experience from the trip," said Telfer.
"You get used to playing a certain game here at home, but even as early as the first round of the Annika Invitational Europe, we had to dig deeper. You are completely out of comfort zone, facing fierce competition on courses that are nothing like what we are used to.
"We had to think out of box to succeed and find reserves we didn't even know we had. We are both greatly indebted to Womens Golf South Africa for giving us the opportunity to compete in these world-class events. I think the pressure to perform brought out the best in us."
Reigning Sanlam SA Women's Amateur Stroke Play champion Samu, who also played bridesmaid to Telfer at the Free State and Northern Cape Open in April, protected her number one spot with another runner-up finish. She carded rounds of 68, 72 and 73 to finish on three under 213.
Myeki from Border climbed to fifth in the rankings with a third place finish in the recent Gauteng Stroke Play Championship. The West Bank golfer further closed the gap on fourth ranked Carrie Park with third overall on three over after rounds of 68, 68 and 73.
Southern Cape Ladies Golf president Laetitia Higgs was delighted with the turnout in this year's event, supported by the Western Cape Department of Cultural Affairs and Sport.
"We were really pleased that the field for this year's championship was double the size of the field in 2014," Higgs said.
"We had a total of 86 entries, with five of the top 10 ranked amateurs in the Womens Golf South Africa Senior Rankings and six of the top 10 juniors among the 41 players that contested the A-Division.
"The B- and C-Divisions drew 29 and 16 entries respectively and the strength and size of this year's field bodes well for our vision to grow the Southern Cape Championship into one of the premier provincial championships on the Womens Golf South Africa calendar."
Valda Ford from Ruimsig Country Club carded rounds of 83 and 81 to lift the B-Division title on 164.
Liezel Heyns (86-85) from Ekurhuleni took second on 171, edging out Odette Booysen (88-84) from Western Province and Gauteng's Michelle Witts-Hewinson (85 87) for second.
Local favourite Denise Danks scored a popular C-Division victory at her home course with rounds of 34 and 32, while former SA Women's Mid-Amateur champion Sonja Bland took the Closed Championship title with rounds of 79, 81 and 75.
PHOTO 1 – 2015 Southern Cape Open Championship winner Kaleigh Telfer; credit Pieter Els.