VICTORIA, Canada (2 September 2019) – Caitlyn Macnab, Kaylah Williams, Kiera Floyd and Kaleigh Telfer secured South Africa's best result yet in the prestigious Astor Trophy with a tie for second at Royal Colwood Golf Club in Canada.
The GolfRSA Proteas routed Canada 5 – 1 to win their final match on Sunday and moved into a tie for second in the quadrennial championship, however, the team had to wait for the final round matches to play out on Monday before the celebrations could begin.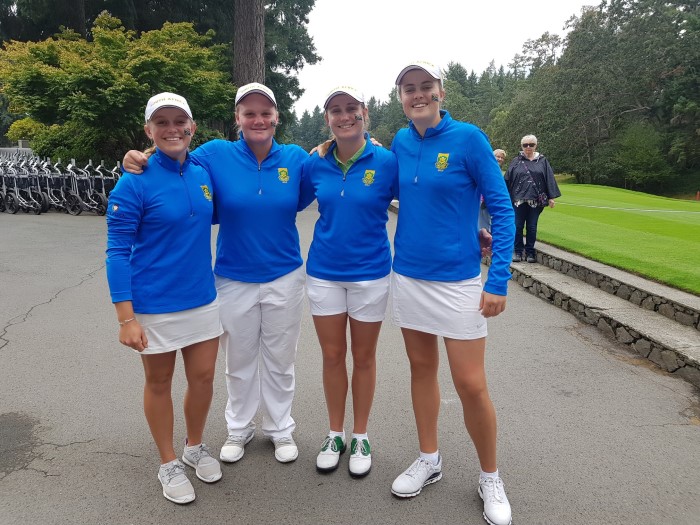 GolfRSA Proteas Caitlyn Macnab, Kaylah Williams, Kiera Floyd and Kaleigh Telfer delivered South Africa's best result yet in the Astor Trophy with a tie for second at Royal Colwood Golf Club in Canada; credit Golf RSA.
New Zealand lifted the title for the first time with 3.5 points, and South Africa shared the runner-up spot with Australia and Great Britain and Ireland on 2 points.
"We are absolutely over the moon with the result and I couldn't be more proud of the team," said Womens Golf South Africa President Sally Greasley.
"We played against the defending champions Australia and Great Britain & Ireland in the first two rounds, who have won the Astor Trophy multiple times. We knew the matches would be tight, but the girls did incredibly well to draw against both teams.
"We took the third round loss against New Zealand on the chin. As expected, it was a very tightly contested match and the girls really did themselves proud against the favourites. Kaleigh and Kiera managed to take one point off the Kiwis in the foursomes. Caitlyn and Kaleigh had narrow losses in the singles, but Kiera and Kaylah managed to halve their games against two tough opponents.
"The team was determined to finish on a high note and came out guns blazing against Canada. The locals came out in numbers to support the home favourites, but our girls drew a lot of applause as they closed out 3 & 2 victories in both foursomes games."
Fourteen-year-old Kiera Floyd led South Africa in the singles against Indiana University student Mary Parsons.
"Kiera had a humdinger of a game," Greasley said. "Having won the first hole, they halved the next seven holes before Kiera won the ninth to go 2-up. Mary won 12, 13 and 15 and Kiera was down for the first time in the tournament.
"She rallied with two great approach shots at 16 and 17 to turn things back in her favour and she clinched the game 1-up after they halved the 18th in pars. A nail-biting finish but a win that put us on the front foot."
Williams went out second and she dominated her opponent.
The reigning Nomads SA Girls Rose Bowl champion won the first five holes and took the ninth and 11th, as well. The game was done and dusted by the 12th hole as Williams wrapped up a 7 & 6 win for South Africa.
"Kaleigh battled a balky putter in her game against Noémie Paré and although she halve the first four holes, the Canadian won the next four as Kaleigh's putter went cold as snow," Greasley said.
"She managed to win 11, 14 and 15 to pull it back to 1 down but the Canadian popped in a nice birdie on 16 to go 2 up. Kaleigh hit a great drive down 17 and holed a two-footer after a good approach and was 1-down going down the last. The pair halved the 18th and Canada got the win.
"We knew the win was in the bag and we all went to support Caitlyn on the back nine, who was involved in a tense tussle with the Canadian number one, Brooke Rivers. Cat turned 3-up, but the back-nine was like a tennis-match, going back and forth. Brook won 10, Cat won 11, Brook won 12 and Cat won 13. After halving the 14th, Brook won 15 but Cat won the 16th to win the game."
Macnab was delighted with the team's performance and her own 3 & 2 victory.
"We played really solid golf. Canada really well, but we just made a lot more birdies. We had all played 10 rounds by the time we faced the Canadians and we were all a little tired and stiff, but we stuck it out and pulled it out of the bag when it mattered most. I am super proud of all the players and the way we all rallied until the final putt dropped."
Greasley applauded the organisers on a very well-organised event.
"It was really a fantastic tournament," she said. "The event was run with great efficiency and managed very professionally and graciously by Golf Canada.
"The members of Royal Colwood Golf Club came out in their droves to act as caddies, markers, spotters, scorers or just to spectate and they were very non-partial. They gave all five countries great support and we are enormously grateful and very impressed by their enthusiasm to cheer on all players on the course.
"I am supremely proud of our GolfRSA Proteas. They played with their hearts on their sleeves for their country and won the admiration of many spectators.  They were always gracious, kind and played all their matches with humility and grace.
"South Africa should be proud of our young players, who do not share the international experience of so many of this year's participants. They showed that they are most definitely a force to be reckoned with over the course of this championship."
Since the inception of the Astor Trophy in 1959, South Africa's previous best performances were third place finishes in 2007 at Royal Johannesburg & Kensington and in 2011 at Fairhaven Golf Club in England.
Written and released by Lali Stander on behalf of GolfRSA.
PANMURE, Scotland (16 August 2019) – Caitlyn Macnab and Jordan Rothman were eliminated in the first round and 14-year-old Kiera Floyd lost in a tightly contested second round tussle at The R&A Girls' Amateur Championship in Scotland on Thursday.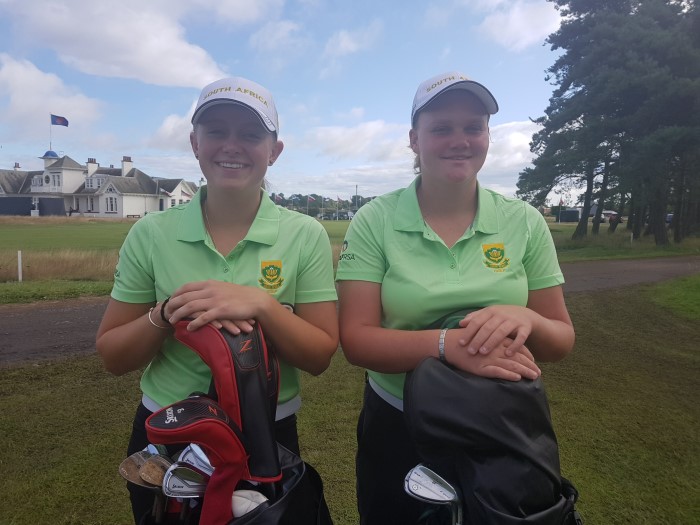 GolfRSA Elite Squad members Caitlyn Macnab and Kiera Floyd at the R&A Girls Amateur Championship at Panmure Golf Club in Scotland; credit GolfRSA.
Macnab from Ekurhuleni went down 4 & 3 to Spaniard Julie Lopez Ramirez in the morning session at Panmure Golf Club, while Australian Kirsten Rudgeley routed Rothman from Western Province 5 & 4.
Floyd – the third member of the GolfRSA Elite Squad to make the match play stage – survived a humdinger against Lizzy Peters, beating the Dutch golfer at the 19th hole to make the top 32. The Ebotse golfer faced Paula Schulz-Hanssen from Germany in the afternoon, but despite a brave comeback on the back nine, Floyd lost the match 2 & 1.
Womens Golf South Africa President Sally Greasley watched the action unfold.
"The match between Kiera and Lizzy went up and down, and they were all square until the 15th hole, where a bad lie on the par three left her with little room to manoeuvre and she went 1-down," Greasley remarked. 
"Kiera hit a great drive on 17, a good second shot and holed a superb putt to square. They were still all square after 18 and was the first match to go to extra holes. On the 19th hole, Kiera hit another great drive and a good second to a couple of metres and she clinched the match with a birdie."
With the wind intensifying, Floyd battled in the afternoon and was 3-down through 10 holes.
"Kiera rallied to win the 11th and 12th holes, and squared the match on 13, however, her shot into the par three 15th went wide," said Greasley. "She left her chip short on the green and Paula won the hole when Kiera missed a long putt for par.
"She had a chance to square the match again on 16, but her putt to win ran 2 to play and her opponent sealed her win with a great shot into the green and a two metre putt after Kiera's tee shot went wide and she left her chip shot short."
Macnab also struggled in the wind, while her opponent went into cruise control.
"Cat was having one of those days when nothing went wrong and she had a sublime round, while Cat struggled with her drives and approach shots," Greasley said.
"Jordan won the SA Women's Amateur two years ago and reached the final of the St Andrews Links Junior Open at the Old Course just last week. She has a great match play temperament and we expected her to do well, but she was quiet sick when she arrived at the course. Both of them battled incredibly hard to stay in their matches, but Jordan was crippled by nausea and cramping and there wasn't much Cat could do against an opponent who was just better on the day.
Greasley was extremely proud of the trio's performances in Scotland.
"Whilst we are all disappointed not to have reached the quarter finals, the players can really hold their heads up high," she said.
"We came here to qualify for the match play, but we knew it was going to be tough with the calibre of golfers that had entered. To have three South Africans in a field of top quality Europeans and Americans and see all three reach the match play stage was amazing.
"The conditions were pretty difficult with high, gusting winds that really tested our juniors. On a course that was very open in places like a true links, and on other holes, lined with trees, club selection was critical and the ability to hit under the wind. Our girls found this difficult as we rarely have tournaments in these kind of conditions on courses which are this fast and undulating.
"Once again their behaviour on and off the course has been exemplary.  On the very first day, a gentleman walked over on the course and congratulated me on such polite and considerate players. They are a joy to be with and great ambassadors, and I couldn't be prouder or happier."
Rothman returns to South Africa on Sunday and will be teeing it up in the Southern Cape Open towards the end of August, while Floyd and Macnab head to Canada with Greasley.
The trio will meet up with Auburn University student Kaleigh Telfer and reigning Nomads SA Girls Rose Bowl champion Kaylah Williams to challenge in the 2019 Astor Trophy.
Formerly known as the Commonwealth Trophy, the team event is contested once every four years between South Africa, Australia, New Zealand, Great Britain and Ireland and Canada. This year's event will be hosted by the Royal Colwood Golf Club from 28 August to 1 September.
Each country is represented by four players and the five countries play each other in a round robin format of foursomes and singles.
Since the inception of the matches, Great Britain and Ireland have won eight times, defending champions Australia five times and Canada twice. South Africa's best results were third place finishes in 2007 at Royal Johannesburg and Kensington, and in 2011 at Fairhaven Golf Club in England.
Written and released by Lali Stander on behalf of GolfRSA.
ORKNEY, 3 July 2019 – South Africa's number one ranked Caitlyn Macnab lived up to her star billing when she celebrated her 10th start in the Nomads SA Girls Championship with a trophy finish on Tuesday.
There is an old saying in golf – "beware the sick golfer" – and on this occasion it was the sick golfer who came out on top at Orkney Golf Club.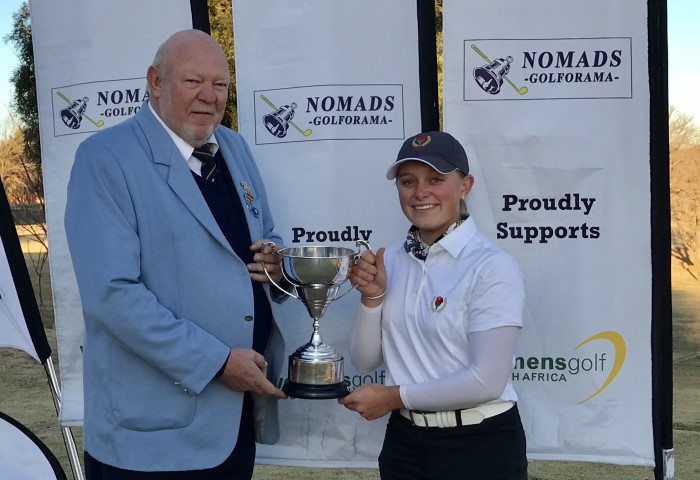 2019 Nomads SA Girls champion Caitlyn Macnab receives the championship trophy from Nomads Golf Club of South Africa national chairman Neels Bezuidenhout at Orkney Golf Club; credit GolfRSA.
The 17-year-old from Serengeti Estates carded a final round one-under-par 71 to edge out fellow Ekurhuleni golfer Kiera Floyd by one stroke on four-over 220, lifting the title and the ultimate prize it carries – a start in the Duke of York Young Champions Trophy in September.
GolfRSA Junior Proteas Macnab, Floyd & Kaiyuree Moodley claimed a sixth place finish in the Toyota Junior Golf World Cup two weeks ago, but as soon as the team arrived back on home soil last Sunday, Macnab and Moodley both went down with swine flu..
"Kai had to withdraw and I was a doubtful starter after spending four days in bed, but I came because I had to try," Macnab said.
"I have dreamt of winning the Nomads SA Girls since I first teed it up as a seven-year-old. It's the most amazing feeling to be the champion; I am just over the moon. I was really nervous on the first day, because I hadn't hit a ball for nine days. I didn't expect to lead the first round, but after that it was all about playing for the win."
Macnab opened with a one-over 73, but shot 76 in round two to surrender the lead to Floyd.
The 14-year-old Ebotse junior headed into the final round with a one stroke lead after successive rounds of 74, but Macnab levelled the score with a birdie start. She pulled two shots clear when the Floyd bogeyed the par three second. Two holes later, though, Floyd was back in control.
"I ended up in the water at six after my tee shot stayed right," Macnab said. "I had very little room to work with after I ended up behind a tree and we were back to all square when I made a soft double."
Floyd dropped shots at five and seven, but countered with birdies at six, eight and nine and Macnab surrounded a bogey at eight with birdies at seven and eight.
Macnab and Floyd are both members of the Grant Veenstra Junior Golf Academy and have played golf together for years. "I knew it would go right down to the wire," said Macnab.
"We have played against each other and we've together for Ekurhuleni in the SA Women's IPT and the SA Women's 72 Hole Teams. We won the All Africa Junior Golf Challenge together and in Japan, we both shot 69 in the final round. I knew she would fight right up to the last putt."
Floyd took a one-shot advantage into the back nine, but a bogey at the 11 left the pair tied on five-over.
"The 12th is a short par four and I hit a good drive that finished just left of the green, but I flew the chip well past the pin," said Macnab. "I holed a four-metre putt for birdie to go one ahead and I had a two-shot lead when Kiera dropped at 13. She made a fantastic bogey, though. Her approach shot landed next to the fence and she had to take an unplayable. She nearly chipped it in, but the ball hit the flag."
Despite a few nasty lip-outs Macnab managed to salvage par down the stretch.
"I was so, so happy when I sunk that final putt on 18," said Macnab while posing for a quick selfie with the Jenny Bruce Trophy. "I'm absolutely over the moon to get this done. It's not always easy to come into a tournament as the favourite. There is a lot of pressure on you. I wasn't at my best, but in the end, all that matters is the win."
In the Silver Division, the lead changed hands several times until Rumbi Chisango replaced compatriot Tracy Humbira at the top. The Zimbabwean junior had a three shot lead coming down the last few holes, but Cheslyn Jacobs gave the home crowd plenty to cheer about when she forced a play-off on 45-over with a final round 80.
"We went back to the par five 17th and Rumbi went first and hit her drive in the bush on the right. I hit mine down the fairway and my second shot pitched on the edge of the green. Rumbi hit her second into the rough on the left, but she was on the green with her third.
"I lagged my first putt to a foot and tapped it for the win after she left her birdie putt short. I am so excited, because this is huge," said the 14-year-old Jacobs from Potchefstroom. "This is the biggest achievement of my career. I'm down to a 7.2 handicap and I'm going to work really hard so I can play in the Championship Division next year."
North West Women's Golf had further cause for celebration when Lesego Aphane completed a wire-to-wire victory in the Silver Division. The 18-year-old Seasons Eco Golf Estate golfer carded rounds of 39 and 38 to win by six on 77 points, with Lea van der Merwe from Gauteng North second on 71 and Western Province's Jaden Visagie third on 69.
Maegan Webster also led the Copper Division from start to finish. The Gauteng North junior shot 34 and 31 to finish on 65, with Erin Brinkman from Eastern Province finishing in second on 51 with rounds of 24 and 27.
Championship Division – Handicaps 6.5 & under (TOP 10)
220 Caitlyn Macnab 73 76 71
221 Kiera Floyd 74 74 73
224 Symone Henriques 73 78 73
230 Isabella van Rooyen 74 79 77
232 Cara Ford 79 76 77
233 Kera Healey 78 83 72; Jordan Rothman 75 81 77; Crystal Beukes 83 71 79
234 Kyra van Kan 73 77 84
235 Nadia van der Westhuizen 79 77 79
Silver Division – Handicaps 6.6 – 15.3 (TOP 10)
261 Cheslyn Jacobs 87 94 80 (Play-off)
261 Rumbi Chisango ZIM 88 87 86
263 Tracy Humbira ZIM 89 84 90
265 Anita Chen 88 91 86
267 Kesha Louw 85 93 89
268 Lucia Mhlabane 81 94 93
269 Jutta Tecklenburg 84 94 91
274 Lizemari Richter 93 96 85; Erica Chen 92 95 87; Cinteche du Plessis 92 87 95
Bronze Division – Handicaps 15.4 – 29.3 (top 5)
77 Lesego Aphane 39 38
71 Lea van der Merwe 29 42
69 Jaden Visagie 34 35
67 Ashley Megan Huysamen 32 35
64 Laeeqa Aziz 33 31
Copper Division – Handicaps 29.4 – 36
65 Maegan Kaitlyn Webster 34 31
51 Erin Bree Brinkman 24 27
Click here for the full results
Written and released by Lali Stander on behalf of GolfRSA
NEWCASTLE, Ireland (11 June 2019) – Gauteng duo Kajal Mistry and Kaleigh Telfer will tee it up in the Women's Amateur Championship in Northern Ireland today.
The GolfRSA Elite Squad pair will face still competition at Royal County Down in one of the strongest fields ever assembled in the 116-year history of the premier women's amateur event.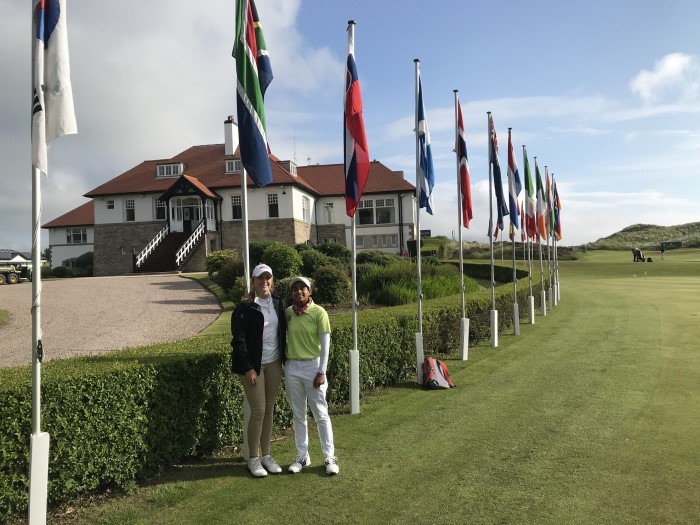 GolfRSA Elite Squad members Kaleigh Telfer (left) and Kajal Mistry from Gauteng will represent South Africa in the prestigious Women's Amateur at Royal County Down, starting on 11 June 2019; credit GolfRSA.
Telfer and Mistry have both been impressive on separate sides of the Atlantic this season.
Mistry enjoyed a fantastic run on the Sunshine Ladies Tour. Two runner-up finishes, combined with a slew of top 10s culminated in a third place finish in the Investec Property Fund Order of Merit for the Randpark golfer.
She took that form to Woodhill Residential Estate and Country Club at the end of April, where she backed up her rising star status with a rare calendar double in the SA Women's Stroke Play and Match Play Championships.
Mistry is heading to the United States in August, where she will be taking up a golf scholarship at the Arkansas University in August.
Fellow Ernie Els and Fancourt Foundation member Telfer has been competing on the US collegiate circuit for two years.
The Auburn University sophomore was the university's top finisher at both the SEC Championship and NCAA Austin Regional in her first season, and broke into the top 100 on the national GolfStat Rankings.
Telfer capped off the fall portion in 2019 with her first career collegiate victory at the Battle at the Beach in San Jose del Cabo, Mexico. Her five-under total helped the Tigers cruise to a 17-stroke victory, the program's first team win since 2014. She also placed third in the Alexa Stirling.
The Bryanston golfer proudly represented South Africa in the inaugural Augusta National Women's Amateur Championship with a joint 12th finish and in May, she was instrumental in helping the Tigers reach the semi-finals of the NCAA Women's Golf Championship.
With entries as far afield as Australia, Canada, India, New Zealand, Russia, South Korea and the United States, the 144-strong player field taking to the renowned links in Newcastle features no less than 12 players inside the top 50 in the World Amateur Golf Ranking, including world number 14 Leonie Harm, back in title defence.
The first German champion is bidding to become the first back-to-back winner since Sweden's Louise Stahle's victories in 2004 and 2005.
Italian teenager Alessia Nobilo is the highest ranked player at 12th in the world, and other in-form golfers taking to the fairways at Royal County Down include 2019 Irish and Welsh Women's Open Stroke Play champion Lily May Humphreys from England, reigning Girls Amateur Champion Emma Spitz from Austria and Irish favourite Paula Grant.
The 2019 champion gains entry to this year's AIG Women's British Open at Woburn and the 2019 Evian Championship, as well as next year's US Women's Open and the Augusta National Women's Amateur Championship.
The field will compete for the leading 64 spots in the match play stage over two rounds of stroke play on 11 and 12 June. Telfer will launch the South African challenge at 08h36 (local SA time) and Mistry is off at 14h34 in the afternoon.
Written and released by Lali Stander on behalf of GolfRSA.
PRETORIA, 3 May 2019 – Kajal Mistry produced the prize-winning shots when it mattered most to claim a historic South African amateur women's 'double crown' at Woodhill Residential Estate and Country Club on Friday.
It took a bit more work than she anticipated, but a mere three days after she won the SA Women's Stroke Play Championship for a second time, the 18-year-old GolfRSA Elite Squad member defeated Kaylah Williams at the 20th hole to lift the SA Women's Amateur Championship title.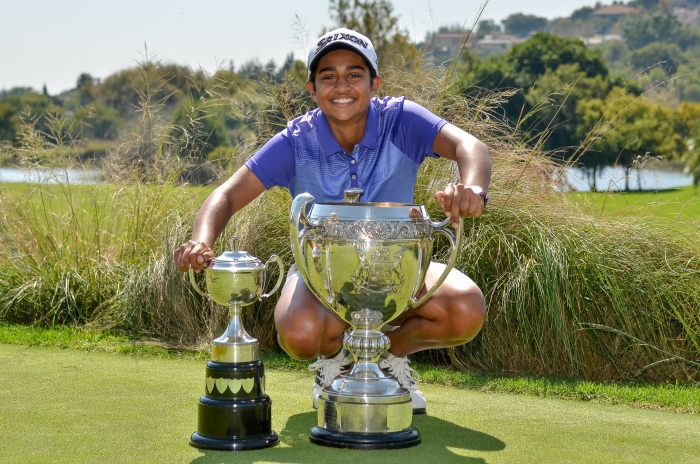 GolfRSA Elite Squad member Kajal Mistry from Bryanston achieved the rare calendar double when she beat Kaylah Williams on the 20th hole to lift the SA Women's Amateur Championship title on the back of her wire-to-wire five stroke victory in the SA Women's Stroke Championship at Woodhill Residential Estate and Country Club; credit Ernest Blignault.
Mistry's incredible achievement put her on a short and very exclusive list of women who have claimed the calendar double in the two premier events.
In the 50 years since the SA Women's Stroke Play Championship was introduced, just seven women have accomplished this rare feat.
The 18-year-old Randpark golfer was elated to join Mandy Adamson (1992), Sanet Marais (1994), Tanica van As (2003), Cas Bridge (2001), Welch player Breanne Loucks (2008), Kim Williams (2010) and Ashleigh Buhai, who had a hat-trick of doubles in 2004, 2006 and 2007.
Hugging the SA Women's Amateur trophy – which dates back to 1906 – Mistry could barely contain her delight.
"This is awesome, awesome, awesome," gushed the Ernie Els and Fancourt Foundation member.
"It's been such an amazing week. I was trying to do my best to win both tournaments and scoop the double, but far and away, holding this trophy right now is the best feeling ever."
Mistry went wire-to-wire at Woodhill to win the SA Women's Stroke Play by five shots on Tuesday.
Seeded first in the 32-player field that lined up in the match play event, she sailed through the first two rounds on Wednesday, routing Bobbi Brown from Western Province 6 & 5 in the morning and eliminating Emily Jones from Zimbabwe by the same margin in the afternoon session.
She kept her title hopes alive with two decisive victories on Thursday when she knocked out Larissa du Preez from Gauteng North 4 & 3 in the quarter-finals and beat Ekurhuleni junior Kiera Floyd 4 & 2 in the semi-finals.
Reigning Nomads SA Girls Rose Bowl champion Williams also had impressive first round wins.
She defeated fellow Western Province golfer Vicky Traut 6 & 5 in round one, and reached the top eighth with a 5 & 3 result against Eleonora Galletti from Gauteng. The Durbanville golfer beat Symone Henriques from Gauteng 4 & 3 in the quarterfinals and birdied the 18th hole to win her semi-final match against Boland junior Megan Streicher 1-up.
Williams took first blood in the title fight with a birdie at the par five, but Mistry countered with a birdie at the par five fifth.
"I hit 5-iron just over the green, hit a not-so-great chip to three metres and drained the putt," said Mistry. "We halved the next two holes in pars, and I won the eighth after I hit a lob-wedge out of the rough right on the green and two-putted for birdie.
"Kaylah was on the green in two at 11 and birdied the hole to level the match and she went 1-up on 13 with a par. I hit a good bunker shot, but it ran out and I couldn't save par."
Williams piled on the pressure with a chip-in birdie at the par four 15th, but when she dropped at the next hole, Mistry saw her chance to pounce.
"I stayed patient and I felt composed throughout the round. When I saw that Kaylah was getting nervous after the bogey, I knew I could win if I piled on some pressure as we got closer to the 18th. I won 16 with a par after she left herself with an impossible chip.
"I knew I would birdie the par five, but things didn't exactly go to plan. I hit my drive left and couldn't go for the green, so I laid up with a 7-iron. I had 56 metres to the flag and I hit a lob-wedge that ran five metres past. I had to make the putt to square and I drained it."
The pair halved the 18th hole in pars and Mistry felt confident going into extra holes while Williams' inexperience started to show.
"We halved the 19th hole in birdies," Mistry said. "On the second, I hit a grip-down 8-iron straight at the flag. Kaylah also hit a good shot. We both finished pin high right, but I eight feet from the flag and she had a three metre putt.
"She actually hit a really good putt, but just too hard. As I was standing over the putt, I had such a strange experience. I could hear my sister Ruja's voice in my head, telling me to 'put it in'. I felt so confident over that putt and I boxed it.
"That's never happened before, but it felt so good watching that putt drop."
Mistry dominated the Open and Junior Amateur rankings in 2016 and 2017, but golf had to take a back seat as she completed matric last year. She accepted a golf scholarship at the University of Arkansas, but before heading to the United States in August, the Bryanston resident set herself a couple of goals.
Break back into the top 10 in the Womens Golf South Africa Open Amateur rankings. Finish in the top five on the Sunshine Ladies Tour's Investec Property Fund Order of Merit. Win the SA Women's Amateur double.
"I can't believe I've ticked all the boxes," Mistry said.
"I've worked really hard with my coach Darren Witter on fine-tuning my game and he deserves credit for helping me achieve the goals we set.
"I still can't believe that I've done it. I'm so incredibly proud. I can't wait to see my name go on the trophy. This week has given me a huge confidence boost and I am incredibly grateful for all the support from GolfRSA, Womens Golf South Africa, Gauteng Ladies Golf and the Ernie Els and Fancourt Foundation, who have been amazing.
"I want to dedicate this week to my family and thank them for their unconditional love and support. To them, I'm always a winner and they never allow me to doubt myself, whether my game is at a high or a low. They are my heroes."
Meanwhile 16-year-old Shani Brynard from Boland held off a late charge from GolfRSA Talent Identification Squad member Pheletso Mota to win the Flight Division 3 & 2.
Written and released by Lali Stander on behalf of GolfRSA.