PLETTENBERG BAY, 17 May 2019 – KwaZulu-Natal came up trumps in a humdinger final round clash against North West to lift the A-Section title in the 2019 SA Country Districts on Friday, while Boland finished at the top of the pile with an unbeaten week in the promotion battle at Plettenberg Bay Country Club.
A-SECTION
Just half a games point separated KwaZulu-Natal and North West at the start of the final round and it was that slender advantage that secured victory for KwaZulu-Natal at the end of an epic clash that went right down to the wire.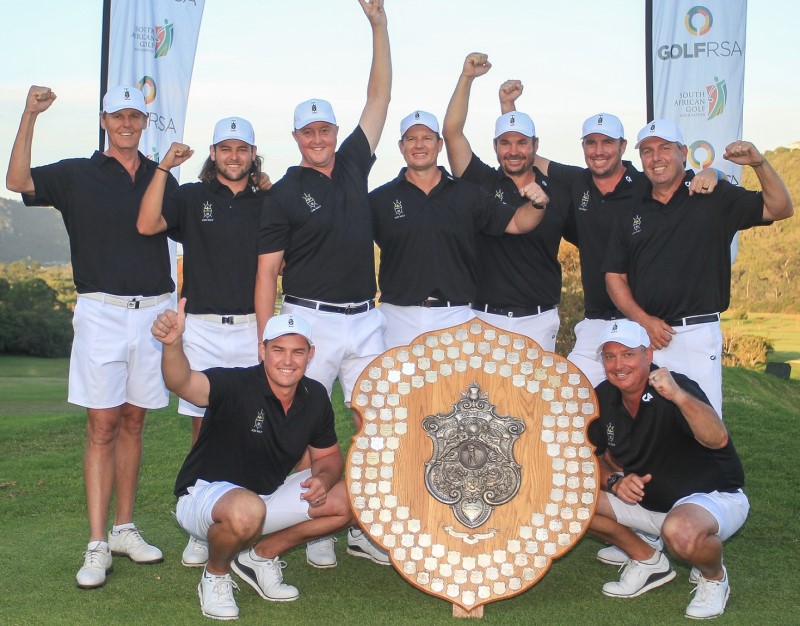 Victorious KwaZulu-Natal won the A-Section in the 2019 SA Country Districts in an unbeaten performance at Plettenberg Bay Country Club; credit Pieter Els.
"I felt like aged 10 years today and I'm sure Leon Bevan from North West felt exactly the same," said KwaZulu-Natal manager Wynand de Swardt.
"Just like last year, it was such a tight fight. North West denied us our title defence in Potchefstroom last year by half a games point and today, we repaid the favour. I cannot talk enough about the character that our guys showed this week and particularly in the final round.
"We were 5-down, then 4-down and they rallied on the back nine to get us the six points we needed for the win. Amazing golf, amazing team spirit and a victory that the whole team shared. I am incredibly proud of their conduct, their golf and their performance."
The 2017 champions were on the back foot when North West dominated the foursomes 3 – 1.
Having to rally from 1 – 3 down, KwaZulu-Natal's Thomas Lovett and Jason Gilliver squared the match. Koenie Erasmus briefly put KwaZulu-Natal ahead with a 3 & 2 result against Gareth Petler, but Meleko Patric Maichotlo, who turned 2-up, held on to beat Sean Baker 3 & 2.
Tied at 4-all, the title fight headed for a dramatic finish as the last four games all went the distance.
KwaZulu-Natal's Ryno Crous was 4-down with five to play, but he won the next four holes to square his game against Patrick Sefodi. Phillip Barnes was 1-up after 16, he let Jaco Anderson back into the mix with a bogey at 17. The pair halved in pars on 18.
Corne van Deventer was 1-down playing the last hole, but he got another half point for KwaZulu-Natal when Ray Janse van Rensburg bogeyed 18.
Beyers Smith from North West birdied 16 to go 1-up in the final game, but Jens Hillermann hit back with a birdie at 17 to square the match. When Hillermann's approach into the final green finished well short, the Noordberg golfer squashed North West's glimmer of hope with a brilliant chip that ran the length of the green and stopped just three feet short of the pin.
The pair both birdied the final hole, but Hillermann's four sealed success for KwaZulu-Natal with half a games point.
"I must applaud Cliff Barnard and the green staff here at Plettenberg Bay Country Club," said De Swardt. "They really went above and beyond the call of duty to present us with an absolutely pristine golf course and the fact that we had no placing this week, speaks volumes of the condition of the course and they work they did to give us a fantastic venue for this year's SA Country Districts."
In the other final round match, last year's B-Section champions Northern Cape defeated Free State 8 – 4 to finish third in the log. Free State took fourth and Limpopo was relegated.
B-SECTION
Boland began their B-Section campaign with an 8 – 4 win against Eastern Province and the side crushed Border 10 – 3 in the second round. They edged out Southern Cape 8 – 4 in the third round and another commanding performance against Mpumalanga in the final round to win 8 – 4 ensured their return to the A-Section.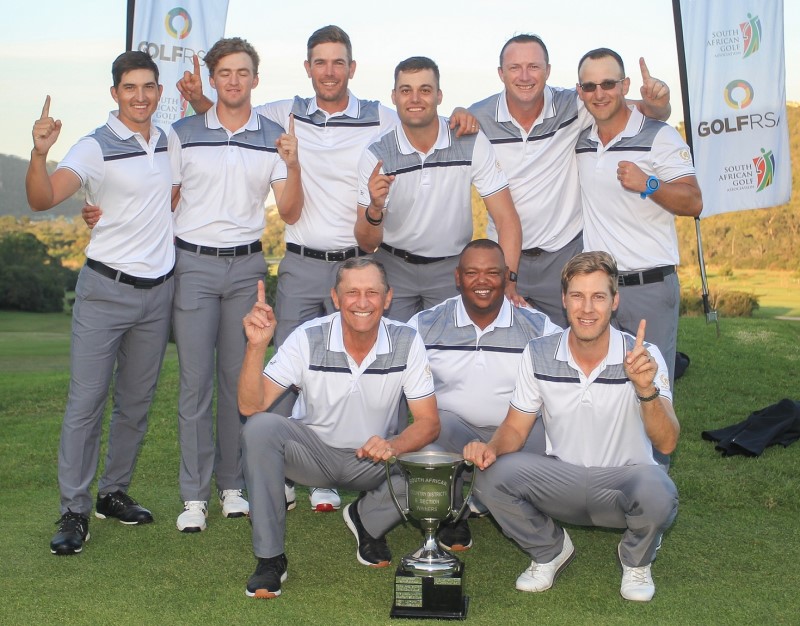 Boland went wire-to-wire at Plettenberg Bay Country Club to win the battle for promotion in the 2019 SA Country Districts; credit Pieter Els.
"I am really proud of our unbeaten performance this week, because it's the direct result of our preparation for this year's inter-provincial," said manager Servaas de Kock after his charges sealed success.
"After our relegation in 2017, we went all out in Potchefstroom last year, but we narrowly lost the title fight to Northern Cape. We started our preparation well in advance this year. All eight players were so committed. They worked hard on their own and played a lot of foursomes to get to know each other. This fostered a great team spirit and they started this tournament with mutual respect and trust."
Boland and Mpumalanga were tied after the foursomes, but Clement de Bruin, Anton Pieters, WP Botha, Cedric Rooi, Ryk van Schoor and Daniel Cronje cemented their success with convincing wins in the singles.
"We were determined not to draw the short straw again and we are over the moon with the result," said De Kock. "We are very proud of our rookies Clemet and Daniel, who shared the Most Valued Player honours. But really, this result is down to eight guys who played for each other.
"We are also really proud of our caddies, who fought for every point with us this week and even asked to do a prayer circle with us before the start of the final round. They were truly exceptional and we owe them a debt of gratitude for helping us achieve our goal."
Southern Cape beat Eastern Province 7 – 5 to edge out Mpumalanga for second in the standings.
A-SECTION ROUND 5 RESULT
KwaZulu-Natal 6 vs North West 6
Northern Cape 7 vs Free State 5
Limpopo Bye
A-SECTION LOG FINAL
(Pos-Union-Played-Won-Drawn-Lost-Points-Matches won)
1 KwaZulu-Natal (4, 3, 1, 0, 7, 31.5)
2 North West (4, 3, 1, 0, 7, 31)
3 Northern Cape (4, 2, 0, 2, 4, 23.5)
4 Free State (4, 1, 0, 3, 2, 19.5)
5 Limpopo (4, 0, 0, 4, 0, 14.5)
B-SECTION ROUND 5 RESULT
Boland 8 vs Mpumalanga 4
Southern Cape 7 vs Eastern Province 5
Border Bye
B-SECTION LOG FINAL
(Pos-Union-Played-Won-Drawn-Lost-Points-Matches won)
1 Boland (4, 4, 0, 0, 8, 34)
2 Southern Cape (4, 3, 0, 1, 6, 28)
3 Mpumalanga (4, 2, 0, 2, 4, 25)
4 Border (4, 1, 0, 3, 2, 15)
5 Eastern Province (4, 0, 0, 4, 0, 18)
Written and released by Lali Stander on behalf of GolfRSA.
BENONI, 2 May 2019 – KwaZulu-Natal golfer Derek Scullard beat Shaun Stapleton with an eagle in extra time to defend his South African Mid-Amateur Championship title at the Ebotse Golf Estate and Country Club on Thursday.
The 40-year-old fired a final round one-under-par 71 to set the clubhouse target on two-over 218, but Stapleton birdied the closing hole for a 72 to tie, forcing Scullard into a sudden-death play-off.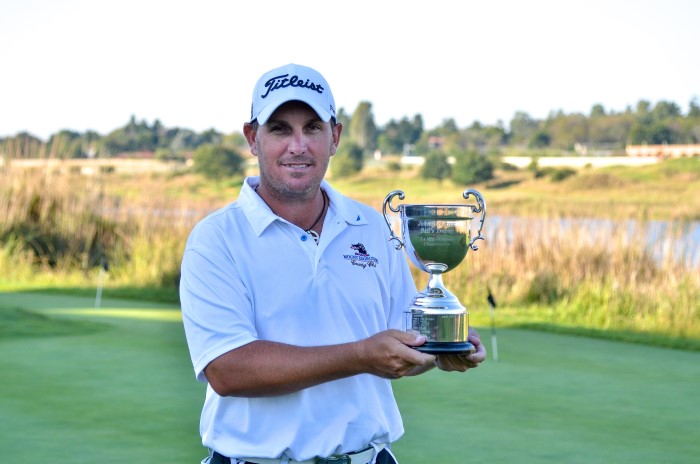 Derek Scullard successfully defended his South African Mid-Amateur Championship title with a play-off victory at Ebotse Golf and Country Estate; credit Ernest Blignault.
The pair returned to the par four final hole, and this time, Scullard got the result he looked for in regulation play.
"I overcooked a 5-iron and couldn't up-and-down for birdie in the final round, but this time my drive finished 15 yards shorter," said the Mount Edgecombe golfer. "I hit a great drive down the middle and flushed a 5-iron at the flag. It ended about 12 foot from the hole.
"Stapes was a good position to make birdie, so I knew I needed to sink that eagle putt. It felt like pay-back when that putt dropped. I'm so pleased with this win, because this week was challenging and to come out on top again feels really, really good."
Scullard started the final day two off the pace behind former champion Neil Homann, and slipped even further back after a bogey-bogey start.
"I was surprised to drop two shots like, because those holes were not playing that difficult," he said. "I kind of thought to myself 'that's me done for the tournament' and then I loosened up and played the hole nicely.
"That's when I decided to go after it. I birdied the fourth and the fifth holes to get back in the mix. I hit 2-iron off the tee at four and left myself a 20-footer for birdie and holed it. I hit a good tee shot at the par five and 4-iron in. The ball rolled just off the green, and I made a good up-and-down for birdie."
Four pars to finish the outward loop saw Scullard start the back nine in a four-way tie for the lead on one-over with Homann, Stapleton and Mark Beattie.
Homann birdied the par-four 10th to edge in front, but Scullard reeled him in with a birdie at the par five 12th.
"I made some good par saves to keep the round going, but I was apprehensive when I got to 12," he said. "That's been my nemesis hole this week. I hit it in the water on both days; managed to make par on day one, but paid with a double bogey in round two.
"I felt that hole owed me something. I hit 4-iron off the tee and laid up with a 5-iron, but I went into the hazard. I had a decent lie halfway down the hill and hit a gap-wedge to 15 foot and drained the putt and that's when things clicked into another gear. I was back to 2-over and I just kept it going with pars."
Scullard, the owner of Rockwood Cladding, was proud to survive one of the toughest tests of his mid-amateur career.
"It's such a tough layout and mentally, it was probably toughest challenge of my career," said the Hillcrest resident. "The greens are so different to what I usually play on. The ball spins and runs out, and that took some getting used to. With no placing and all the mounds and bunkers that come into play on the links layout, you really had to be striking the ball well.
"The rough was brutal, up to eight feet in places, and there was no room for mistakes. If you hit an errant tee shot, you paid heavily. And with no placing, the flat spots short of the greens were tough to negotiate when you had to chip.
"I was happy with my ball striking, but annoyed that I made too many silly drops. I need to tighten up on my game, because that could have cost me the win. Now that I've done it twice, I'm definitely going to gun for the hat-trick next year."
Homann closed with a 75 to finish in third on four-over, and Beattie took fourth on five-over with a closing 73.
Final Result
218 Derek Scullard 73 74 71 (won first play-off hole)
218 Shaun Stapleton 74 72 72
220 Neil Homann 73 72 75
221 Mark Beattie 78 70 73
222 Elton James 75 76 71
223 Rowan du Preez 74 75 74; Alex van Heerden 73 79 71; Gerlou Roux 73 77 73
225 Weyers Janse van Rensburg 78 73 74
226 Jaco Rall 79 72 75; Lean Boezaart 75 77 74; Kevin Sharp 75 73 78; Jauqo Jacobs 74 79 73
227 Menno Malherbe 75 77 75; Chris Zietsman 74 76 77; Danie Viljoen 74 74 79
228 Lawrence Joubert 75 74 79; Louis Jonck 74 74 80
229 Francois van Eyssen 78 77 74; Robert Westray 76 75 78; Hardus Schoeman 74 72 83; Shaun le Roux 72 80 77
230 Robert Delaney 76 78 76; Shaun Mulligan 75 79 76
231 Gustav Verster 79 78 74; Josef Fourie 76 78 77; Ernest Botha 76 77 78; Brett Langston 76 76 79; Pieter Swartz 75 78 78; Corne van Deventer 74 78 79
232 Norman Raad 81 77 74; David Muller 78 75 79; Ryan Dreyer 78 75 79; Travis Fraser 74 79 79; Jayson O'Reilly 74 78 80
233 Mark Coram 82 76 75; Andre du Bruyn 78 77 78; Koos Du Toit 75 81 77
234 Tian van der Berg 82 77 75; Martin Pieterse 78 77 79; Henk Geldenhuys 77 78 79
235 C J Head 79 78 78; Greg Heuer 78 82 75; Morne Nel 74 82 79
236 Jean-Pierre Meyer 81 80 75
237 Etienne Karsten 84 78 75; Joe Mnyandu 81 78 78; Jacques van Schalkwyk 81 76 80; Clinton Sangster Duncan 79 83 75; Pierre Spies 77 85 75
238 Armand van Graan 80 77 81; Dino Di Carlo 78 80 80
239 Jeremy Wright 75 79 85
240 Blaine Mancer 79 80 81; Jacques Schutte 78 81 81; Richard Daws 76 83 81
241 Matthew Emanuel 85 73 83; Jason de Gama 82 78 81; Kyle Stylianou 81 78 82; Thinus Labuschagne 80 81 80
243 Kelso Hannay 77 85 81
247 Riaan Swanepoel 80 82 85
249 Craig Bell 80 82 87
251 Rian Coetsee 79 82 90
Written and released by Lali Stander on behalf of GolfRSA.