CAPE TOWN, 10 September 2019 – Five of South Africa's top junior golf talents – Jayden Schaper, Martin Vorster, Christo Lamprecht, Sam Simpson and Jordan Duminy – will be heading to Australia for the 2019 Junior Presidents Cup in December.
The GolfRSA National Squad quintet have qualified for the 12-strong International Team that will face off against the United States at Royal Melbourne Golf Club on 8-9 December in the second edition of the highly anticipated curtain-raiser for the Presidents Cup.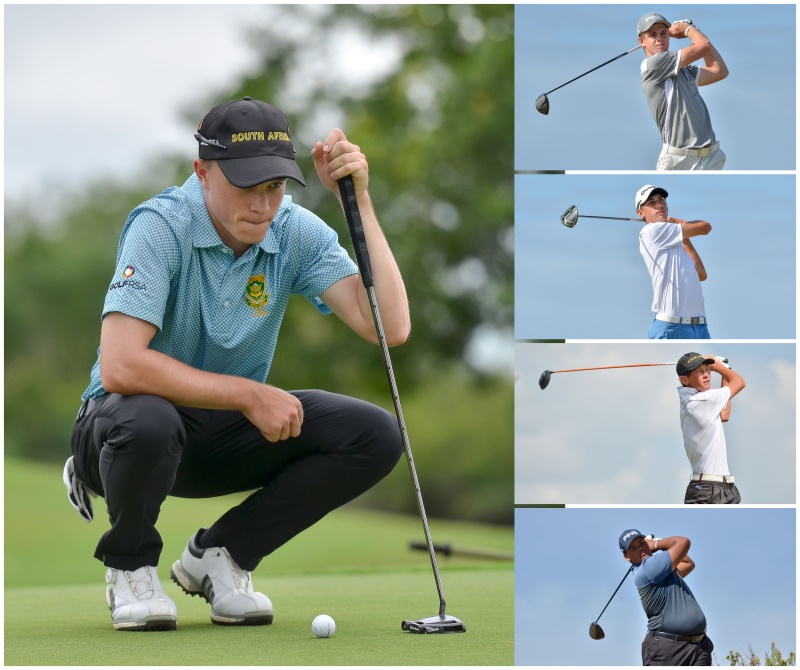 Five leading GolfRSA National Squad juniors – Jayden Schaper (Ekurhuleni), Martin Vorster (Southern Cape), Christo Lamprecht (Southern Cape), Sam Simpson (Western Province) and Jordan Duminy (Southern Cape) – will compete for the International Team in the 2nd Junior Presidents Cup at Royal Melbourne Golf Club in Australia on 8-9 December; credit GolfRSA.
Australian Stuart Appleby will captain the International Team and American Justin Leonard will captain the U.S. Team in the prestigious team event, hosted by the American Junior Golf Association (AJGA) and PGA TOUR.
South Africa's leading amateur Schaper and former SA Amateur champion Lamprecht will be making their second appearances for the International Team, having competed in the inaugural matches in 2017 at Plainfield Country Club in Edison, New Jersey, where the United States won 14-10.
Vorster, Schaper, Lamprecht, and Simpson were ranked second, third, fifth and sixth respectively and were virtually assured of their spots in the International Team before the September 4 deadline.
Duminy was still in the bubble ahead of the final qualifying event, but the 2019 Nomads SA Boys Under-17 champion rubber-stamped his inclusion with a top-50 finish in the Junior Players Championship at the TPC Sawgrass.
"We are over the moon to have five members of our GolfRSA National Squad in the International Team this year," said GolfRSA CEO Grant Hepburn.
"We had four juniors in the International Team in 2017 and the fact that South Africa will have five juniors competing this year speaks volumes about the tremendous strides we are making in amateur golf in South Africa.
"Clubs, coaches, golf academies and unions are holding hands with GolfRSA and the South African Golf Association (SAGA) to identify and nurture our junior talent and, with the financial backing from Johann Rupert, the GolfRSA National Squad further enhance their development.
"These five young players have shown tremendous dedication and commitment over the last 12 months and we are incredibly proud of their achievement. Their participation will inspire a whole new wave of young stars waiting in the wings."
Vorster finished second in the final standings that determined the International Team, reigning SA Stroke Play champion Schaper was third and Lamprecht fifth.
"GolfRSA's decision to assist the national squad members to compete in the Junior Players Championship was satisfyingly justified," said SAGA President Naadir Agherdien.
"Jayden won the event and Martin tied for seventh. Jordan and Sam were joint 48th and finished sixth and 11th respectively in the final standings. We applaud the way all our juniors have embraced the opportunities afforded them through GolfRSA and SAGA over the last year. We are very proud of their achievement and we wish them a fantastic and memorable Junior Presidents Cup."
Australian and Chinese golf fans also had plenty to cheer about with two players apiece in the International Team.
Perth pair Karl Vilips and Joshua Greer bookended the final standings. Vilips – who competed alongside Schaper and Lamprecht in the 2017 matches – topped the rankings after a third place finish at TPC Sawgrass, while Greer secured the 12th spot.
China will make their debut on the International team after Bo Jin's runner-up finish in the Junior Players Championship boosted the junior to ninth and his compatriot Andi Xu finished in 10th spot with a top-20 result at TPC Sawgrass.
Kartik Sharma from India (4th), Jam Huyn Lee from Korea (7th) and Chuan-Tai Lin from Taipei (8th) complete the International Team line-up.
Canon Claybomb is the only player making his return to the U.S. Team and he will be lining up alongside Maxwell Moldovan, Brett Roberts, Jack Heath, Michael Thorbjornsen, Preston Summerhays, Jackson van Paris, Alexander Yang, Vishnu Sadagopan, Ian Siebers, Stephen Campbell Jnr and Benjamin James.
The Junior Presidents Cup will be held before the U.S. Team, captained by Tiger Woods, takes on the International Team led by Ernie Els in the Presidents Cup at Royal Melbourne Golf Club from 12-15 December.
All 24 players will compete in six Four-ball matches on Sunday morning followed by six Foursomes matches that afternoon. The Junior Presidents Cup will conclude with 12 Singles matches on Monday morning.
Written and released by Lali Stander on behalf of GolfRSA.
CAPE TOWN, 9 September 2019 – The South African Golf Association have named six GolfRSA National Squad members to fly the flag for South Africa in four prestigious international events coming up in October and November.
"We currently have an amazing depth of talent in our amateur pool in South Africa and this leaves us in the incredibly fortunate position to give a number of upcoming golfers the opportunity to travel abroad and gain invaluable experience rubbing shoulders with top international competition," said South African Golf Association President Naadir Agherdien.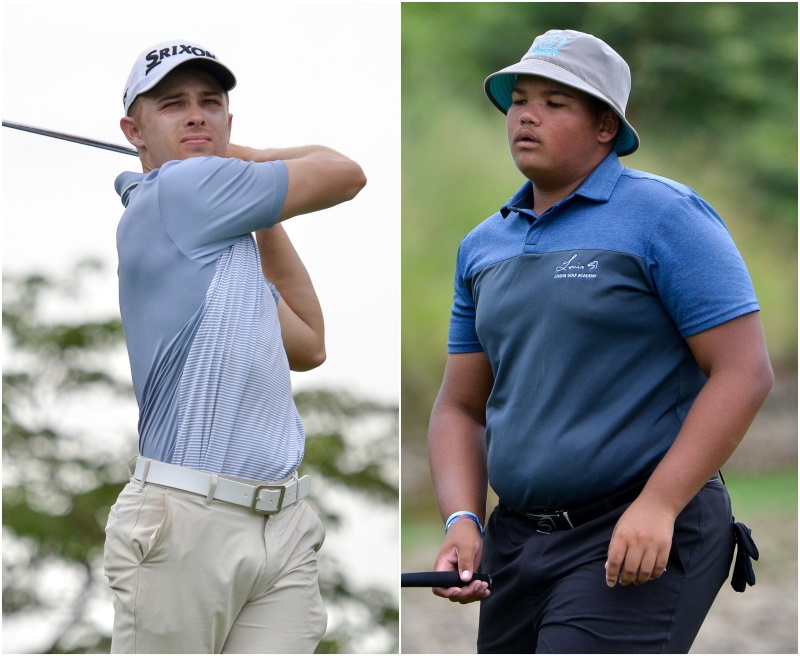 Kyle de Beer from Eastern Province and Southern Cape junior Jordan Duminy have been named to the GolfRSA Protea team that will hunt South Africa's ninth successive title in the All Africa Golf Team Championship with Jayden Schaper and Martin Vorster at Mont Choisy Le Golf in Mauritius from 8-11 October; credit GolfRSA.
"We are very pleased to award national colours to Kyle de Beer and Jordan Duminy and delighted to award senior national colours to GolfRSA Junior Proteas, Martin Vorster and Sam Simpson.
"Kyle and Jordan will debut for the GolfRSA Proteas in the All Africa Golf Team Championship in Mauritius in October and Martin and Sam will fly the flag for South Africa in the prestigious biennial Spirit International in November."
De Beer, Duminy and Vorster will travel to Mauritius with reigning SA Stroke Play champion Jayden Schaper.
"The All Africa Golf Team Championship is undoubtedly one of the most esteemed teams' event in Africa" Agherdien said. "We are very proud of our record in this tournament and the team is determined to continue the legacy as we hunt our ninth successive title at Mont Choisy Le Golf from 8-11 October.
"Jayden led the GolfRSA Protea team to a successful title defence in the 25th Africa Region 5 Golf Tournament in Namibia earlier this year and he is joining us fresh from his victory in the Junior Players Championship at TPC Sawgrass, where Martin finished joint seventh.
"Kyle and Jordan both distinguish themselves abroad in the Brabazon Trophy and The Amateur Championship respectively and have enjoyed success on local soil this season. Kyle has rapidly ascended to number two in the Open Amateur Rankings with seven top 10 finishes in his last eight starts, including victories in the Eastern Province/Border Stroke Play and the Border Stroke Play.
"Jordan won the Nomads SA Boys Under-17 Championship and has shown maturity well beyond his 16 years as he wet his feet on the Open Amateur circuit. He reached the final in the SA Amateur Championship and recently converted top three finishes in the Boland and Western Province Stroke Play with his provincial breakthrough in the Southern Cape Open."
Agherdien will also accompany Vorster and Simpson to the United States, where the pair will represent South Africa in the biennial Spirit International at Whispering Pines from 7 to 9 November.
"The Spirit International is played in alternate years to the World Amateur Team Championship and is always a tightly-contested affair," Agherdien said. "The invitation-only event has 80 participants from 20 countries, representing six continents. Most of the participants are the highest ranked players from each country or national champions."
Vorster boosted his international winning tally to five with his first senior triumph in the East of Ireland Open Amateur before he led the GolfRSA Junior Proteas to victory in the Toyota Junior Golf World Cup in Japan. The Southern Cape golfer has also performed well on the local circuit, rising to third in the Open Amateur rankings following victories in the Western Province Amateur and Limpopo Stroke Play.
Simpson broke through for his first Open Amateur success in the Bobby Locke Trophy late last year and backed this up with top 10 finishes in the SA Stroke Play and Southern Cape Open before notching his second title in the Boland Amateur Stroke Play," Agherdien said.
"Sam was also the individual winner in Japan. Both juniors gained significant experience during the GolfRSA National Squad Tour to Great Britain and Ireland in June. This will serve them well in such a highly competitive field we have every confidence that Martin and Sam will do us proud."
In November, De Beer will make his debut alongside Luca Filippi in the highly-rated Juan Carlos Tailhade Cup and Argentine Amateur Championship in Argentina.
GolfRSA CEO Grant Hepburn believes both players well equipped for task ahead.
"Kyle and Luca have both punched above their weight this season and should do well in the individual competitions and as a team," he said.
"Both players have represented their respective unions in the Premier SA Inter-Provincial for several years. Luca competed in both events last year. He has a top 10 finish in the weather-affected Argentine Amateur, and combined well with Therion Nel to finish fifth in the Juan Carlos Tailhade team competition.
"Kyle was the leading scorer for the University Sport South African team in the Summer Universiade in 2017 and the World Student Games in 2018 and he led the Madibas to victory in the USSA Golf Championships in 2018.
"Both players are very experienced and we confident that we are sending a very strong and capable side to these top amateur events."