CAPE TOWN, 12 March 2019 – GolfRSA National Squad members Wilco Nienaber and Therion Nel from Free State, Ekurhuleni's Jayden Schaper and Luca Filippi from Western Province have been tasked to continue the country's proud record in the Africa Region 5 Golf Tournament in Namibia this April.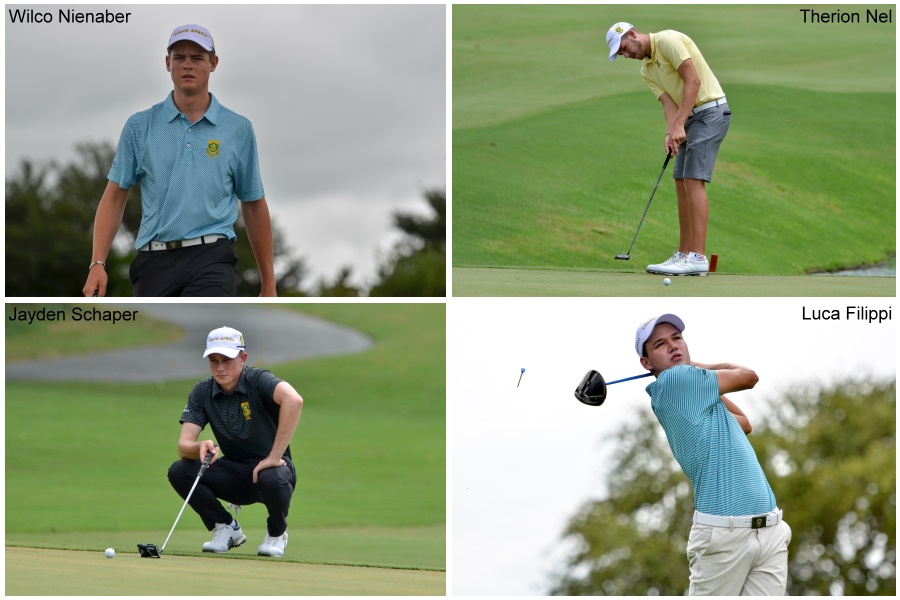 PHOTOS – World number 31 Wilco Nienaber will lead fellow GolfRSA National Squad members Therion Nel from Free State, Ekurhuleni's Jayden Schaper and Luca Filippi from Western Province in South Africa's title defence in the Africa Region 5 Golf Tournament in Namibia in April; credit Ernest Blignault.
The Africa Region 5 Golf Tournament, formerly known as the Zone VI Golf Tournament, adopted the new name and new format three years ago.
The teams play an 18-hole stroke play qualifier on the first day, which determines the seeding order for the match play knock-out stage of the tournament.
South Africa has dominated the event since re-admittance in 1995 with just two losses when Kenya won in Botswana in 2010 and Uganda beat South Africa at home in 2016.
The South African teams won all their titles outright, except in 1998, when they beat Swaziland in a count-out of holes up.
The local quartet will endeavour to keep the winning record alive and hunt down a 23rd consecutive victory at Rossmund Golf Club from 8 – 11 April.
South African Golf Association President Naadir Agherdien is confident that the team is up to the task.
"All four players got off to a good start this season, but they can back this up with exceptional performances in 2018," he said.
"Wilco has maintained the number one ranking for more than a year and following his recent Sanlam South African Amateur Championship victory, he showed maturity beyond his years this past week to rally after a disappointing start on the European Tour, make the cut and finish the Qatar Masters with a top 50 finish.
"Jayden shot to number two in the Open Amateur Rankings, courtesy of strong performances in the Africa Amateur, SA Amateur and his SA Stroke Play Championship win, while Luca and Therion represented South Africa with honour in Argentina towards the end of last season, and have stretched their solid form in 2018 into strong results this season.
"I believe the team is further strengthened by the bond they forged during the GolfRSA National Squad Tour to the United Kingdom and Ireland last year.
All 10 of the Region 5 countries will be participating this year, including Angola, Botswana, Lesotho, Malawi, Mozambique, Namibia, SA, Eswatini (formerly Swaziland), Zambia and Zimbabwe.
"A special invitation has been extended to Mauritius," Agherdien said. "Their team have been invited to participate to gain experience, however, their scores will not count in the competition. The invitation was extended in the interest of development as their African region is not active."
GolfRSA CEO Grant Hepburn applauded the South African Golf Association on nominating a strong and capable team.
"The standard in the African premier events continue to improve and the winning margins get smaller each year," said GolfRSA CEO Grant Hepburn. "The new format of the Africa Region 4 Golf Tournament also throws the event wide open. It raises the competitive nature of this championship, because there are no second chances.
"The team will be taking nothing for granted and every player will have to perform at his best in every round. We are confident that the team the South African Golf Association has selected will rise to the occasion.
Written and released by Lali Stander on behalf of GolfRSA.