STELLENBOSCH, 10 August 2019 – Gauteng junior Nikhil Rama will take a three-shot lead into the final round of the Friends of Engelberg Challenge as he goes in search of his first national title.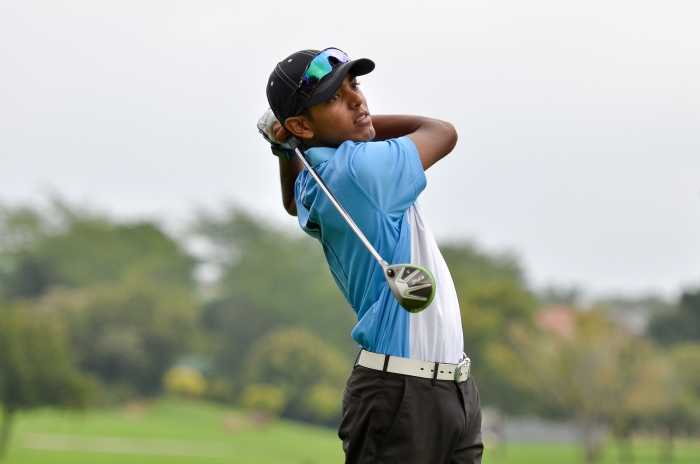 Bryanston junior Nikhil Rama opened up a three-shot lead at the 36-hole mark of the Friends of Engelberg Challenge, hosted by Anna Becker-Frankel at Devonvale Golf and Wine Estate; credit Ernest Blignault.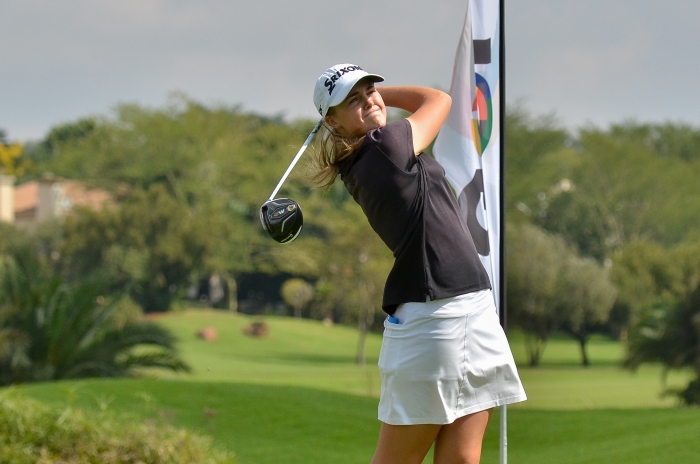 Reigning Nomads SA Girls Rose Bowl champion Kaylah Williams has a one-shot lead in the Girls Competition on three-over in the Friends of Engelberg Challenge, hosted by Anna Becker-Frankel at Devonvale Golf and Wine Estate; credit Ernest Blignault.
The Bryanston golfer opened with a four-under-par 68 in the national boys and girls event, hosted by Anna Becker-Frankel, and he clung to pole position with a second round 70 at Devonvale Golf and Wine Estate on Saturday.
Western Province golfer Tyran Snyders – the first South African champion of the prestigious North and South Junior Championship at Pinehurst in 41 years – moved into second on his own with rounds of 71 and 70.
Francois Cilliers from Strand Golf Club sits four off the pace with successive rounds of 71.
A trio of players are a further shot adrift, including Jean Pierre van der Walt from Pinnacle Point, CMR Golf Club's Kayle Wykes and Jurie Mostert, a member of the victorious De Villiers Graaff High School team who won the SA High Schools Championship last week.
Rama began the first round with a bogey start, but rallied with three birdies on the bounce from the ninth to take the lead.
He stayed ahead of the field with an eagle on the par five closing hole and started the second round with a one shot lead over Mostert. A trio of birdies from the second increased his cushion, but Rama let the chasing pack, headed by Snyders, back in when he dropped three shots in succession from the sixth. A brace of birdies at 16 and 17 restored his three-shot lead.
Snyders was two-under through the turn.
The Durbanville golfer birdied the first and cancelled a bogey at the second with an eagle at the par five third. He moved to five-under with a birdie at the fourth, but back-to-back bogeys at the seventh and eighth holes saw him slip three shots off the pace.
Cilliers only had two bogeys in 36 holes and if the Bridge Fund Manager Junior Series winner can get the putter going in the final round, he could set a cat among the pigeons.
Meanwhile reigning Nomads SA Girls Rose Bowl champion Kaylah Williams leads the charge in the Girls Competition on three-over.
The Western Province golfer opened with an expensive 78 after dropping seven shots in her first round, including a double bogey at the par four 14th. The Durbanville golfer handed in a flawless scorecard after her second trip around the championship layout, though.
Williams followed an opening birdie with another gain at the third, and broke a run of seven pars with a third birdie at the par five 12th. The GolfRSA Elite Squad member will take a one-shot advantage into the final round over Boland junior Megan Streicher.
Streicher, who came up trumps in the Individual Competition in the SA High School Championship at Koro Creek, led the first round with a one-over 73, but an eagle-three at the second and birdie at the ninth was not enough to limit the damage of half a dozen bogeys.
She signed for a round of 75 that dropped her to joint 17th on four-over.
36-Hole Leaderboard
138 Nikhil Rama 68 70
141 Tyran Snyders 71 70
142 Francois Cilliers 71 71
143 Jean Pierre van der Watt 75 68; Kayle Wykes 71 72; Luke Pienaar 70 73
144 Judd Sundelson 71 73; Jurie Mostert 69 75
145 Hannes Strooh 73 72; C.J van Wyk 72 73; Ryan van Velzen 71 74
146 Matthew Dennis 74 72; Warwick Purchase 73 73; Joshua Wiese 71 75
147 Kaylah Williams 78 69; Dylan Melville 74 73
148 Jack Buchanan 73 75; Megan Streicher 73 75; Luc Gavagnin 71 77
150 Brandon Weir 77 73; Pieter Rossouw 77 73; Matthew Mc Carthy 74 76
151 Lyle Pedro 75 76; Jan Stals van Rooyen 75 76
152 Christopher Bagnall 79 73; Keegan-Slade Couch 78 74
153 Craig Louw 79 74; Craig Jacobs 77 76
154 Stefan Krüger 82 72; Alric Rowaan Rooi 78 76; Angelo Keffers 78 76; Hayden Morgan-Evens 76 78; Enzo Barbaglia 75 79
155 Tiaan Hugo 78 77
156 Keanan Keffers 78 78; Fabrizio de Abreu 77 79; Jack Brugman 77 79; Samantha Whateley 77 79; Stephanie Barbaglia 77 79
157 Jordan Wessels 79 78; Malan Potgieter 71 86
158 Janus Roberts 76 82
159 Matthew Lotz 76 83
160 Jaden Deltel 82 78
161 Kyle Conradie 80 81
162 Justin Behrens 79 83
163 Danny Wattrus 83 80; James Peter Joubert 81 82
165 Kera Healey 83 82; Ronan Nortje 81 84; Ruben Fortuin 80 85; Jungwi Lee 79 86
166 Danie Jooste 83 83; Ineke Brynard 82 84
168 Thomas Pieter Joubert 87 81
169 Kieran Urquhart 90 79; Shani Brynard 88 81; Elizabeth Lightley 84 85
170 Rorisang Nkosi(Jnr) 89 81; Jonathan Mather 81 89; Joshua Coleman 81 89
173 Thomas Esterhuyse 91 82; Ryan Melville 83 90
183 John Rabie 90 93
Written and released by Lali Stander on behalf of GolfRSA.