An Order of Merit (OOM) competition was played at Still Bay Golf Club, on the 24 May 2015, the results were as follows:

A division best gross (69): Franklin Manchest
Henry Anderson
A division 2nd runner up (71): Bradley de Beer (counted in)
A division best net (67): Marcus Smal (counted in)

B division best gross (83): Janco Vogel
B division 1st runner up (87): Christiaan Jacobs
B division best net (72): Byron Goliath

U13 division
A&B division best gross (79): CJ van Wyk
1st runner up (81) Jaco Pienaar

Best stableford all divisions Franco Gericke
2nd runner up stableford Ulrich Steinhobel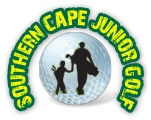 On behalf of my committee I would like to welcome you to the Southern Cape Junior Golf website. Our aim is to promote and foster the game in junior golf throughout the province. To encourage the playing of golf by the youth by means of competition or any other means as decided by the committee.
---