Women's Golf News
VICTORIA, Canada (2 September 2019) – Caitlyn Macnab, Kaylah Williams, Kiera Floyd and Kaleigh Telfer secured South Africa's best result yet in the prestigious Astor Trophy with a tie for second at Royal Colwood Golf Club in Canada.
The GolfRSA Proteas routed Canada 5 – 1 to win their final match on Sunday and moved into a tie for second in the quadrennial championship, however, the team had to wait for the final round matches to play out on Monday before the celebrations could begin.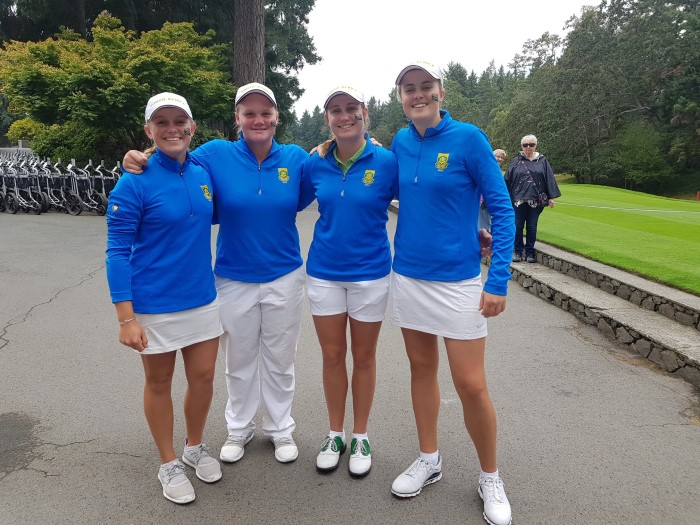 GolfRSA Proteas Caitlyn Macnab, Kaylah Williams, Kiera Floyd and Kaleigh Telfer delivered South Africa's best result yet in the Astor Trophy with a tie for second at Royal Colwood Golf Club in Canada; credit Golf RSA.
New Zealand lifted the title for the first time with 3.5 points, and South Africa shared the runner-up spot with Australia and Great Britain and Ireland on 2 points.
"We are absolutely over the moon with the result and I couldn't be more proud of the team," said Womens Golf South Africa President Sally Greasley.
"We played against the defending champions Australia and Great Britain & Ireland in the first two rounds, who have won the Astor Trophy multiple times. We knew the matches would be tight, but the girls did incredibly well to draw against both teams.
"We took the third round loss against New Zealand on the chin. As expected, it was a very tightly contested match and the girls really did themselves proud against the favourites. Kaleigh and Kiera managed to take one point off the Kiwis in the foursomes. Caitlyn and Kaleigh had narrow losses in the singles, but Kiera and Kaylah managed to halve their games against two tough opponents.
"The team was determined to finish on a high note and came out guns blazing against Canada. The locals came out in numbers to support the home favourites, but our girls drew a lot of applause as they closed out 3 & 2 victories in both foursomes games."
Fourteen-year-old Kiera Floyd led South Africa in the singles against Indiana University student Mary Parsons.
"Kiera had a humdinger of a game," Greasley said. "Having won the first hole, they halved the next seven holes before Kiera won the ninth to go 2-up. Mary won 12, 13 and 15 and Kiera was down for the first time in the tournament.
"She rallied with two great approach shots at 16 and 17 to turn things back in her favour and she clinched the game 1-up after they halved the 18th in pars. A nail-biting finish but a win that put us on the front foot."
Williams went out second and she dominated her opponent.
The reigning Nomads SA Girls Rose Bowl champion won the first five holes and took the ninth and 11th, as well. The game was done and dusted by the 12th hole as Williams wrapped up a 7 & 6 win for South Africa.
"Kaleigh battled a balky putter in her game against Noémie Paré and although she halve the first four holes, the Canadian won the next four as Kaleigh's putter went cold as snow," Greasley said.
"She managed to win 11, 14 and 15 to pull it back to 1 down but the Canadian popped in a nice birdie on 16 to go 2 up. Kaleigh hit a great drive down 17 and holed a two-footer after a good approach and was 1-down going down the last. The pair halved the 18th and Canada got the win.
"We knew the win was in the bag and we all went to support Caitlyn on the back nine, who was involved in a tense tussle with the Canadian number one, Brooke Rivers. Cat turned 3-up, but the back-nine was like a tennis-match, going back and forth. Brook won 10, Cat won 11, Brook won 12 and Cat won 13. After halving the 14th, Brook won 15 but Cat won the 16th to win the game."
Macnab was delighted with the team's performance and her own 3 & 2 victory.
"We played really solid golf. Canada really well, but we just made a lot more birdies. We had all played 10 rounds by the time we faced the Canadians and we were all a little tired and stiff, but we stuck it out and pulled it out of the bag when it mattered most. I am super proud of all the players and the way we all rallied until the final putt dropped."
Greasley applauded the organisers on a very well-organised event.
"It was really a fantastic tournament," she said. "The event was run with great efficiency and managed very professionally and graciously by Golf Canada.
"The members of Royal Colwood Golf Club came out in their droves to act as caddies, markers, spotters, scorers or just to spectate and they were very non-partial. They gave all five countries great support and we are enormously grateful and very impressed by their enthusiasm to cheer on all players on the course.
"I am supremely proud of our GolfRSA Proteas. They played with their hearts on their sleeves for their country and won the admiration of many spectators. They were always gracious, kind and played all their matches with humility and grace.
"South Africa should be proud of our young players, who do not share the international experience of so many of this year's participants. They showed that they are most definitely a force to be reckoned with over the course of this championship."
Since the inception of the Astor Trophy in 1959, South Africa's previous best performances were third place finishes in 2007 at Royal Johannesburg & Kensington and in 2011 at Fairhaven Golf Club in England.
Written and released by Lali Stander on behalf of GolfRSA.
CAPE TOWN, 17 September 2019 – Zethu Myeki wants to keep her recent winning run of form going for the upcoming Spirit International, where she will be flying the flag for South Africa with Symone Henriques, Martin Vorster and Sam Simpson.
The GolfRSA Proteas will be joining a world class field in the prestigious biennial event at Whispering Pines from 7-9 November.
After runner-up finishes in the Southern Cape Women's Open and Limpopo Ladies Championship, Myeki struck double gold in September. She backed up a 26-stroke victory in the Northern Cape Open at Sishen Golf and Country Club with a three-shot triumph in the Ekurhuleni Women's Open at Benoni Lake Golf Club and shot to second in the Women's Open Amateur rankings.
"It's so great to hit this run of form before we leave for the United States," said the 25-year-old Randpark golfer.
"I have been working with Costanza Trussoni on my game for about two years now and everything we worked on combining well in the last couple of months. I am striking the ball better than I have done in years, my short game is dependable and I feel very confident with the putter in my hand.
"I am making better decisions on the course and mentally I have also turned a corner. I am able to stay in the moment and play shot-for-shot and I can concentrate on my own shots and playing the course without worrying what my opponents are doing.
"I am looking forward to meeting up with Symone and the others in Texas. I have represented South Africa before but this will be the first time I will compete in a field of this stature. I am pleased to be taking my A-Game on my first trip to the United States."
GolfRSA Elite Squad members Myeki and Henriques and GolfRSA National Squad duo Vorster and Simpson will be competing for the country's first success in the Spirit International, which is played in alternate years to the World Amateur Team Championship.
In 2005, George Coetzee, Josh Cunliffe, Ashleigh Simon and Kelli Shean sealed South Africa's best performance with a runner-up finish and in 2013, Christiaan Bezuidenhout, Louis Taylor, Kim Williams and Lara Weinstein claimed the country's third top finish.
"Unfortunately our players missed out in 2017 when the organisers were forced to cancel the event duo to the damage caused by Hurricane Harvey," said Womens Golf South Africa President Sally Greasley.
"The field is capped at 80 players from 20 countries and each country is represented by a team of four players who compete in five competitions that run concurrently over the 72-holes of best ball competition.
"The competitions include the International Team event that combines the best scores of the Men's and Women's teams, as well as Men's Team and Women's Team competitions and Men's and Women's Individual Competitions.
"Martin and Sam have already proved a lethal combination with their victories in the 2019 All-Africa Junior Golf Challenge and the Toyota Junior Golf World Cup winners and I believe Zethu and Symone will also combine well.
"They represented Gauteng in several SA Women's Inter-Provincial and WGSA 72-Hole Teams Competitions and both girls have proven in international competition that they can keep a cool head under pressure."
Apart from enjoying a career-best season, Myeki brings a wealth of experience to the team.
"Zethu competed in two Regional All-Africa Challenge Trophy events, and led the individual scoring in the 2019 Regional All Africa Challenge Trophy in Eswatini," Greasley said
"She also gained valuable experience competing in the All India Ladies Amateur Championship two years ago and she did an absolutely brilliant job managing our Youth Olympians Kaiyuree Moodley and Cole Stevens in Argentina last year."
Henriques from Glenvista represented South Africa twice in the All Africa Junior Golf Challenge and the Toyota Junior Golf World Cup.
"Symone has also enjoyed a great 2019 season, highlighted by seven top fives, including four runner-up finishes," Greasley said. "She left for the United States in August to take up a golf scholarship at Daytona State College and should be nicely settled by the time the Spirit International tees off.
"All four players have worked incredibly hard and are deserving recipients of the honour to represent their country. The Spirit International is always fiercely competitive and we are excited to see not only how they fare, but for them to gain experience in such a world-class field."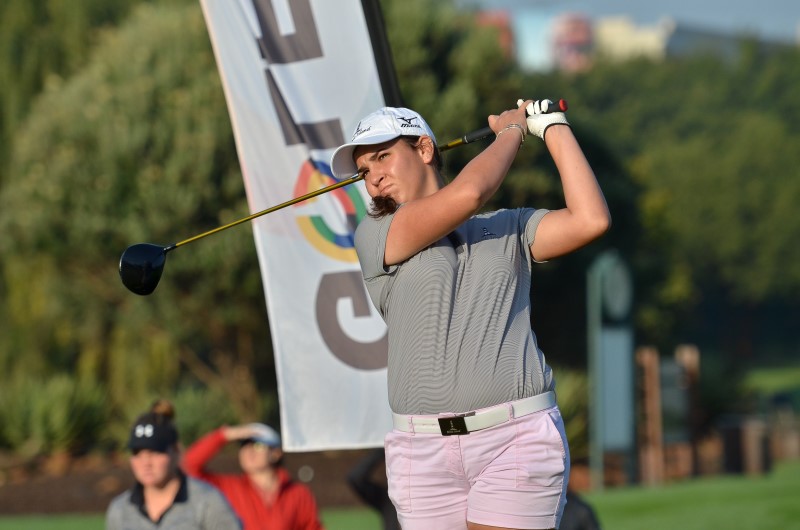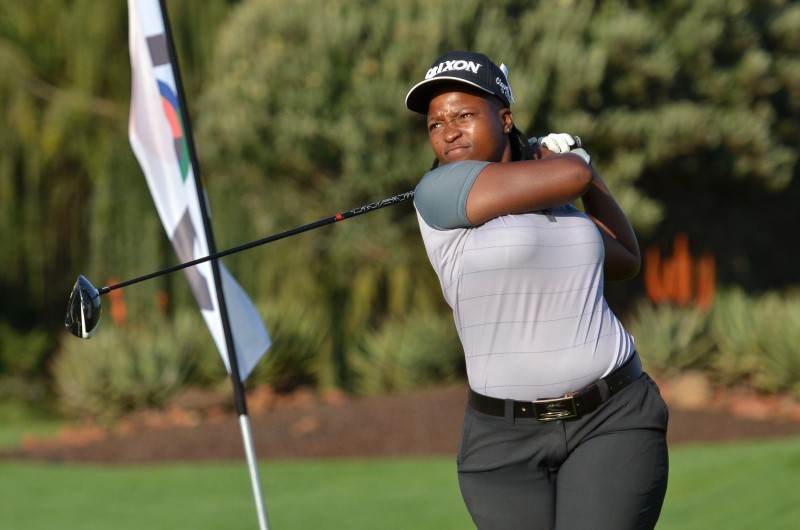 GolfRSA Elite Squad members Zethu Myeki and Symone Henriques will be representing South Africa in the 2019 Spirit International at Whispering Pines in the United States with fellow GolfRSA Proteas Martin Vorster and Sam Simpson from 7-9 November.
WEBSITE LINK: http://www.thespiritgolf.com/The-Spirit-International.html
For more information, please contact:
Sally Greasley (President, WGSA): This email address is being protected from spambots. You need JavaScript enabled to view it.
Sarah Braude (Vice-President, WGSA): This email address is being protected from spambots. You need JavaScript enabled to view it.
Grant Hepburn (GolfRSA CEO) – This email address is being protected from spambots. You need JavaScript enabled to view it.
Written and released by Lali Stander on behalf of GolfRSA.
Lali Stander
Media Liaison – GolfRSA
TEL: +27 82 990 7150 / EMAIL: This email address is being protected from spambots. You need JavaScript enabled to view it.
LANGEBAAN, 26 March 2019 – South African number one Kaylah Williams lifted the prestigious Nomads SA Girl's Rose Bowl Championship trophy after she edged out overnight leader Caitlyn Macnab in a pressure-packed final round at Langebaan Golf and Sports Club on Tuesday.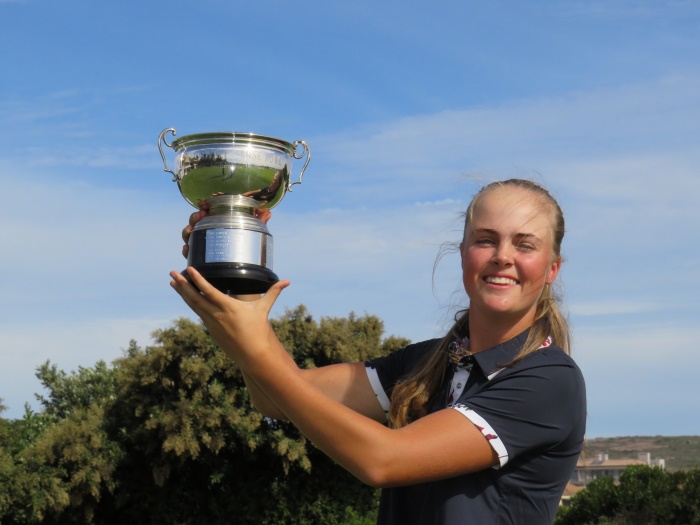 South Africa's number one ranked Kaylah Williams from Western Province celebrated a one-stroke victory in the Nomads SA Girl's Rose Bowl Championship at Langebaan Golf and Sports Club; credit GolfRSA.
The Western Province junior carded a two-under-par 70 in the final round to close out a one-stroke victory on one-over 217.
Williams began the final day on three-over and a shot behind fellow GolfRSA Elite Squad member Macnab, but a couple of birdies on the outward loop helped the Bellville golfer to race into the lead with nine holes to go.
"I started with a great up-and-down after half-shanking a 5-iron from the middle of the fairway," said Williams, who managed to save par while Macnab bogeyed the opening hole.
"Saving par gave me a nice confidence boost, but Caitlyn took back the lead with a birdie at the third.
At the fourth, I hit a great bunker shot and I holed a three-metre putt middle cup to draw level again."
The Bellville golfer missed birdie chances at five and eight, but edged into the lead when she answered bogeys from Macnab at seven and nine with a birdie before the turn.
"The ball went straight over the hole at five and my putt skimmed the hole at eight, but I stayed patient; I knew I'd get one of those birdies back," said Williams.
"At the ninth, I stiffed my gap-wedge to tap-in and I led by three shots when Caitlyn dropped another shot at 11. I extended my lead with a two-putt birdie at the par five (12). I hit a good drive and my 5-iron approach hopped out of the bunker on to the green."
South Africa's top ranked junior hit back with a brace of birdies at 12 and 13 to shorten the gap and Williams led by just a single shot with two holes after bogeys at 14 and 16.
"I got nervous and I choked," admitted Williams. "I had a birdie chance at 13, but misread the line, but Caitlyn made hers to put some pressure on me.
"During the practice round I hooked two tee shots at 14. I told my dad, who was on my bag, that I dreaded this hole. The wind was coming off the right and I worried I'd hook the tee shot again. I hit a perfect tee shot, though, and then I choked on the approach and ended up two-putting for bogey.
"At 16. I pulled my 6-iron into the bunker. I took the wrong club out of the bunker, and I knew it was a mistake as soon as I hit the trap shot. Another two-putt bogey."
Macnab had Williams on tenterhooks when she got a good look at an eagle at the final hole to force the tournament into over-time.
"We both parred 17 and I stood on the 18th tee with a one shot lead; my dad wanted me to go down the right, but I took out the driver and took the Tiger line," Williams said.
"I got rewarded for the aggressive approach with a perfect lie in the middle of the fairway. Caitlyn also hit a good drive, but she caught some wind and her ball finished in the first cut of the rough. We both hit the green in two, though, and the pressure mounted.
"I lagged my first putt about 2 feet short of the hole. Caitlyn's eagle putt just rimmed the hole and she tapped in for birdie. I took a huge breath when I stood over my putt. I just told myself this is the one you have to make and it dropped. We both played really solid golf and it was a great contest, right up to the final putt."
It's the second win of the season for Williams, but her first success on the junior circuit helped her to close the gap on Macnab in the GolfRSA Junior Rankings.
"Every junior on the circuit dreams of winning one of the two Nomads national junior championships, and I am over the moon," Williams said. "I came close last year but couldn't pull it through at Royal Cape, so I am extremely pleased with this result.
"I am so grateful to Nomads for giving me and everyone this wonderful event and the Nomads SA Girls Championship at Orkney and I would like to thank GolfRSA and Womens Golf South Africa for the opportunity to play in two world-class events. And lastly, thank you to Caitlyn for an intense battle in the final round."
Macnab from Ekurhuleni took second on two-over with a final round 72.
Gauteng junior Kaiyuree Moodley closed with an even-par 72 to finish third on 221, while Kiera Floyd from Ekurhuleni and Gauteng's Symone Henriques tied for fourth on seven-over after rounds of 73.
Anita Chen went wire-to-wire with rounds of 91, 94 and 86 to win the Silver Division by two shots from fellow Western Province junior Jemma Louw, while Western Province's Kim Albertus took the honours in the Bronze Division on 60 points with rounds of 26 and 30.
Championship Division Result (top 10)
217 Kaylah Williams 74 73 70
218 Caitlyn Macnab 71 75 72
221 Kaiyuree Moodley 77 72 72
223 Kiera Floyd 71 79 73; Symone Henriques 76 74 73
228 Jordan Rothman 82 72 74
234 Kera Healey 79 83 72; Annalie Swanepoel 83 74 77
238 Megan Streicher 76 87 75
239 Crystal Beukes 85 81 73; Shani Brynard 79 79 81
Silver Division Results (top 5)
271 Anita Chen 91 94 86
273 Jemma Louw 97 92 84
276 Kesha Louw 92 100 84; Nelia Swanepoel 94 94 88
280 Lee-Ann van der Merwe 92 99 89
Bronze Division Result (top 3)
60 Kim Albertus 26 34
55 Tamsen Skippers 26 29
52 Isabella Williams 26 26; Leaaqa Aziz 24 28
Written and released by Lali Stander on behalf of GolfRSA.