Sunshine Tour News
KEMPTON PARK, 23 February 2020 – Nicole Garcia celebrated a much-anticipated return to the winner's circle with not one, but two dramatic victories at Serengeti Estates on Sunday.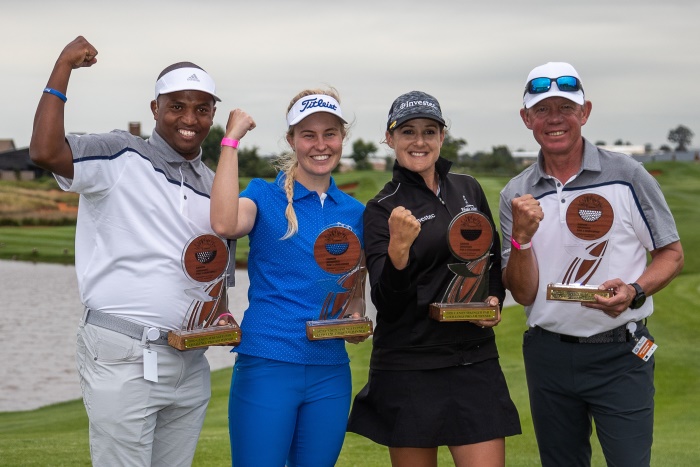 PHOTO – credit Sunshine Ladies Tour. Professionals Nicole Garcia and Gabrielle Macdonald from Scotland celebrate their Canon Serengeti Par-3 Pro-Am victory with amateur partners Abri Kriegler and SAGDB golfer Daren Hanekom on the Whistle Thorn Championship Course.
The Ebotse golfer won the Canon Serengeti Par-3 Challenge and led team Shooters to victory in the Canon Serengeti Par-3 Pro-Am title in a thrilling four-hole play-off at the Whistling Thorn Course.
Garcia opened her campaign on the 2,618-metre par three championship layout with a level-par 54 and began the final round one stroke clear of Brittney-Fay Berger. In-form Lejan Lewthwaite – already a two-time winner this season – was two shots back in joint third with five-time Sunshine Ladies Tour winner Stacy Bregman.
Garcia gave the chasing pack a glimmer of hope when she paid for an errant tee shot on the third hole with a double bogey, but she bounced back in style out aced the 165-metre sixth hole with a 7-iron.
She widened the gap on the chasing pack with further gains on 12 and 16 and sealed victory on one-under-par 107 and, despite giving a shot back to the field on the 17th hole, finished five shots clear of Berger.
It took a few more hours though, before Garcia and her team-mates Gabrielle Macdonald and amateur team-mates Abri Kriegler and Daren Hanekom could properly celebrate her third career victory.
Garcia's birdie on 16 and a Macdonald birdie on 17 boosted the team aggregate to 17-under-par 199, matching the clubhouse target set earlier by Lewthwaite, fellow pro Tandi McCallum and their amateur partners Mike Honiball and Frank Neto.
"That meant a play-off on the 18th hole and The Shooters were excited, because we'd done well on 18 in both rounds; little did we know it would become a proper shoot-out Sunday," Garcia said.
Both teams had chances to close out the win, including Kriegler who pushed a birdie putt past the hole on the first extra hole. "We tied the 18th hole three times, so they took us to the first, and that's where we got the job done," said Garcia, who holed a long-range putt for birdie and was backed up by Kriegler, who got his birdie effort in the hole at last.
"Gabrielle and I had such an amazing time out there with Abri and Daren. Our amateurs could really play. Abri's handicap index is 13, so he made a big contribution with his nett birdies. Gabrielle didn't fire in the first round, but she made five birdies for us in the final round. Daren is a member of the South African Disabled Golf Association and one of South Africa's top ranked deaf golfer. He drives the ball beautifully and we were thrilled when he won the closest to the hole prize in the final round.
"What I will remember most about this tournament is the high fives, the first pumps and all the laughs. We had a genuinely great time out there and we were absolutely thrilled to be the first winners of the Canon Serengeti Par-3 Challenge."
In addition to the first place prize money Garcia and Macdonald bagged, the Benoni and Berger also shared a R100 000 bonus that Serengeti Estates owner David Nagel kicked in for the two top finishing professionals.
Garcia spent the full 2019 season on the bench following hip surgery to re-attach the labrum and to reshape the femur bone to fit into the hip socket properly. She landed her third Sunshine Ladies Tour title in her fifth start this season, which bodes well for the "big three" starting next week in the Joburg Ladies Open. "This tournament was perfectly timed in the middle of the season and it has been brilliant in terms of fine-tuning our games for the Joburg Ladies Open, the Jabra Ladies Classic and the Investec South African Women's Open," Garcia said.
"All three events are big-money tournaments and the last two come with some serious incentives. The winner of the Jabra Ladies Classic gets a start in the Jabra Ladies Open, which is the Ladies European Tour qualifier for the Evian Championship. And the winner at Westlake gets exemption on the Ladies European Tour until the end of 2021, and spots into the AEG British Women's Open and the Evian Championship.
"The stakes are loaded. We all honed our short-games this week, and this golf course put up a huge challenge. It was very tough out there, and I think everyone who played this week, will agree with me that we are so much sharper thanks to this experience."
Monique Smit and Kim Williams – partnering amateurs Dana Eitzen from Canon South Africa and SAGDB member Curtley Roberts – finished third on 205.
Final Result – Canon Serengeti Par-3 Challenge
107 Nicole Garcia 54 53
112 Brittney-Fay Berger 55 57
113 Bonita Bredenhann 57 56
114 Jane Turner 58 56
Lauren Taylor 58 56
Lejan Lewthwaite 56 58
Stacy Bregman 56 58
115 Hannah Arnold 56 59
116 Tandi McCallum 57 59
117 Monique Smit 58 59
118 Gabrielle Macdonald 64 54
Shawnelle de Lange 60 58
120 Casandra Hall 57 63
Pasqualle Coffa 65 55
121 Kim Williams 58 63
Hannah McCook 60 61
Ivanna Samu 62 59
123 Lindi Coetzee 62 61
126 Kelsey Nicholas 65 61
127 Clara Pietri 70 57
Yolanda Duma 62 65
134 Marion Duvernay 68 66
135 Rachael Goodall 72 63
136 Flora Peuch 71 65
Canon Serengeti Par-3 Pro-Am Result (Top 5 teams)
199 Nicole Garcia; Gabrielle Macdonald; Daren Hanekom (a); Abri Kriegler (a)
199 Lejan Lewthwaite; Tandi McCallum; Mike Honiball (a); Frank Neto (a)
205 Monique Smit; Kim Williams; Dana Eitzen (a); Curtley Roberts (a)
206 Lauren Taylor; Jane Turner; Tyron Groenveld (a); Ryan McClatchie (a)
206 Marion Duvernay; Shawnelle de Lange; Juan Coetzee (a); Willem Lotriet Jnr (a)
Written and released by Lali Stander on behalf of the Sunshine Ladies Tour and WPGA.
SAN LAMEER, 20 February 2020 – It took three trips down the 18th in a playoff before Scotland's Jane Turner emerged victorious over South Africa's Cara Gorlei in the Standard Bank South Africa Women's Masters at San Lameer Country Club on Friday.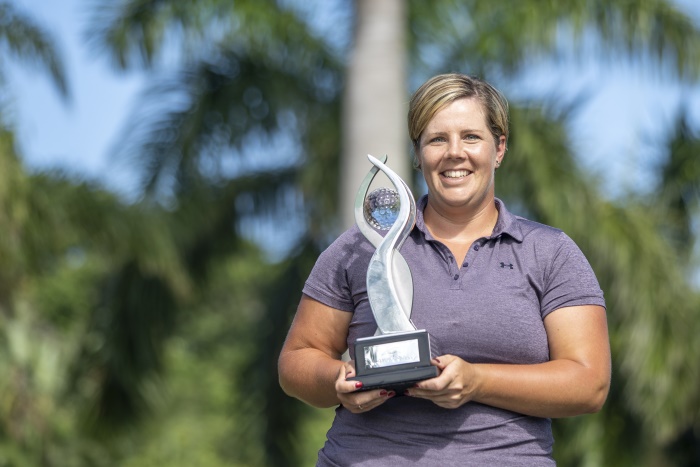 Jane Turner from Scotland celebrates her second Sunshine Ladies Tour victory after she clinched the prestigious Standard Bank South African Women's Masters title on the third extra hole in a sudden-death play-off at San Lameer Country Club; credit Shannon Naidoo.
Starting the day with a three-shot lead, Turner struggled to a one-over 73 to finish on one-under alongside Gorlei, who carded a two-under 70.
In the playoff, Turner had the measure of the par-four 18th and narrowly missed a birdie attempt - but the tap-in was enough to give her the win.
"I had to hole a long putt to get into the playoff, which was a fantastic feeling," said Turner.
"That was the hole we played in the playoff. Every single tee shot I hit in the playoff, there was only a three-yard difference to what I had left in for my approaches. So I had the approach dialled in by the end of the playoff."
While Turner battled in the final round, Milnerton rookie Gorlei – who led the first round – was making a charge for the title.
The pair were tied after eight holes with Turner one-over and Gorlei two-under. On 11, Turner double-bogey to fall two behind before Gorlei moved three-ahead with a gain on the 12th. But two closing birdies for Turner, including a vital birdie on the last helped her reel her opponent in.
"Cara was three-under par at one point during her round, and I made a double bogey on the 11th - but after that I got stuck in. I knew I could still make the birdies, I just had to stay patient and calm.
"My score doesn't reflect that I was very calm heading into the round today. I wasn't overly nervous, and just stuck to my game plan.
"I am hugely honoured to win the Standard Bank SA Women's Masters. A number of really great golfers have won this title in the past, and I'm so thrilled to add my name to the winner's list."
The Scotswoman, who celebrated her maiden Sunshine Ladies Tour win last season in the SuperSport Ladies Challenge at the Wild Coast Sun Country Club, hinted that this could be the start of a strong run for her this season.
"I achieved my first win this year, but that doesn't mean it's my last one. My main goal was to win, but now that I've done it I can go on and win more. There are four more tournaments on the Sunshine Ladies Tour before I go back home to Europe, so it's already been a great start to the season."
And the next one could happen this weekend.
Buoyed by the victory, the confident 30-year-old was excited to hop on a plane on Friday evening, to take up her place in the limited field for the Canon Serengeti Par 3 Challenge – a new event on the Sunshine Ladies Tour.
"You know, it's a great innovation by the Sunshine Tour and Sergengeti to be hosting a unique event like this," said Turner.
"The thing about a par three tournament is that being a big hitter isn't necessarily an advantage, but it places a big emphasis on shot-making. We as professionals and the fans love to see what kind of shots we can come up with. I think it's going to be a lot of fun, and there is a lot of prize money on the table. It's definitely a new kind of excitement, because you might not get the usual suspects at the top of the leaderboard."
Sharing third were Monique Smit and Kim Williams on one-over, with Bonita Bredenhahn and Bianca Lohbauer tied fifth on six over.
Final Result
215 - Jane Turner (SCO) 71 71 73 (play-off 3rd hole)
215 - Cara Gorlei 69 76 70
217 - Monique Smit 73 75 69, Kim Williams 72 74 71
222 - Bonita Bredenhann (NAM) 78 74 70, Bianca Lohbauer AMA 74 75 73
223 - Woo-Ju Son (KOR) 76 75 72, Maria Beautell (ESP) 75 71 77
224 - Leticia Ras-Anderica (GER) 79 75 70, Hannah Arnold (USA) 77 74 73
225 - Emie Peronnin (FRA) 74 79 72
226 - Jessica Dreesbeimdieke (NAM) 73 78 75
228 - Michaela Fletcher 77 78 73, Clara Pietri (SUI) 77 76 75, Zethu Myeki 74 76 78, Sharmila Nicollet (IND) 76 73 79
229 - Jordy LaBarbera (USA) 78 78 73, Brittney-Fay Berger 81 75 73
230 - Kelsey Nicholas 76 81 73, Pasqualle Coffa (NED) 80 74 76
231 - Rosie Davies (ENG) 77 80 74, Lauren Taylor (ENG) 75 79 77
232 - Francesca Cuturi 80 79 73, Christina Gloor (SUI) 79 77 76
235 - Rachel Drummond (ENG) 80 73 82
236 - Tara Griebenow 77 84 75
237 - Yolanda Duma 78 81 78, Julie Berton (FRA) 75 81 81, Lindi Coetzee 83 72 82
238 - Shawnelle de Lange 78 82 78
240 - Melissa Eaton 83 83 74
247 - Siviwe Duma 86 81 80, Chiara Contomathios 89 78 80
258 - Sunelle von Molendorff 85 87 86
RTD - Kyle Roig (PUR) 79 85 RTD
Written by Michael Sherman