Amateur News
CAPE TOWN, 19 July 2019 – Womens Golf South Africa have named GolfRSA Junior Proteas Caitlyn Macnab and Kiera Floyd to compete in the prestigious R&A Girls Amateur Championship in Scotland next month.
The Ekurhuleni duo will tee it up at Panmure Golf Club on 13 August, where the starting field will first compete in a 36-hole stroke play qualifier in pursuit of a spot in the top 64 for the match play stage.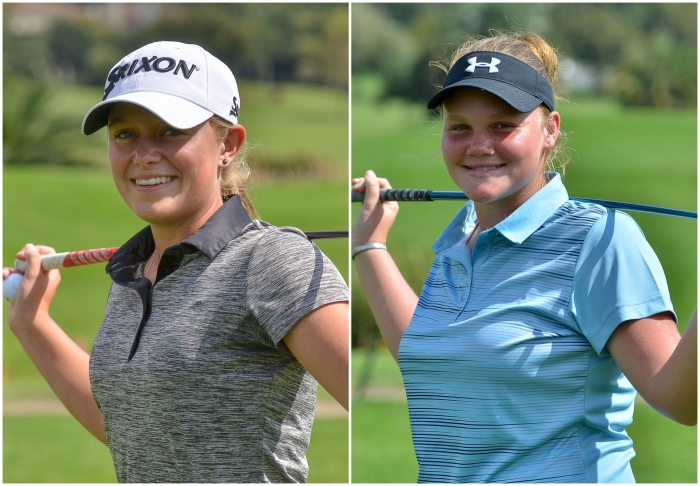 GolfRSA Junior Proteas Caitlyn Macnab and Kiera Floyd from Ekurhuleni will compete in the R&A Girls Amateur Championship at Panmure in Scotland from 13-17 August 2019; credit Ernest Blignault.
"The R&A Girls Amateur Championship celebrates its centenary this year and is one of the most esteemed junior events in the world," said Womens Golf South Africa president Sally Greasley.
"The tournament annually draws the top junior golfers from around the globe and with nearly 30 countries represented this year, we are absolutely delighted to give two members of our GolfRSA Elite Squad the opportunity to compete against the best in the game.
"We would love to send at least six juniors to this event, but with a limited budget, we had to make a tough call. Caitlyn and Kiera have both made enormous strides in the last 12 months and definitely validated their selection.
"Caitlyn currently occupies the number one spot in the Open Amateur and Junior Rankings, while Kiera has risen to number four in the Junior standings. At the time of selection, Kiera held the number one spot in the Performance Rankings and Caitlyn was second."
Macnab made her debut in the championship in Ireland last year, where she tied for third in the qualifier and reached the third round of the match play stage at Ardglass Golf Club. Two weeks later, the Serengeti golfer was the top scorer for the South African team in the World Amateur Golf Team Championship in Ireland, tying for 15th overall in the Espirito Santo Trophy.
"The experience last year certainly stood Caitlyn in good stead and she will be able to guide Kiera as she makes her debut at this level," Greasley said.
"Both players are travelling to Scotland with an encouraging run of form. Caitlyn has racked up three provincial victories this season, won the Nomads SA Girls Championship and lifted the individual honour at the WGSA 72-Hole Team Championship, where she and Kiera anchored Ekurhuleni to victory. In addition, she has not placed outside the top five this season.
"Kiera backed up her first provincial breakthrough late last year with five top fives on the Open Amateur circuit. She also had a great run on the Sunshine Ladies Tour, highlighted by a third-place finish in the Jabra Ladies Open. On the junior circuit, she followed her KwaZulu-Natal Junior Championship victory in December with another trophy finish in the Gauteng North Junior Girls and she finished a close second in the Nomads SA Girls Championship earlier this month."
Macnab and Floyd tested themselves against the cream of junior golf in June when the pair lined up alongside Gauteng's Kaiyuree Moodley in the Toyota Junior Golf World Cup in Japan.
"Caitlyn, Kiera and Kaiyuree dominated the field in the All-Africa Junior Golf Challenge and quite easily qualified for Japan, but the standard at this event is top notch and once again highlighted the importance of giving our up-and-coming young stars more exposure to international competition. Despite a disappointing start, the girls rallied brilliantly to finish a credible sixth overall and I believe with more international competition, we could be serious contenders," Greasley said.
"Giving Caitlyn and Kiera the chance to compete in the R&A Girls Amateur Championship is a step in the right direction and will greatly enhance their burgeoning careers."
Fellow GolfRSA Elite Squad member and former SA Women's Amateur champion Jordan Rothman will also join the 144-strong player field at Panmure as an independent entry.
Written and released by Lali Stander on behalf of GolfRSA.
ORKNEY, 3 July 2019 – South Africa's number one ranked Caitlyn Macnab lived up to her star billing when she celebrated her 10th start in the Nomads SA Girls Championship with a trophy finish on Tuesday.
There is an old saying in golf – "beware the sick golfer" – and on this occasion it was the sick golfer who came out on top at Orkney Golf Club.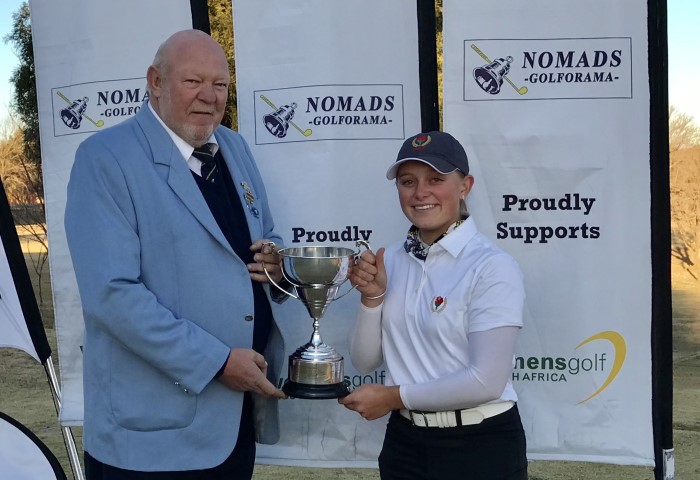 2019 Nomads SA Girls champion Caitlyn Macnab receives the championship trophy from Nomads Golf Club of South Africa national chairman Neels Bezuidenhout at Orkney Golf Club; credit GolfRSA.
The 17-year-old from Serengeti Estates carded a final round one-under-par 71 to edge out fellow Ekurhuleni golfer Kiera Floyd by one stroke on four-over 220, lifting the title and the ultimate prize it carries – a start in the Duke of York Young Champions Trophy in September.
South Africa's number one ranked Caitlyn Macnab is the 2019 Nomads SA Girls champion. The Serengeti golfer carded rounds of 73, 76 and 71 for a one-stroke victory at Orkney Golf Club; credit GolfRSA.
GolfRSA Junior Proteas Macnab, Floyd & Kaiyuree Moodley claimed a sixth place finish in the Toyota Junior Golf World Cup two weeks ago, but as soon as the team arrived back on home soil last Sunday, Macnab and Moodley both went down with swine flu.
"Kai had to withdraw and I was a doubtful starter after spending four days in bed, but I came because I had to try," Macnab said.
"I have dreamt of winning the Nomads SA Girls since I first teed it up as a seven-year-old. It's the most amazing feeling to be the champion; I am just over the moon. I was really nervous on the first day, because I hadn't hit a ball for nine days. I didn't expect to lead the first round, but after that it was all about playing for the win."
Macnab opened with a one-over 73, but shot 76 in round two to surrender the lead to Floyd.
The 14-year-old Ebotse junior headed into the final round with a one stroke lead after successive rounds of 74, but Macnab levelled the score with a birdie start. She pulled two shots clear when the Floyd bogeyed the par three second. Two holes later, though, Floyd was back in control.
"I ended up in the water at six after my tee shot stayed right," Macnab said. "I had very little room to work with after I ended up behind a tree and we were back to all square when I made a soft double."
Floyd dropped shots at five and seven, but countered with birdies at six, eight and nine and Macnab surrounded a bogey at eight with birdies at seven and eight.
Macnab and Floyd are both members of the Grant Veenstra Junior Golf Academy and have played golf together for years. "I knew it would go right down to the wire," said Macnab.
"We have played against each other and we've together for Ekurhuleni in the SA Women's IPT and the SA Women's 72 Hole Teams. We won the All Africa Junior Golf Challenge together and in Japan, we both shot 69 in the final round. I knew she would fight right up to the last putt."
Floyd took a one-shot advantage into the back nine, but a bogey at the 11 left the pair tied on five-over.
"The 12th is a short par four and I hit a good drive that finished just left of the green, but I flew the chip well past the pin," said Macnab. "I holed a four-metre putt for birdie to go one ahead and I had a two-shot lead when Kiera dropped at 13. She made a fantastic bogey, though. Her approach shot landed next to the fence and she had to take an unplayable. She nearly chipped it in, but the ball hit the flag."
Despite a few nasty lip-outs Macnab managed to salvage par down the stretch.
"I was so, so happy when I sunk that final putt on 18," said Macnab while posing for a quick selfie with the Jenny Bruce Trophy. "I'm absolutely over the moon to get this done. It's not always easy to come into a tournament as the favourite. There is a lot of pressure on you. I wasn't at my best, but in the end, all that matters is the win."
In the Silver Division, the lead changed hands several times until Rumbi Chisango replaced compatriot Tracy Humbira at the top. The Zimbabwean junior had a three shot lead coming down the last few holes, but Cheslyn Jacobs gave the home crowd plenty to cheer about when she forced a play-off on 45-over with a final round 80.
"We went back to the par five 17th and Rumbi went first and hit her drive in the bush on the right. I hit mine down the fairway and my second shot pitched on the edge of the green. Rumbi hit her second into the rough on the left, but she was on the green with her third.
"I lagged my first putt to a foot and tapped it for the win after she left her birdie putt short. I am so excited, because this is huge," said the 14-year-old Jacobs from Potchefstroom. "This is the biggest achievement of my career. I'm down to a 7.2 handicap and I'm going to work really hard so I can play in the Championship Division next year."
North West Women's Golf had further cause for celebration when Lesego Aphane completed a wire-to-wire victory in the Silver Division. The 18-year-old Seasons Eco Golf Estate golfer carded rounds of 39 and 38 to win by six on 77 points, with Lea van der Merwe from Gauteng North second on 71 and Western Province's Jaden Visagie third on 69.
Maegan Webster also led the Copper Division from start to finish. The Gauteng North junior shot 34 and 31 to finish on 65, with Erin Brinkman from Eastern Province finishing in second on 51 with rounds of 24 and 27.
Championship Division – Handicaps 6.5 & under (TOP 10)
220 Caitlyn Macnab 73 76 71
221 Kiera Floyd 74 74 73
224 Symone Henriques 73 78 73
230 Isabella van Rooyen 74 79 77
232 Cara Ford 79 76 77
233 Kera Healey 78 83 72; Jordan Rothman 75 81 77; Crystal Beukes 83 71 79
234 Kyra van Kan 73 77 84
235 Nadia van der Westhuizen 79 77 79
Silver Division – Handicaps 6.6 – 15.3 (TOP 10)
261 Cheslyn Jacobs 87 94 80 (Play-off)
261 Rumbi Chisango ZIM 88 87 86
263 Tracy Humbira ZIM 89 84 90
265 Anita Chen 88 91 86
267 Kesha Louw 85 93 89
268 Lucia Mhlabane 81 94 93
269 Jutta Tecklenburg 84 94 91
274 Lizemari Richter 93 96 85; Erica Chen 92 95 87; Cinteche du Plessis 92 87 95
Bronze Division – Handicaps 15.4 – 29.3 (top 5)
77 Lesego Aphane 39 38
71 Lea van der Merwe 29 42
69 Jaden Visagie 34 35
67 Ashley Megan Huysamen 32 35
64 Laeeqa Aziz 33 31
Copper Division – Handicaps 29.4 – 36
65 Maegan Kaitlyn Webster 34 31
51 Erin Bree Brinkman 24 27
Click here for the full results
Written and released by Lali Stander on behalf of GolfRSA