Amateur News
NEWCASTLE, Ireland (11 June 2019) – Gauteng duo Kajal Mistry and Kaleigh Telfer will tee it up in the Women's Amateur Championship in Northern Ireland today.
The GolfRSA Elite Squad pair will face still competition at Royal County Down in one of the strongest fields ever assembled in the 116-year history of the premier women's amateur event.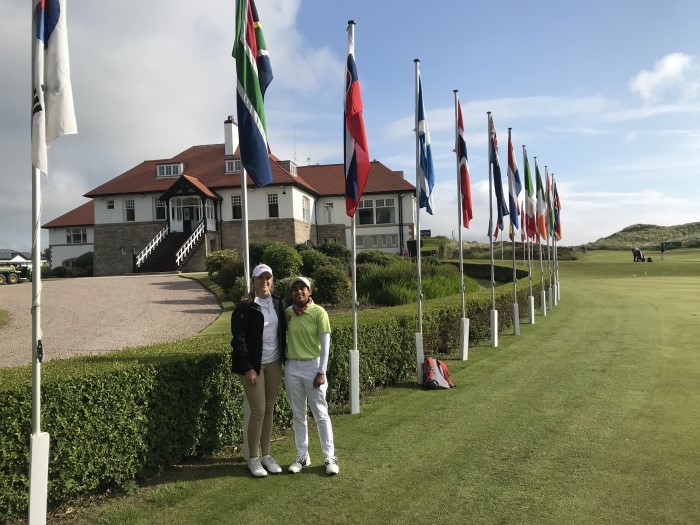 GolfRSA Elite Squad members Kaleigh Telfer (left) and Kajal Mistry from Gauteng will represent South Africa in the prestigious Women's Amateur at Royal County Down, starting on 11 June 2019; credit GolfRSA.
Telfer and Mistry have both been impressive on separate sides of the Atlantic this season.
Mistry enjoyed a fantastic run on the Sunshine Ladies Tour. Two runner-up finishes, combined with a slew of top 10s culminated in a third place finish in the Investec Property Fund Order of Merit for the Randpark golfer.
She took that form to Woodhill Residential Estate and Country Club at the end of April, where she backed up her rising star status with a rare calendar double in the SA Women's Stroke Play and Match Play Championships.
Mistry is heading to the United States in August, where she will be taking up a golf scholarship at the Arkansas University in August.
Fellow Ernie Els and Fancourt Foundation member Telfer has been competing on the US collegiate circuit for two years.
The Auburn University sophomore was the university's top finisher at both the SEC Championship and NCAA Austin Regional in her first season, and broke into the top 100 on the national GolfStat Rankings.
Telfer capped off the fall portion in 2019 with her first career collegiate victory at the Battle at the Beach in San Jose del Cabo, Mexico. Her five-under total helped the Tigers cruise to a 17-stroke victory, the program's first team win since 2014. She also placed third in the Alexa Stirling.
The Bryanston golfer proudly represented South Africa in the inaugural Augusta National Women's Amateur Championship with a joint 12th finish and in May, she was instrumental in helping the Tigers reach the semi-finals of the NCAA Women's Golf Championship.
With entries as far afield as Australia, Canada, India, New Zealand, Russia, South Korea and the United States, the 144-strong player field taking to the renowned links in Newcastle features no less than 12 players inside the top 50 in the World Amateur Golf Ranking, including world number 14 Leonie Harm, back in title defence.
The first German champion is bidding to become the first back-to-back winner since Sweden's Louise Stahle's victories in 2004 and 2005.
Italian teenager Alessia Nobilo is the highest ranked player at 12th in the world, and other in-form golfers taking to the fairways at Royal County Down include 2019 Irish and Welsh Women's Open Stroke Play champion Lily May Humphreys from England, reigning Girls Amateur Champion Emma Spitz from Austria and Irish favourite Paula Grant.
The 2019 champion gains entry to this year's AIG Women's British Open at Woburn and the 2019 Evian Championship, as well as next year's US Women's Open and the Augusta National Women's Amateur Championship.
The field will compete for the leading 64 spots in the match play stage over two rounds of stroke play on 11 and 12 June. Telfer will launch the South African challenge at 08h36 (local SA time) and Mistry is off at 14h34 in the afternoon.
Written and released by Lali Stander on behalf of GolfRSA.
VEREENIGING, 5 June 2019 – Ekurhuleni and Mpumalanga celebrated a double victory in the 58th SA Women's Inter-Provincial Championship last October. On Wednesday, the two teams did again when they came up trumps in the SA Women's 72-Hole Teams Championship in Vereening.
Ekurhuleni A overcame a four-shot first round deficit to take pole position in the Swiss Team Trophy with a strong performance on moving day at Maccauvlei Golf Club.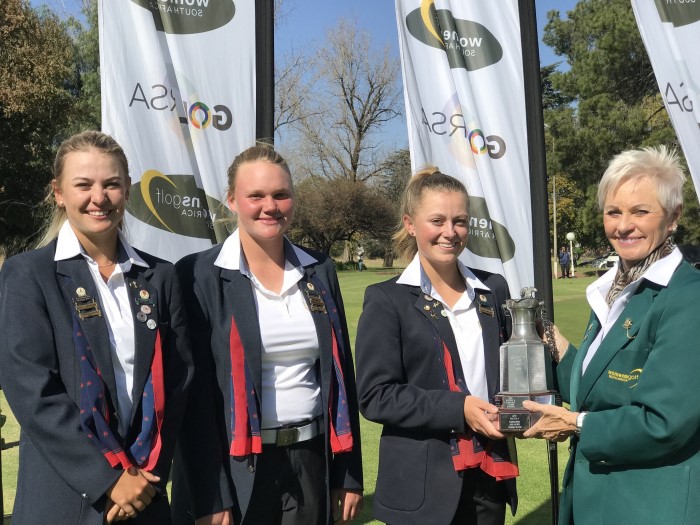 Ekurhuleni won the Swiss Team Trophy with a four-shot triumph in the SA Women's 72-Hole Teams Championship at Maccauvlei Golf Club; credit GolfRSA.
FLTR: Nadia van der Westhuizen, Kiera Floyd, Caitlyn Macnab (Captain) and Womens Golf South Africa president Sally Greasley.
Caitlyn Macnab, Nadia van der Westhuizen and Kiera Floyd combined for rounds of 149 and 147 and the 2018 runners-up surged to the top spot. The trio took a two-shot lead over Gauteng North A into the final day, with Gauteng A a further shot back.
Van der Westhuizen led the final round charge with a 73 and Macnab backed her up with a 75 for a team total of 148 and a four-shot victory on 13-over 589.
"We are absolutely stoked," said captain Macnab.
"We are so proud to be the title holders of the SA Women's IPT and SA Women's 72-Hole at the same time. We set ourselves a goal of shoot level par or better, but it was a tough scoring day for the whole field, with tricky pins and lightning fast greens.
"I battled with my ball-striking and Kiera said her game came off the rails on the back nine. Luckily we had done enough in the second and third rounds to keep the opposition at bay and Nadia played amazing golf to pull it through for us.
"We were really happy that we'd given our president Susan Andrew a great birthday present, but it was a bittersweet moment when we learned that our B-team had been relegated. On the positive side, both teams will have something to strive for next year… a title defence and a promotion.
"I am very proud of all six players, because they played their hearts out for Ekurhuleni and that's what counts. Susan and our manager Lezette Vermaak have been incredible and we are so proud to repay their support with another win. Now we'll start building for our SA Women's IPT defence."
Zethu Myeki (73) and Kajal Mistry (76) combined for 149 to secure second for Gauteng A on 593, edging out Gauteng North by one shot. Larissa du Preez (74) and Gina Da Silva (77) sealed third for the Daisies on 594 with a final round 151.
Mpumalanga went the distance at Maccauvlei with a dominant performance in the Challenge Trophy. Danielle Bekker and Nicole Schoeman carded rounds of 158, 155, 158 and 163 to close out a wire-to-wire four-shot victory on 634 for Mpumalanga B.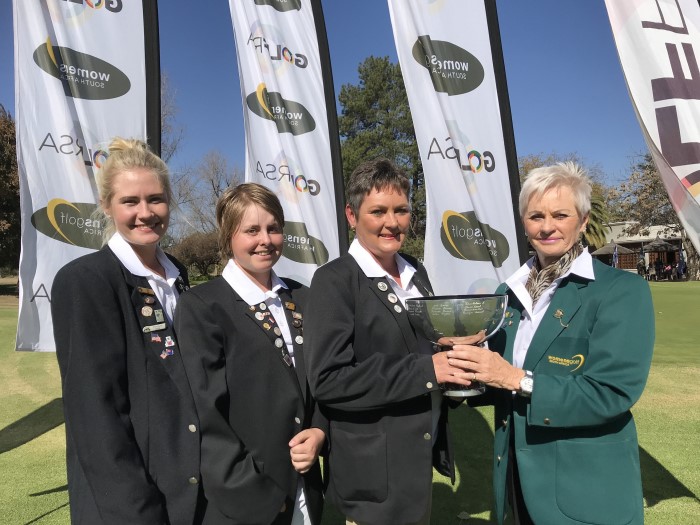 Mpumalanga sealed promotion with a wire-to-wire victory in the Challenge Trophy at the SA Women's 72-Hole Teams Championship at Maccauvlei Golf Club; credit GolfRSA
FLTR: Nicole Schoeman, Danielle Bekker and Patrizia Lombard (Captain) with Womens Golf South Africa president Sally Greasley.
"We had high expectations for both teams this year," said captain Patrizia Lombard.
"Winning at Devonvale really injected confidence in the camp and we believed we could win. Taking the lead in the first round just strengthened our resolve to take it to the finish line. Danielle and Nicole did an exceptional job this week on a very tough golf course. The course itself is fantastic and was in pristine conditions, but the greens were really fast and slippery – nothing like the greens we play at home. It was a test for us and we embraced the challenge.
"We are also really proud of the A-team, who tied for fourth with North West. They were lying fifth going into the final round and managed to square with North West. This means both teams will compete in the Swiss Team Trophy next year.
"All the hard work and sacrifices was worth it and we applaud our president Hanlie Uys and manager Alida Schoeman who they believed in us and supported us unconditionally. We'd also like to thank Womens Golf South Africa and North West Women's Golf Union for hosting a fantastic event."
Nina Grey, Bobbi Brown and Isabella van Rooyen sealed a runner-up finish for Western Province C on 638, KwaZulu-Natal B took third on 643, while North West and Mpumalanga A shared fourth on 661.
It was a double celebration for Macnab, who also won the Individual Competition. The Serengeti golfer carded rounds of 71, 72, 72 and 75 to win by two shots on two-over 290.
Michaela Fletcher (76-73-71-72) from KwaZulu-Natal was second and Du Preez (71-77-71-74) from Gauteng North finished third on 293.
Boland golfer Megan Streicher (76-72-74-74) took fourth on 296 and reigning SA Women's Amateur Stroke Play and Match Play champion Kajal Mistry rounded out the top five on 297 with rounds of 75, 72, 74 and 76.
Written and released by Lali Stander on behalf of GolfRSA.