RITA ELSA WIENAND
25.08.1940-02.05.2018
IN MEMORIUM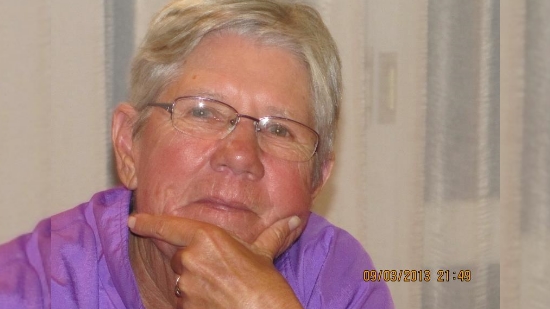 Rita Wienand was born in Cradock. She became a physical education teacher at the Alexander Road High School in Port Elizabeth for 12 years. Thereafter she became an inspector in this field for 18 years, traveling the length and breadth of our country. Rita played hockey and cricket representing EP in both these sports, but it was in the field of sports administrator that she truly found her niche, in her early days she was very much involved in women's hockey. It was in Durbanville in the 80's that she cut her teeth in golf administration, she was ladies captain here for 3 years and involved in Western Province Women's golf. She moved to Mossel Bay in 1995, and this is when she became involved in Southern Cape golf. She was Captain of the Mossel Bay women's section for a total of six years. She was President of the Southern Cape golf union from 2000 to 2002. In 2008 she became the first and up to now the only woman elected as President of the Mossel Bay Golf Club. In 2002 she qualified as a rules official, a job that she undertook with much intensity, but always with a very fair minded approach. She would always remind one that the rule must be read and applied 'in equity'. Rita's contribution to Southern Cape golf cannot be adequately measured, suffice to say that the mark she has left is indelible.
The presence of people from far and wide, at her memorial service held in Mossel Bay on the 9th May, is testimony to the respect and high esteem that everyone who has ever had the pleasure of meeting Rita, attributed to this exceptional person.
Those of us who knew her in her earlier days, have wonderful memories of a person full of fun, always up for a good party and a braai. Rita will remain in our memories as a person who respected others, treated everyone equitably and always maintained her dignity even in difficult circumstances.
Her passing will leave a chasm in the lives of those who knew her and loved her, but our lives are undeniably richer for having walked a path, long or short, with this grand lady.
KIMBERLEY, 9 November 2017 – The history of diamonds in South Africa is rooted in the Northern Cape, but Sandra Winter from George sparkled brighter than the Star of South Africa when she lifted the SA Women's Mid-Amateur Championship title for a record fourth time on Wednesday.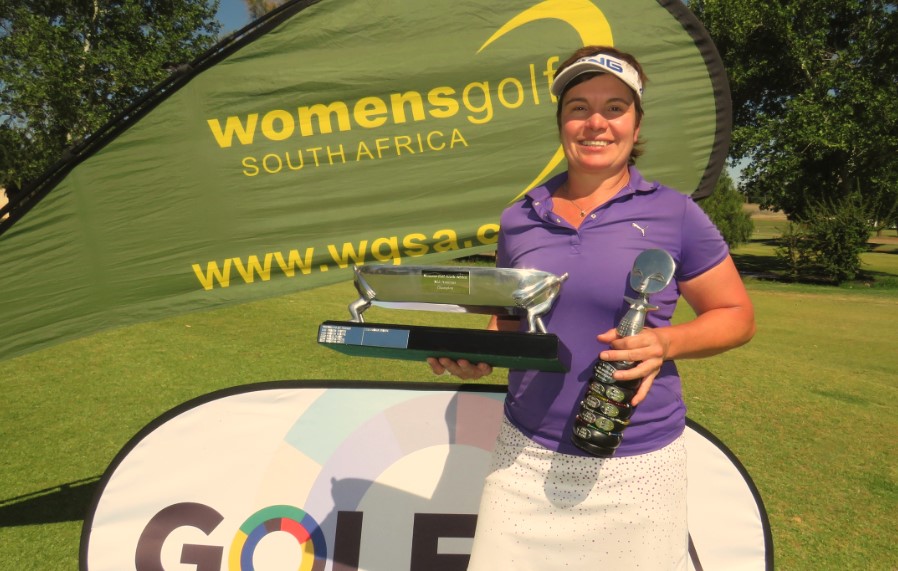 2017 SA Women's Mid-Amateur champion Sandra Winter; credit WGSA
Winter had successive victories in the women's mid-amateur flagship event in 2011 and 2012 and recorded the first hat-trick in the flagship event at George Golf Club in 2016.
And just like last year, she won in wire-to-wire style, despite having to play Kimberley Golf Club blind after a nine hour car-trip from the Southern Cape.
The Kingswood golfer shot to the top of the pile with a first round six-over-par 78 to lead by two from former champion Vanessa Smith from Western Province. She stretched the lead to four strokes over Woodhill's Adele Beytell and Karin Watts from Services with a second round 79 and fired a final round 74 to triumph on 16-over 232.
Winter has been competing for years, including representing South Africa abroad in the World Amateur Team Championship and Astor trophy. She drew on all this experience to finish in front.
"The course was quite tough and competition was strong," Winter said after closing out an 11 stroke victory over Desiree Earle from Polokwane.
"The kikuyu fairways have no run, and you had to be very accurate with your approaches into the firm greens. They ran quite fast, but very true. I struggled in the first round, but played better in round two.
"By the final round, I felt I had come to grips with the course, but not knowing by how much I was leading or what the field up ahead was doing was daunting, I don't have a lot of time to practice, but I still apply what I learned as a player in the WGSA program.
"I put quality time in and do the technical drills and practice the mental skills that learned, as well as the physical maintenance that I know as part of my profession. That's why I believe strongly in a consistent routine and that is what we teach the WGSA national squads.
"I also work with Val Holland, the national women's coach, when needed and I saw her before the championship, which helped my game. It was a very special moment when I completed the hat-trick last year and this win is even more special."
It was important to her to support the championship, said Winter.
"I felt I had to support the event, even if it required a cross-country trip. I drove up with Rita Herholdt and Maydie Otto, who competed in the C-Division and Jenny du Preez, who played the B-Division. Sonja Bland another former winner, also drove up from George, while Desi Earl came all the way from Polokwane. There were many other ladies who drove great distances to compete. Just like us, they wanted to support the championship and help grow the women's mid-amateur division.
"It's tough to take time of work to play national events in the week and compete against kids half your age. We want to have more mid-amateur specific events and eventually send players abroad to compete. As proud and honoured as I am to have the fourth win, I really hope that I am inspiring more ladies to join the circuit."
Elmien van Niekerk from Colesberg Golf Club captured the B-Division title on 255, while Newcastle golfer Lynette Lotriet won the C-Division with 106 points.
Written and released by Lali Stander on behalf of GolfRSA, a SAGA and WGSA Not-For-Profit company